Baby Furniture
Always focusing on the best interest of the child, Norwegian company Stokke® provides unique, functional, and long-lasting baby products. Stokke strollers, adaptors, and carry cots are specifically designed to provide support and promote well-being for both child and parent. The Stokke line of strollers and accessories stays in line with their key vision by promoting bonding between child and parent. The Stokke connection strollers are attractively designed and highly functional while making the journey more enjoyable, close, and interactive
Stokke Sleepi Mini Baby Crib Bundle, White
Stokke Home™ Changing Dresser
Stokke Sleepi Mini Baby Bundle Set, White
Stokke Fitted Sheet for Sleepi Mini Mattress
Stokke® Sleepi Mini crib is the perfect first bed for your baby. Its distinctive oval shape provides your baby with a sense of security by creating a cozy nest-like environment. With adjustable height positions as well as the ability to grow with your child, Stokke® Sleepi expands to accommodate the changing needs—and sizes—of the growing child while maintaining a comforting familiarity.
Stokke® Home™ dresser. Complete Dresser with three drawers. Perfect height for changing your baby when the changer is attached. Open space for your feet under the dresser let you get closer when changing your baby. Spacious, soft-closing drawers. Scandinavian design together with the durable material makes it a classic piece of furniture that will last for years
Stokke® Sleepi Mini bassinet/crib is the perfect first bed for your baby. Its distinctive oval shape provides your baby with a sense of security by creating a cozy nest-like environment. With adjustable height positions as well as the ability to grow with your child, Stokke® Sleepi expands to accommodate the changing needs—and sizes—of the growing child while maintaining a comforting familiarity. The bed creates a small footprint in your nursery while the lockable wheels make it easy to move from room to room
| | | |
| --- | --- | --- |
| | | |
| Stokke Tripp Trapp® Premium Oak Collection Chair, Black | Stokke Tripp Trapp® Premium Oak Collection Chair, Gray | Stokke Tripp Trapp® Premium Oak Collection Chair, White |
| Stokke® Tripp Trapp® Chair: The chair that grows with the child™. Not only does Tripp Trapp® grow with your child, it can be adjusted to custom fit your child's body through its unique depth and height adjustable seat and foot plate. This enables comfortable and correct ergonomic seating for children of any age. | Stokke® Tripp Trapp® Chair: The chair that grows with the child™. Not only does Tripp Trapp® grow with your child, it can be adjusted to custom fit your child's body through its unique depth and height adjustable seat and foot plate. This enables comfortable and correct ergonomic seating for children of any age. | Stokke® Tripp Trapp® Chair: The chair that grows with the child™. Not only does Tripp Trapp® grow with your child, it can be adjusted to custom fit your child's body through its unique depth and height adjustable seat and foot plate. This enables comfortable and correct ergonomic seating for children of any age. |
| | | |
| --- | --- | --- |
| | | |
| Stokke Tripp Trapp® Classic Chair | Stokke Tripp Trapp® Classic Chair | Stokke Steps™ Bouncer |
| Stokke® Tripp Trapp® Chair: The chair that grows with the child™. Not only does Tripp Trapp® grow with your child, it can be adjusted to custom fit your child's body through its unique depth and height adjustable seat and foot plate. This enables comfortable and correct ergonomic seating for children of any age. | Stokke® Tripp Trapp® Chair: The chair that grows with the child™. Not only does Tripp Trapp® grow with your child, it can be adjusted to custom fit your child's body through its unique depth and height adjustable seat and foot plate. This enables comfortable and correct ergonomic seating for children of any age. | Stokke® Steps™ bouncer. From birth and up. Enables your child to sit correctly and comfortably from birth with newborn insert. Bouncer has multiple seating positions to accommodate the child's weight and sitting position. Enables the child to bounce independently. |
| | | |
| --- | --- | --- |
| | | |
| Global Goods Partners Felt Rug | Global Goods Partners Felt Rug | Global Goods Partners Felt Rug |
| A fun playmate or a whimsical wall hanging, these rug from Global Goods Partners is handcrafted from soft and durable wool for a unique look | A fun playmate or a whimsical wall hanging, these rug from Global Goods Partners is handcrafted from soft and durable wool for a unique look | A fun playmate or a whimsical wall hanging, these rug from Global Goods Partners is handcrafted from soft and durable wool for a unique look |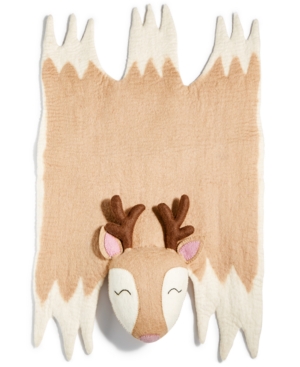 Global Goods Partners Felt Rug
A fun playmate or a whimsical wall hanging, these rug from Global Goods Partners is handcrafted from soft and durable wool for a unique look
| | |
| --- | --- |
| | |
| bloom coco go™ organic cotton baby lounger | bloom Limited Edition Fresco Chrome High Chair |
| Organic cotton coco go™ lounger by bloom®. 5-point padded safety harness incorporating one-push bloom® smart-buckle. Three easy-to-activate recline positions; fully lie-flat, semi-reclined and fixed upright. Anti-skid base with concealed front and rear retractable feet. Concealed 2-speed vibration unit. Formed birch wood elements. Machine washable seat pads. | Bloom Fresco Chrome high chair—the world's highest baby chair—includes: Frame: Comfort nest, feeding tray, play tray, and safety bar. 3 recline positions; fully lie-flat newborn cradle, semi recline and upright seat, easily activated using a light-touch pull handle. 360-degree swivel. Pneumatic up/down height adjustment |
bloom Alma Mini Crib, Cappuccino
bloom Luxo Crib
bloom Luxo Pocket Spring Crib Mattress
bloom Universal Change Tray
bloom Luxo Nursery Dresser
Bloom Alma Mini folding crib/mini-bassinet is designed for urban spaces and grandparents/second home—all about style, mobility, and storage.
Bloom Luxo European-styled, modern solid wood (American Birch) crib is luxury for your little one. Low VOC baby safe finishes, MDF-free, and formaldehyde-free. Manufactured to conform with globally recognized safety standards and norms. Suitable from newborn up to 5 years old.
Bloom Luxo Dresser features a curved European design that will complement the Luxo Crib and complete your Luxo nursery. Durable, solid Birch wood construction
bloom Alma Max Crib
bloom Alma Dresser
bloom Alma Mini Crib
bloom Universal Change Tray
Bloom Alma Max is the big daddy of the Alma Collection, with two mattress heights, an optional toddler rail, engineered from solid wood—available in standard sizing, Alma Max is the ultimate modern crib solution from newborn to 5 years.
Bloom Alma Dresser has a sleek modern design that complements the Alma Mini, Alma Papa and Alma Max to complete your Alma nursery. Durable, solid wood (Birch) construction
Bloom Alma Mini folding crib/mini-bassinet is designed for urban spaces and grandparents/second home—all about style, mobility, and storage. Solid wood mini-crib (American Birch) sized for urban living spaces.
| | |
| --- | --- |
| | |
| bloom Alma Papa Crib | bloom Alma Papa Crib, Cappuccino |
| Bloom Alma Papa urban-living and Brooklyn-inspired baby crib with clean lines and modern arches. Frost gray, natural | Bloom Alma Papa urban-living and Brooklyn-inspired baby crib with clean lines and modern arches. Its European sizing makes alma papa perfect for shared sleeping spaces. Patented compact-fold construction for easy storage & transport. |
| | | |
| --- | --- | --- |
| | | |
| Tula Free-to-Grow Baby Carrier | Tula Free-to-Grow Baby Carrier | Burberry Check Large Diaper Tote Bag |
| The simple, stylish baby carrier is ergonomically designed for front or back carry, so you can comfortably transport your little one through his or her first years. Its adaptable construction features fully adjustable shoulder straps and waistband for optimal comfort, giving you the flexibility and support you need. | The simple, stylish baby carrier is ergonomically designed for front or back carry, so you can comfortably transport your little one through his or her first years. Its adaptable construction features fully adjustable shoulder straps and waistband for optimal comfort, giving you the flexibility and support you need. | Detachable adjustable shoulder strap. Magnetic snap closure; lined. Two exterior gusseted bottle pockets, exterior slip pocket, exterior snap pocket, interior zip pocket, three interior slip pockets. Includes a fold-out changing mat that snaps into interior slip pocket |
| | |
| --- | --- |
| | |
| Mi Zone Kids Tamil 26" x 100" Caterpillow Long Pillowcase | Mi Zone Carly Printed Caterpillow Cover |
| Endless fun for kids, the Tamil Caterpillow long pillowcase features a paisley and floral print design with tones of white, blue, gray and yellow. The Caterpillow fully unzips from end to end on the 100" side unveiling five separate pockets for pillows. Five standard size pillows slip into the slots. | Cool colors abound in the Carly Caterpillow Cover from Mi Zone, combining comfort and youthful chic that will brighten up any room. |
| | | |
| --- | --- | --- |
| | | |
| Sparrow & Wren Rex Kids Wingback Chair | Bugaboo Donkey Complete Stroller Set | Bugaboo Bee5 Complete Stroller |
| From Sparrow & Wren, this exclusive kids chair is crafted in the Usa and with a slight wingback and finished with striking patterns that fit effortlessly into your little one's room | The updated Bugaboo Donkey Complete Stroller Set is made to grow with your family. It converts from a single to a double stroller with just three clicks (seat/bassinet frames sold separately) and features a roomy side luggage basket for all your essentials. This set includes additional accessories like a sun canopy and the side luggage basket cover. | For a compact and easy ride, especially on city streets, the Bugaboo Bee5 stroller features a compact fold; lightweight handling; one-hand steering; a one-hand, one-piece fold and easily attached accessories. |
| | | |
| --- | --- | --- |
| | | |
| Bugaboo Cameleon3 Iconic Stroller Frame & Accessories | Bugaboo Bee3 Stroller Base & Accessories | Gund Stormy 6.5" Plush Toy |
| The third generation of this classic all-in-one stroller is even more versatile, stylish and functional than ever before. Light and compact, Bugaboo's Cameleon3 Iconic Stroller Frame & Accessories are easy to lift and store. The premium materials and endless accessory combinations will ensure your child stays comfortable in all weather conditions: spring showers, hot summer days, breezy fall afternoons and cold wintry mornings. The original just got even better | The Bugaboo Bee5 base and accessories are made specifically for on-the-go, city-based parents. The frame is lightweight, with a one-handed recline and all-terrain smooth ride, and accessories like the sun canopies and faux-leather handlebar grips offer additional protection, comfort and style. | Pusheen's little sister Stormy is ready for hugs and cuddles in this soft plush from Gund |
| | | |
| --- | --- | --- |
| | | |
| Cloud Formation Wallpaper | Brookside Mural | Tree Tops Wallpaper |
| Eijffinger's unique papers have adorned the walls and windows of stylish homes and luxury hotels since 1875. Based in the Netherlands, its studio is filled with the creative minds that curate their exceptionally modern color palettes, motifs and materials. | Eijffinger's unique papers have adorned the walls and windows of stylish homes and luxury hotels since 1875. Based in the Netherlands, its studio is filled with the creative minds that curate their exceptionally modern color palettes, motifs and materials. | Eijffinger's unique papers have adorned the walls and windows of stylish homes and luxury hotels since 1875. Based in the Netherlands, its studio is filled with the creative minds that curate their exceptionally modern color palettes, motifs and materials. |
Go to:
Add World-Luxury to your favorites