Luxury European Resort Bedding
Luxury European resort bedding that welcomes you with quality fabrics and design. From the simplicity of a Greek Island to the luxurious opulence of an Italian hideaway, you won't be able to resist. Go to: Kassatex Duvet Bedding Collections, Kassatex Coverlets and Quilts, Riverbrook Home, Jessica Simpson, Vince Camuto

| | | |
| --- | --- | --- |
| | | |
| Lorimer Washed Percale Duvet Bedding Collection | Strada Embroidered Percale Duvet Collection | Linen - Bamboo Duvet Collection |
| The finely crafted duvet perfects a vintage softness that can only be achieved through the innovative garment-washing process. - 60% Tencel® Lyocell, 40% Cotton - 300 Thread Count, Garment-Washed Percale | Our ultra soft duvet, made with a proprietary blend of eucalyptus and long staple cotton, gets a style update with sleek three stripe embroidery. - 40% Long Staple Cotton, 60% Tencel® Lyocell - 300 Thread Count, Percale | It's like sleeping on a cloud. A duvet with all the airy goodness of linen but softer than ever thanks to our a signature linen - bamboo blend. - 60% Linen 40% Rayon from Bamboo - Garment-Washed |
| | | |
| --- | --- | --- |
| | | |
| Bamboo Sateen Duvet Collection | Vicenza Sateen Italian Duvet Collection | Salerno Percale Duvet Collection |
| We created the softest, most lustrous sateen duvet around by blending rayon from bamboo with our signature long-staple cotton. - 60% Rayon Made from Bamboo, 40% Cotton - 300 Thread Count, Sateen | Our Vicenza Collection duvet is silky smooth with a subtle sheen. Made in Italy with 100% cotton. - 100% Cotton, Sateen | The Salerno Duvet features percale fabric made with a proprietary blend of eucalyptus and long-staple cotton, updated with a sophisticated piping detail. - 40% Long Staple Cotton and 60% Tencel® Lyocell - 300 thread count, Percale |
| | |
| --- | --- |
| | |
| Cable Embroidered Percale Duvet Collection | Venice Washed Percale Duvet Collection |
| Exceptionally embroidered in a traditional cable design, the Cable Embroidered Percale Duvet is harmoniously crisp and smooth. Sophisticated in style, the 300-thread count percale bedding's duality is distinctly invigorating and sensually soft with the capacity to induce the most serene of sleeps. - 40% Long Staple Cotton, 60% Tencel® Lyocell - 300 Thread Count, Percale | This casually elegant striped duvet undergoes an innovative garment-washing process for the ultimate vintage soft feel. - 60% Tencel® Lyocell, 40% Cotton - 300 Thread Count, Garment-Washed Percale |
| | | |
| --- | --- | --- |
| | | |
| Diamante Coverlet | Messina Stonewashed Coverlet | Lafayette Coverlet |
| Crafted from 100% cotton, and garment washed for added softness, Our Diamante Coverlet features a diamond-stitched detail and lived in feel. | Unsurpassed in sophistication, our Messina Stonewashed Coverlet is designed with a waffle weave texture that exudes a vintage modernity for the top layer of the bed. The captivating collection is crafted from the finest cotton and stonewashed for a sumptuously soft feel. | A vintage softness with an exceptionally familiar texture, our Lafayette Coverlets are superbly refined in a garment washing process and finished with soft, rounded bindings. The result is the dreamiest of coverlets. |
| | | |
| --- | --- | --- |
| | | |
| Espinho Coverlet | Locanda Bed Blanket | Coimbra Coverlet |
| Crafted from 100% cotton, and garment washed for added softness, Our Espinho Coverlet features a subtle chevron pattern. | Traditionally crafted from 100% cotton, our Locanda Bed Blanket's soft waffle weave texture is the perfect accent for any bed style. Light enough to be an extra layer but cozy enough to use as an alternative to a comforter. Taking a nap never felt so good. | Crafted from 100% cotton, and garment washed for added softness, Our Coimbra Coverlet features a square-stitched detail and lived in feel. |
| | |
| --- | --- |
| | |
| Madrid Bed Blanket | Paradis Quilt Collection |
| Snuggle in with our dreamy Madrid Bed Blanket. Crafted from the finest cotton and garment washed for supreme softness, our Madrid blanket features a subtle texture design and an eyelash fringe trim to create an elegant aesthetic. | The finely quilted vertical pattern on our garment washed Paradis Quilt beautifully highlights the supple vintage softness and visually interesting texture of the bedding. Crafted in Portugal, Paradis can add depth to a casual bed or accent a multi-layered pattern story. |
| | | |
| --- | --- | --- |
| | | |
| Ridgely Comforter Set | Durham 8 Piece Comforter Set | Ridgely Comforter Set |
| Our collection is sheer perfection. The cotton faced, printed comforter features an elegant large scale floral design in muted coral , earthy browns and caramel create this stunning yet simple look. Absolutely everything you need to transform your space into your dream room. | The Durham set includes everything you'll need for the instant transformation you're looking for. Simple clean black and white oversized checks have been reinvented bringing new life to this old standard. Perfect for all ages from tween through college and beyond. | Our collection is sheer perfection. The cotton faced, printed comforter features an elegant large scale floral design in muted coral , earthy browns and caramel create this stunning yet simple look. Absolutely everything you need to transform your space into your dream room. |
| | | |
| --- | --- | --- |
| | | |
| Aileen 12 Pc Comforter Set | Barkley 10 Pc Queen Comforter Set | Selvy Comforter Set |
| Introduce contemporary elegance to your bedroom with the Aileen Comforter Set. A romantic mix of grey and bronze tones blend to display a marble-like design, styled with complementing throw pillows that create a cozy escape comfy enough to sink into. | Create a restful palace within your home using this Barkley grey comforter set. Soft, plush microfiber is luxurious to the touch and easy to clean, while decorative stitching on the quilt and pillow shams create geometric designs for an attention-grabbing blend of textures and patterns. A matching throw blanket completes the set and creates a cohesive look that would give any designer a run for their money. Finally, all the coordinating shams and decorative accents are finished in the same neutral color palette for a refined overall look. Who wouldn't love to cuddle up with this cozy-textured comforter set. | Adorn any bedroom in your home with a simple look that also adds a luxury touch using the Selvy comforter set. The set includes a comforter, two coordinating pillow shams, a bed skirt, and three coordinating decorative throw pillows to complete your ensemble all of which are in colors of platinum and silver. You will find a leaf pattern on the comforter and square pillow. The pillow shams and two other decorative pillows are in solid colors with quilted portions. |
| | | |
| --- | --- | --- |
| | | |
| Brenda 9 Pc Comforter Set | Murell 7 Pc Comforter Set | Gilmore 10 Piece Comforter Set |
| The Benda Comforter Set's large, lush leaves convey a tropical feel, while the colorway creates a refined, upscale atmosphere where you can truly relax. This set includes shades of pewter, sage, and olive. Knife pleats and white piping add finesse. | The Murell comforter set allows you to change the look in your bedroom easily. The comforter features a stripe pattern in colors of grey, plum and ivory and is accented with a leaf pattern. The two pillow shams that are included in the set are in a solid plum and have a leaf pattern. Two square pillows and a boudoir pillow are also included. What could be better than a bedding collection that includes everything you need in one set? | The Gilmore Collection from Riverbrook Home is a stunning example of modern luxury. Gilmore combines a luxurious silver tone gray geometric print with a luxurious quilted layered coverlet in a soft dove gray. Beautiful tailored shams and decorative pillows finish off this contemporary ensemble. |
| | | |
| --- | --- | --- |
| | | |
| Janna 8 Pc Comforter Set | Lorraine 8 Pc Comforter Set | Kacy 5 Pc Queen Comforter Set |
| This complete bed set will bring style and sophistication to your home and will quickly become the focal point of your bedroom. Fashion forward design and great colors will leave you smiling night after night. | The Lorraine Comforter Set in all white will give that clean crisp look to your bedroom. The pick up pattern adds interest and freshness to your bedroom or guest room. | This beautiful Kacy Comforter Set will add style and will work in any bedroom. This set is made with plush polyester and is recommended for a spot clean or can be washed with a front load industrial machine wash. Black and silver geometric designs complete the look. |
| | | |
| --- | --- | --- |
| | | |
| Cross Woven 6 Piece Comforter Set | Cross Woven 6 Piece Comforter Set, Sage | Cross Woven 6 Piece Comforter Set, Charcoal |
| Cross woven is the ultimate comfort fabric for today's bedding. Keep it simple with this 6 piece set or adorn it with your personal touch. The monochromatic color scheme with just a hint of embellishment on the accessory decorative pillows make a beautiful subtle statement. | Cross woven is the ultimate comfort fabric for today's bedding. Keep it simple with this 6 piece set or adorn it with your personal touch. The monochromatic color scheme with just a hint of embellishment on the accessory decorative pillows make a beautiful subtle statement. | Cross woven is the ultimate comfort fabric for today's bedding. Keep it simple with this 6 piece set or adorn it with your personal touch. The monochromatic color scheme with just a hint of embellishment on the accessory decorative pillows make a beautiful subtle statement. |
| | | |
| --- | --- | --- |
| | | |
| Moonstone 3 Piece Coverlet Set, Grey | Moonstone 3 Piece Coverlet Set, Dark Grey | Moonstone 3 Piece Coverlet Set, Tan |
| Moonstone coverlet combines contemporary styling with a soft hue. The crinkle technique adds loft and inviting texture to this sleek contemporary ensemble. Coverlet and shams are the 3 essential components to create a calm and restful environment. | Moonstone coverlet combines contemporary styling with a soft hue. The crinkle technique adds loft and inviting texture to this sleek contemporary ensemble. Coverlet and shams are the 3 essential components to create a calm and restful environment. | Moonstone coverlet combines contemporary styling with a soft hue. The crinkle technique adds loft and inviting texture to this sleek contemporary ensemble. Coverlet and shams are the 3 essential components to create a calm and restful environment. |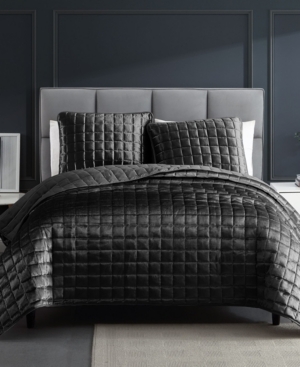 Lyndon 3 Piece Coverlet Set, Graphite
Lyndon coverlets are the perfect combination of contemporary style and old world luxury. Shimmer velvet in a vibrant colors make a dramatic statement with this simple essential combination of coverlet and shams.
| | | |
| --- | --- | --- |
| | | |
| Azra Quilt Collection | Coral Gables Bedding Collection | Bonnie Bedding Collection |
| The Jessica Azra Quilt Collection is made of pieced cotton fabrics all printed with block print inspired motifs in shades of indigo blue for a perfectly zen bedroom look. Indigo blue tassels finish off the look. | Rejuvenate your bedroom style with the Jessica Simpson Coral Gables Bedding collection, this collection features a painterly damask printed on cotton, the face features the damask in a lively coral and the reverse features the same damask in dusty grey. | This fresh, new bedding collection from Jessica Simpson will brighten up your bedroom like a sunny day. Ditsy florals alternating with border prints mixed with a two-tone global print create a faux pieced effect in tonal aqua casted blues. |
| | | |
| --- | --- | --- |
| | | |
| Felicity Bedding Collection | Lago Bedding Collection | Bombay Quilt, Shams |
| Jessica Simpson creates a new, sweet floral bedding collection in shades of blue on ground. Floral ditsy in tonal aqua casted blues is accented with a pieced floral vine border that creates a cheery, casual vibe. | Inspired by vintage silk scarves the Jessica Simpson Lago bedding collection features pieced cotton fabrics with bohemian, feminine prints in shades of dusty grey and coral. | A new and exotic pieced quilt with the look of hand crafted Indian prints from Jessica Simpson. Big blocks of small textured floral prints in desert spice and blue are pieced together in a bold pattern. |
Amrita Medallion Comforter Set
Mosaic Border Quilt, Shams
Avery 4 Piece King Comforter Set
Avery 4 Piece Full/Queen Comforter Set
Surround yourself in an exotic garden with the Amrita Medallion Comforter Set. Vibrant corals and blues create intricate over scaled floral medallions that are bordered by luscious vines while the delicately embroidered medallions on the shams add a rich textural dimension.
Make your bed a masterpiece with the Mosaic Border quilt from Jessica Simpson. Lovely purple and lavender hues are arranged in a mosaic medallion repeat pattern with a border of artistic florals.
This new comforter design from Jessica Simpson will brighten up any bedroom. A pretty, tossed heirloom floral and paisley print ­covers the top of bed. The rose bouquets are in subtle shades of watercolor pale pink, green and blue.
| | | |
| --- | --- | --- |
| | | |
| Mils Comforter Set | Mels Quilted Bedding | Tallulah Quilted Bedding |
| A pretty, tossed heirloom floral print ¬covers the top of bed. The rose bouquets are in subtle shades of dusty rose and pale pinks with green accents on a distressed gray ground. Pinch pleats add a textural, elegant understated finishing touch. | Add a romantic English garden ambience to your bedroom with this new quilt design from Jessica Simpson. This pretty, pieced quilt is a mix of lovely, vintage, wallpaper floral prints. This design has vertical piecing and frayed edges where each print meets that create an added tactile accent. | Jessica Simpson has designed a new quilt with a global vibe in shades of denim blues and burnt orange hues. Distressed florals with a block-stamped effect are pieced in a long brick quilting pattern. The reverse is a small floral on white from the top of bed. |
| | | |
| --- | --- | --- |
| | | |
| Lola Cotton Quilt, Shams | Antara Bedding Collection | Numbra Reversible Quilt, Shams |
| Add vibrant color and luxe comfort to your room with the Lola quilt from Jessica Simpson, featuring cotton fabric, floral patterns and a purple ground. | Add a Boho vibe to your bedroom with this latest comforter set from Jessica Simpson. The rich, bold floral textured print of intertwined vines has a hand stamped effect that evokes textiles from India. | This new Jessica Simpson quilt adds a boho touch to your bedroom with the look of hand-crafted Indian prints. Small textured global floral prints in shades of purple and teal are pieced together in a pattern of big, bold squares. Beautiful pieces of velvet in a soft teal tone add an extra special tactile element to complete the luxurious look. Reverses to a distressed floral print in lavender hues. |
| | | |
| --- | --- | --- |
| | | |
| Tika Quilt & Sham Collection | Jessica Simpson Cotton Medallion Gray Full/Queen Quilt, Sham | Floribunda Cotton Quilt, Shams |
| Add some rustic charm to your room's décor with the Tika reversible quilt and sham collection from Jessica Simpson, featuring soft quilted cotton finished with a multi-coral-and-pink, patchwork-inspired design. | Crafted with a crisp white ground enhanced with a stitched-medallion pattern in a cool gray tone, this super-soft quilted standard sham from Jessica Simpson is an ideal choice for clean contemporary style and comfort. | The Floribunda quilt from Jessica Simpson features a gray ground with pink floral accents, as well as an all cotton fabric and fill, making this an attractive and comfortable option for updating your room. |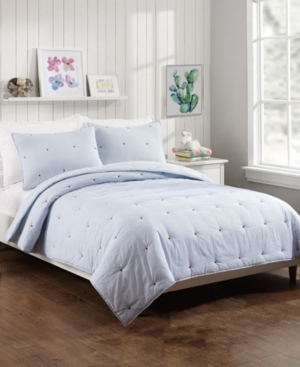 Growing Garden Full/Queen 3-Piece Quilt Set
Jessica Simpson Creates A Quilt That'S Perfect For Your Little Love Bug. Red Hearts Are Stitch Through Embroidery Over A Blue Pinstripe On A White Ground. Show Them That Your Heart Is In The Right Place With This Sweet And Simple Addition To Their Bedroom.
| | | |
| --- | --- | --- |
| | | |
| Obelis Metallic Bedding Collection | Lissara Bedding Collection | Allaire Bedding Collection |
| Obelis is an asymmetric geometric digital print with an underlying natural marble style print. White dominates the main print with shades of gray, taupe blue and black in the background print. The cotton, 200 thread count sateen woven face cloth is soft and clean to the touch. | A beautiful butterfly bouquet is engineered on this striking pattern in shades of purple, white and gray on sateen cloth. | This striking scarf inspired print from the Vince Camuto collection brings bright colors in abstract stripes into your bedroom to bring it to life. |
| | |
| --- | --- |
| | |
| Amalfi Full/Queen Duvet Cover Set | Mirrea Full/Queen Comforter Set |
| This digitally printed marble pattern uses a soft face fabric is 200 thread count, 100% cotton cloth with a 100% cotton reverse. | Striking abstract print with contrasting pure white and dusty purple solid colors are separated by a muddled bouquet stripe in this 100% cotton bedding pattern. |
Go to:
Add World-Luxury to your favorites