European Inspired Bedding Sets
European inspired bedding sets transform your room in minutes. Decorator coordinated fabrics let you design with confidence. Go to: Martha Stewart Bedding Sets, Marimekko Bedding Sets, Martha Stewart Bedspreads, Jessica Simpson
Unikko Bedding Collection
Marimekko Pikku Full/Queen Lokki Quilt Set
Marimekko Pikku King Lokki Quilt Set
Marimekko Pienet King Kivet Quilt Set
Pienet Full/Queen Kivet Quilt Set
The Unikko pattern is a true classic and part of Marimekko's first floral collection designed in 1964. Crafted in soft cotton percale, the bold, vibrant blooms across the comforter, duvet cover and shams of this bedding collection lend a cheerful pop of color to any bedroom.
Inspired by shadows of sunshine through a curtain, the Marimekko Pikku Lokki quilt set is sure to bring an update to any room. This fun, yet chic pattern is sure to make a statement. The truly reversible quilt allows for a versatile look.
Add modern simplicity to your bedroom with the Marimekko Pienet Kivet quilt set. Kivet, Finnish for stones, follows its true meaning. The quilt reverse features the same pattern as the face, with the opposite colorway, making this a truly reversible set.
Mykero Bedding Sets
Marimekko Onni Full/Queen Duvet Cover Set
Marimekko Onni King Duvet Cover Set
Marimekko Lumimarja Bedding Collection
The Marimekko Mykero bedding set makes a cheerful statement in your bedroom. A yellow watercolor-drawn sunflower print pops against the multi-colored ground.
Add this colorful touch of poppy blooms on the Marimekko Onni bedding set to update any bedroom. Designed in the 70's, Onni, meaning happiness, will truly brighten up any room. This set is perfect for any season and is sure to put a smile on everyone's face.
Make a calm and peaceful bedroom retreat with the Lumimarja bedroom collection from Marimekko. Designed by Erja Hirvi in 2004, Lumimarja ("snowberries") is an expressive botanical print in restful neutrals.
| | | |
| --- | --- | --- |
| | | |
| Marimekko Mynsteri Blue Bedding Collection | Marimekko Pieni Letto Bedding Collection | Ojakellukka Bedding Collection |
| Add beauty to your bedroom suite with the Mynsteri bedding collection from Marimekko. Inspired by nature, this set features a floral print with a fresh tonal palette of clear blues on a crisp white cotton ground. Inspired by traditional bobbin lace, the Mynsteri will bring a distinctly modern style to your room | Refresh any bedroom's look and feel with the nature-inspired prints and tones of this chic Pieni Letto bedding collection from Marimekko. | Bring your bedroom to life with the bold blossoms and radiant tones of this striking Ojakelkukka bedding collection from Marimekko. |
| | | |
| --- | --- | --- |
| | | |
| Marimekko Unikko Bedding Collection | Marimekko Fokus Bedding Collection | Marimekko Rosarium Bedding Collection |
| Showcasing a pattern featured in Marimekko's first floral collection designed in 1964, this Unikko bedding collection lends iconic style and a bold pop of color to any bedroom. Dark red, medium blue | Concentric rings of small white dots join to form larger circles on a deep navy background creating a timeless graphic across the Marimekko Fokus collection that looks as modern today as it did when it was originally designed in 1999. | Bring bold blooms to your bedroom with the Rosarium bedding collection from Marimekko. Adorned with a charming floral design in vibrant tones, the cotton comforter, duvet cover and shams are a cheerful way to brighten up any bedroom |
| | | |
| --- | --- | --- |
| | | |
| Pihkassa Bedding Collection | Jurmo Bedding Collection | Marimekko Mehilaispesa Metallic Taupe Bedding Collection |
| Transform your bedroom into a tranquil modern retreat with the peaceful forest-inspired print featured on this Pihkassa Sage bedding collection from Marimekko. | A pattern inspired by the serene, austere landscape of the Finnish island Jurmo and designed by Aino-Maija Metsola features a soothing pebble-and-stone print, defining this smooth cotton bedding collection by Marimekko. | Originally designed in 1961, the hand-drawn geometric pattern featured on this Mehilaispesa bedding collection from Marimekko still lends a fresh modern feel to any bedroom's decor. |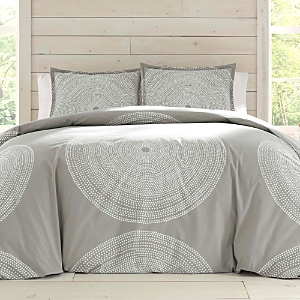 Fokus Bedding Collection
Concentric rings of small white dots join to form larger circles on a medium grey ground creating a timeless graphic that looks as modern today as it did when it was originally designed in 1999
| | | |
| --- | --- | --- |
| | | |
| Jessica Simpson Valdivia Bedding Collection | Bellisima Bedding Collection | Jessica Simpson Amrita Medallion Bedding Collection |
| Majestic paisleys bloom in a festival of blue, coral red and citron on this original Jessica Simpson Valdivia Comforter for a boho luxe vibe. | Renew your bedroom style with this original Jessica Simpson floral that blooms in watercolor pink and shadow blue on soft cotton sateen. | Surround yourself in an exotic garden with the Amrita Medallion Comforter Set. Vibrant corals and blues create intricate over scaled floral medallions that are bordered by luscious vines while the delicately embroidered medallions on the shams add a rich textural dimension |
| | | |
| --- | --- | --- |
| | | |
| Jessica Simpson Mosaic Border Quilt and Sham | Caicos Bedding Collection | Jessica Simpson Lola Cotton Quilt and Sham Collection |
| Make your bed a masterpiece with the Mosaic Border quilts from Jessica Simpson. Lovely purple and lavender hues are arranged in a mosaic medallion repeat pattern with a border of artistic florals | Capturing the island vibe the Jessica Simpson Caicos quilt in cotton sateen features dancing paisleys in a watercolor palette of coral and clear water blue. | Add vibrant color and luxe comfort to your room with the Lola quilt and sham collection from Jessica Simpson, featuring cotton quilting, floral patterns and a purple ground. |
| | |
| --- | --- |
| | |
| Cotton Medallion Gray Quilt and Sham Collection | Floribunda Reversible Cotton Quilt and Sham Collection |
| Crafted with a crisp white ground enhanced with a stitched-medallion pattern in a cool gray tone, these super-soft cotton quilts and shams from Jessica Simpson are an ideal choice for clean contemporary style and comfort. | The Floribunda quilt and sham collection from Jessica Simpson features a gray ground with pink floral accents, as well as an all cotton fabric and fill, making this an attractive and comfortable option for updating your room. |
Go to:
Add World-Luxury to your favorites