European Style Children's Bedding
European style children's bedding. Keep it simple, or mix and match, or layer to create your own looks. Children's bedding that's bright and modern or more playful and traditional make going to bed as much fun as daydreams and playtime. Bedding that can grow with them through their teen years. Go directly to: Laura Hart Kids, Mi Zone Kids, Ivory Ella
| | | |
| --- | --- | --- |
| | | |
| Logan 8-Pc. Complete Bed and Sheet Sets | Nash 4-Pc. Reversible Coverlet Sets | Pipeline 4-Pc. Bedding Sets |
| Transform your child's bedroom with the fun style of the Mi Zone Kids Logan Complete Bed and Sheet Set. The ultra soft comforter and matching sham showcase a colorful dinosaur robot print on the blue base fabric for a charming look. | Cruise off to sleep with the Nash Comforter Set. The fun and exciting comforter and matching sham feature a truck print motif in green and orange colors on an ultra soft blue and grey base fabric. A solid blue reverse complements the top of the bed. | The Pipeline reversible bedding sets from Mi Zone feature the soft touch of a peach skin finish and a stylish rectangular design, making this a great choice for adding a classic look to any room. |
| | | |
| --- | --- | --- |
| | | |
| Mi Zone Kids Lia 4-Pc. Comforter Sets | Mi Zone Kids Spring Bloom Reversible Comforter Sets | Mi Zone Kids Andes Full/queen 4 Piece Printed Llama Comforter Set |
| Create a fun yet modern look in your room with the Lia Comforter Set from Mi Zone, featuring a ruched top, a soft pink base and printed white polka dots. One decorative pillow with a white base and multicolored polka dot embroidery as well as standard shams pull this look together. | The Kids Spring Bloom reversible bedding collection from Mi Zone features a pink border frame and a soft peach skin finish, making it the bright and cheerful choice for any room. | The ultra-soft base fabric features an adorable llama motif on the comforter. A solid reverse complements the top of the bed, while matching sham(s) with a 1-inch flange repeat the pattern of the comforter to create a fun coordinated look. An embroidered decorative pillow also showcases a llama, providing the perfect finish touch. |
| | | |
| --- | --- | --- |
| | | |
| Mi Zone Kids Peggy Complete Bed and Sheet Set | Kids Tessa 4-Pc. Tassel Comforter Sets | Kids Alicia Rainbow with Metallic Printed Stars Reversible Coverlet Sets |
| The Mi Zone Kids Peggy Complete Bed and Sheet Set provides a whimsical transformation to your child's bedroom. The ultra soft comforter features a printed unicorn and rainbow motif on the white base, for a look that pops with delightful charm. | Cute and simple, the Mi Zone Kids Tessa Tassel Comforter Set offers a fun update to your bedroom. The white comforter and sham s feature multi-colored tassels that add a fun and charming touch to the top of the bed. | Bring a whimsical charm to your child's bedroom with the Mi Zone Kids Alicia Rainbow with Metallic Printed Stars Complete Bed and Sheet Set. An adorable rainbow and gold metallic star print adorns the pink comforter and sham for a cute and playful look. |
| | | |
| --- | --- | --- |
| | | |
| Kids Cynthia 8-Pc. Complete Bed and Sheet Sets | Mi Zone Kids Little Foot Coverlet Sets | Kids Raff 4-Pc. Sloth Printed Comforter Sets |
| The Mi Zone Kids Cynthia Complete Bed and Sheet Set offers an enchanting update to your child's bedroom. A colorful butterfly print is beautifully displayed on the face of the ultra-soft comforter and matching sham for a cute and charming allure. | Take a walk into the Jurassic Age with the Little Foot coverlet set from Mi Zone, featuring erupting volcanoes, dinosaurs and a mountainous backdrop for a fun atmosphere in the bedroom. | The Mi Zone Kids Raff Sloth Printed Comforter Set gives your child's bedroom a fun and adorable update. A superhero sloth and colorful geometric print pattern adorn the ultra soft grey comforter and sham s, for a delightful look. |
| | | |
| --- | --- | --- |
| | | |
| Darya Twin 3 Piece Printed Mermaid Comforter Set | Mi Zone Camille Floral Comforter Set | Mi Zone Kids Fluttering Farrah Coverlet Sets |
| Bring a fun and colorful look to your bedroom with the MI Zone Kids Darya Mermaid Printed Bedding Set. The bedding and matching shams with a 1" flange feature a delightful mermaid motif in bright aqua and pink colors. A solid reverse complements the top of the bed, while a decorative pillow provides a charming finishing touch. | Colors: White ground with pink and yellow accents | Bring your favorite garden creatures inside with the Kids Fluttering Farrah coverlet set from Mi Zone, featuring vibrant flowers, butterflies and ladybugs printed on a white background for a colorful pop. |
| | | |
| --- | --- | --- |
| | | |
| Mi Zone Kids Sealife Reversible Comforter Sets | Mi Zone Katie 4-Pc. Reversible Comforter Sets | Mi Zone Kids Totally Transit Reversible Comforter Sets |
| The Kids Sealife reversible comforter set from Mi Zone features colorful cartoon whales, octopuses and submarines, set against calming blue and white stripes for a child-friendly nautical theme. | Bright colors, polka dots and owls makes the Katie comforter set from Mi Zone the right choice for bringing a fun dynamic to your bedroom decor. | The Kids Totally Transit reversible bedding collection from Mi Zone features colorful toy trucks, ambulances, motorcycles, airplanes and helicopters against a blue ground, making it the fun-loving choice for the motor vehicle enthusiast in your home |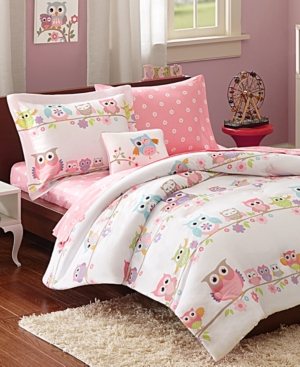 Wise Wendy Reversible Comforter Set
Owls and soft pastels combine to make the Kids Wise Wendy reversible bedding collection from Mi Zone the smart choice for the bird lover in your home.
| | |
| --- | --- |
| | |
| Laura Hart Kids Happy Owls 3-Pc. Bedding Sets | Laura Hart Kids Mermaids Comforter Sets |
| Showcasing cozy microfiber printed with fun forest friends and fresh flowers, this Happy Owls reversible comforter set from Laura Hart creates a charming atmosphere perfect for any girl's room. | Create an enchanting atmosphere with the Kids Mermaids Comforter Sets from Laura Hart, featuring mermaids, turtles, jellyfish, starfish and fish enjoying their aquatic habitat upon a calm white ground. |
Ivory Ella is a brand that radiates positivity, creating great product for a good cause. A company that gives back and inspires others to do the same. Has donated over $1.6 million to Save the Elephants and other charitable organizations. Playful colors and bold scale reflect Ivory Ella's optimistic and whimsical style
Ivory Ella Dana Twin Quilt Set
Dana Full/Queen Quilt Set
Ivory Ella Izzie Twin Xl Comforter Set
Ivory Ella Sadie Twin Xl Comforter Set
Ivory Ella Sadie Full/Queen Comforter Set
Constructed from silky and soft microfiber, this sky blue quilt set features a decorative ogee quilted pattern. Prewashed for added softness, it employs a distressed technique that allows the set to be great on its own or effective as a layering piece.
Satisfy your wanderlust with the alluring tie dye Izzie Bedding Collection. Utilizing blue coloration with an accent of mint, this ensemble features an exploding tie dye swirl with brilliant berry tones. Duvet reverses to a subtler solid light blue.
Vibrant color and exotic pattern details blend to bring bohemian chic to your bedroom decor. The Sadie bedding ensemble employs a printed shibori design in cool tones of aqua and deep royal blue and reverses to a solid rich royal blue.
Lauren Twin XL Comforter Set
Ivory Ella Nicole Full/Queen Duvet Cover Set
Ivory Ella Ella Queen Toss Sheet Set
Ella Twin Toss Sheet Set
The Lauren Comforter Set features an embroidered elephant border and gorgeous leaf motif that is scattered. The embroidered engineered design boasts stunning berry tones and intricate paisley patterning that pop against the crisp white ground.
Playful colors and bold scale reflect Ivory Ella's optimistic and whimsical style. In a gorgeous palette of sky blue, navy and pink, the Nicole bedding collection showcases a lively paisley print
Bring excitement and positivity into your room with the Ella Toss Sheet Set. Available in blue or berry, these sheets feature the iconic Ivory Ella elephant motif. They are constructed with high quality, cotton percale that softens after each wash.
Go to:
Add World-Luxury to your favorites