Coffee, Cappuccino and Espresso Machines Plus BergHOFF Tea
Coffee, Cappuccino and Espresso machines to make every cup exactly the way you want it. From the simplest coffee maker to machines that grind, tamp and brew at a push of the finger. Perfect coffee drinks every time in your own home. Go to: Jura Espresso Machines, De'Longhi, Nespresso and Keurig Single Serve, BergHOFF Tea, Specialty Coffeemakers, Pour Over and French Press
Jura brings sophistication, quality, versatility and ease of use to brewing espresso-based beverages at home. Producing the finest high-pressure-brewed coffee, espresso, cappuccino and latte, Jura manufactures coffee makers that are fast and easy to operate, grinding, tamping, brewing and self-cleaning in less than 60 seconds.
Jura S8 Automatic Coffee Machine, Moonlight Silver
S8 Automatic Coffee Machine, Chrome
Jura X8 Platinum Espresso Machine
Capresso Jura Z8
The S8 combines excellence in technology, quality, operation and design. It creates the full range of specialty coffees to an impressive standard of quality at the touch of a button. With a generous 4.3" color touchscreen display for modern convenience and a beautifully thought-out design with exquisite details, it promises moments of sheer pleasure.
The X8 is incredibly versatile: it can prepare the full range of coffee specialties finished with milk and milk foam, as well as black coffees and the classic jug of coffee. For tea lovers, it also prepares hot water at different temperature levels. With its solid, height-adjustable dual spout, it can create a coffee specialty—or even two beverages simultaneously—and dispense them into the cups or glasses, at the touch of a button.
World's first automatic home coffee machine with one-touch Americano function using a special preparation method to additionally combine the coffee with hot water during the extraction process, resulting in full-bodied & light specialties
| | | |
| --- | --- | --- |
| | | |
| Jura D6 Platinum Beverage Maker | JuraZ8 One-Toucher Americano Maker | Capresso Jura Giga 6 |
| Intuitive dials and plain text display guide you to seven programmable drinks: espresso, two espressos, coffee, two coffees, cappuccino, milk foam and hot water for tea. Produces barista-quality beverages at the touch of a button | The Z8 from JURA boasts an unbeatable standard of coffee. For long coffees, the world's first automatic coffee machine for the home with One-Touch Americano function uses a special preparation method that combines the coffee with hot water during the extraction process, resulting in full-bodied, deliciously light specialties. | Combines the fresh bean-to-cup brewing like all JURA models with innovative, convenient new features that save time, produce delicious drinks and expand the possibilities of a countertop coffee machine |
| | | |
| --- | --- | --- |
| | | |
| Jura A1 Fully Automatic Coffee Machine | Jura E8 Chrome Beverage Maker | Capresso Jura A1 |
| Intelligent Pre-Brew Aroma System: pre-brew process that develops maximum flavor from all blend and roast coffees. Pulse Extraction Process: optimizes extraction time, forcing hot water through ground coffee in short intervals. Precision grinding cone is twice as fast—cutting grinding time in half—while maintaining the fullness and aroma of the brew | 15 specialties are now available at the touch of a button, including latte macchiato, flat white, cappuccino. Produces barista-quality beverages. The exclusive Pulse Extraction Process® optimizes the extraction time and guarantees the very best aroma for short specialty coffees | Delivers rich, full-flavored coffee drinks in a compact machine. This bean-to-cup system will automatically brew three classic favorites: espresso, ristretto and coffee. Its thermoblock system quickly heats the water to an ideal brewing temperature |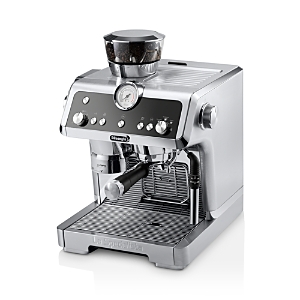 De'Longhi La Specialista Dual Heating System Espresso Machine
Created for the passionate espresso and coffee drinker, this elegant, professionally-inspired machine allows you to handcraft espresso. Sensor Grinding Technology: delivers precise, consistent grinding and the optimal dose for espresso every time. Smart Tamping Station: lets you replicate the perfect tamp
| | | |
| --- | --- | --- |
| | | |
| Nespresso De'Longhi Lattissima Touch Single-Serving Espresso Maker | Nespresso De'Longhi Lattissima One Single-Serving Espresso Maker | Nespresso & Delonghi Lattissima Pro Espresso Maker |
| One-touch system: six one-touch recipe options. Adjust the milk froth texture regulator knob to vary froth texture. The sliding drip tray allows for the use of different cup or glass sizes and after use, the milk container can be put into the fridge or disassembled and cleaned. 19-bar high-performance pump | Equipped with a new and innovative fresh milk system. Fill the milk jug with the amount of milk you want for your drink and the machine will froth it directly into your cup and brew your coffee. High-pressure pump and fast heat-up system. Eco-mode for low energy consumption after 3 mins | Ingeniously designed for ease of use and sleek, streamlined style, the De'Longhi Lattissima Pro lets you create perfect custom espresso drinks every time. |
| | | |
| --- | --- | --- |
| | | |
| Nespresso Evoluo Bundle by Breville | Nespresso VertuoPlus Coffee & Espresso Maker by De'Longhi with Aeroccino Milk Frother, Limited Edition | Nespresso Essenza Mini Espresso Machine by De'Longhi |
| The ultimate in coffee convenience, Nespresso's Evoluo Bundle lets you brew delicious coffee and espresso drinks using just one capsule-ready machine. | Conveniently makes five cup sizes at the touch of a button: 8 oz. coffee, 14 oz. coffee, 5 oz. Gran Lungo, 2.7 oz. double espresso and 1.35 oz. espresso. Includes a complimentary welcome set with a range of unique Nespresso Vertuo capsules | Compact without compromising on taste, this coffeemaker offers two programmable cup sizes (espresso and coffee) to give you the perfect pour in just a few minutes. VertuoLine technology uses an intelligent extraction system that recognizes a barcode on the rim of each capsule, allowing the brewing parameters to be adjusted by the machine, with no need to change settings |
With just one cookware set ready for market, Raf Vanthoor signed the first BergHOFF contract in 1994. Since then, the line has grown into an international, award-winning kitchenware label known for thoughtful details and an upscale aesthetic. Each collection is developed from start to finish by an in-house team of enthusiastic designers and producers, making every piece a product of earnest passion and innovation.
| | | |
| --- | --- | --- |
| | | |
| BergHOFF Harmony 18/10 Stainless Steel Whistling Tea Kettle | BergHOFF Ron Stainless Steel Teapot | BergHOFF Dorado Glass Teapot |
| The Harmony Whistling Kettle features a large handle and dripless pour spout for comfort as well as safe pouring. Not only is it usable on any stove top – gas, electric, ceramic or induction – this 11-cup kettle even whistles when your water boils to let you know when it's ready! | Give your tea gatherings a modern touch with this white teapot that doubles as a tea kettle. Just place it on any stove to heat the water, add your favorite tea leaves in the removable infuser and pour yourself and your friends a nice cup of tea. Perfect for brisk winter nights and cool summer evenings! | From a brisk winter morning to a cool summer night, this artful glass teapot, stainless steel strainer insert and stainless steel candle warmer will bring out the best flavors of the loose or bagged herbal teas. Dishwasher safe. Uses standard warmer candles. The teapot is made of glass and is heat-resistant up to 356 F. |
| | | |
| --- | --- | --- |
| | | |
| BergHOFF Studio Cast Iron Teapot | BergHOFF Essentials Stainless Steel French Press | BergHOFF Studio 5-Piece Cast Iron Tea Pot Set |
| Cast iron tea pots keep tea hotter for longer. Thanks to the even heat distribution of cast iron, the natural flavor of the leaves is enhanced. The fine mesh 18/10 stainless steel filter allows you to enjoy your tea without the hassle of leaves in your cup. The inside is coated with durable enamel which offers protection from corrosion. | The BergHOFF French press is a cylindrical pot with a plunger and a built-in filter screen that presses hot water onto tea leaves or ground coffee. When you choose the French press to create a delicious cup of coffee or tea, you're sure you're using a reliable and consistent method that's ideal for making several cups in just a few minutes. | Cast iron tea pots keep tea hotter for longer. Thanks to the even heat distribution of cast iron, the natural flavor of the leaves is enhanced. The fine mesh 18/10 stainless steel filter allows you to enjoy your tea without the hassle of leaves in your cup. The inside is coated with durable enamel which offers protection from corrosion. |
| | |
| --- | --- |
| | |
| Miele CM6150 Countertop Coffee Machine | Miele CM6350 Countertop Coffee Machine |
| AromaticSystem mixes coffee and water in the brew chamber for a perfect, intense flavor every time. OneTouch and OneTouch for Two: extra program for preparing one or two cappuccino or latte macchiato | AromaticSystem mixes coffee and water in the brew chamber for a perfect, intense flavor every time. OneTouch and OneTouch for Two: extra program for preparing one or two cappuccino or latte macchiato. User profiles: up to ten individual user profiles for your own unique coffee experience |
| | | |
| --- | --- | --- |
| | | |
| Breville Nespresso Creatista | Capresso EC300 Espresso Machine | Cuisinart Dcc-3000 Coffee On Demand Coffee Maker |
| Become your own favorite barista with the Nespresso Creatista, the first single-serve espresso coffee machine that lets you create all your favorite cafe drinks, including sweet latte art. | 42-oz. removable water tank. Includes coffee scoop/tamper. Illuminated control knob for simple operation. 15-bar pump provides optimal pressure for rich crema. Heavy-duty portafilter includes two sieves to produce one or two rich, thick crema espressos at a time | Coffee by the cup! This early riser brews 12 cups of coffee cup by cup, so you can grab, go and get your fix quick. Up when you are with 24-hour advance programming, this coffee maker features a dispenser light that lets you know when to pull the lever and get a steaming hot cup of Joe |
| | | |
| --- | --- | --- |
| | | |
| Breville Oracle Touch Espresso Machine | Breville Barista Touch | Breville The Barista Express |
| Make your favorite cafe drink with this versatile espresso machine. Automatic grinding and tamping ensures consistent repeatable and adjustable results each time, while automatic hands free milk frothing takes the guess work out of texturizing milk. You can customize your own drinks, then program them so the machine remembers your tastes. Plus, one touch Americano yields effortlessly delicious results. | Enjoy barista-quality performance at home with this compact machine, offering a touch screen display with pre-programmed cafe drinks. A built-in grinder delivers the right amount of ground coffee on demand, while a three-second heat up time takes you from bean to cup faster than ever before. | This machine does it all. From expertly grounding beans to brewing velvety, rich espresso in under a minute it is a must for java-enthusiasts. With automatic and manual settings, experts and novices alike can create delicious lattes, cauppuccinos and americanos to rival any cafe. |
| | | |
| --- | --- | --- |
| | | |
| BergHOFF French Press 5-Pc. Coffee Set | BonJour 50.7-Oz. Cold-Brew Coffee Maker | Primula Cold Brew Iced Coffee Maker, 50 oz. |
| French presses, commonly referred to as coffee plungers create a smooth, pure coffee flavor. For best results use coarse ground coffee, just pour and serve. Makes 4 cups. Constructed of stainless steel with a decorative finish and glass carafe. | Say goodbye to bitter blends with this cold-brew coffee maker from BonJour. Brew up to 10 rich, complex cups with this gentle system. A permanent filter helps remove grounds from the coffee concentrate. | Primula's cold brew carafe makes rich, delicious full bodied coffee concentrate that is 65% less acidic than hot brewed coffee. |
Go to:
Add World-Luxury to your favorites