Luxury European Cutlery and Cookware
Bring European performance and style to your kitchen. Go to: Stylish Cookware and Bakeware, Zwilling, Golden Rabbit, Cutlery, Ooni Pizza, Hestan Cookware
| | | |
| --- | --- | --- |
| | | |
| BlendJet BlendJet 2 Portable Blender | Deny Designs Triangle Play Landscape Square Cutting Board | Martha Stewart Collection 3-Pc. Terry Cloth Kitchen Towels |
| Get big blender performance, on-the-go, with BlendJet 2 from BlendJet. Its durable, portable and rechargeable design lets you make smoothie-bar-quality beverages, protein shakes, mixed drinks, frozen lattes - even baby food - while at the gym, on vacation or wherever the day may take you. | Introducing you to our Deny Designs Cutting Board! Dinner parties just got a whole lot cooler with this half-inch birch wood cutting board. Showcasing art on one side perfect for making a statement in your kitchen. The other side can be used for prepping all of the cheese and meats available. Your Kitchen will get an upgrade with this one of a kind cutting board. | Add fresh style to your kitchen with the 3 distinctive designs in this set of Terry Cloth towels from the Martha Stewart Collection. |
| | | |
| --- | --- | --- |
| | | |
| Magefesa Enameled Steel 15" Paella Pan | Deny Designs Moody Geometry Rustic Gold Round Cutting Board | Martha Stewart Collection 3-Pc. Terry Cloth Kitchen Towels |
| Magefesa's enameled pans offers convenience and value while making delicious paella. Made of steel, then coated with a black and white speckled enamel, so rusting will not be an issue. The enamel also makes the pan a bit easier to clean. | Introducing you to our Deny Designs Cutting Board! Dinner parties just got a whole lot cooler with this half-inch birch wood cutting board. Showcasing art on one side perfect for making a statement in your kitchen. The other side can be used for prepping all of the cheese and meats available. Your Kitchen will get an upgrade with this one of a kind cutting board. | Add fresh style to your kitchen with the 3 distinctive designs in this set of Terry Cloth towels from the Martha Stewart Collection. |
Attiva Pewter 12-Piece Cookware Set
12-piece set includes one each of the following: 1.9-qt. saucer with lid, 3.5-qt. stock pot with lid, 6.5-qt. stock pot with lid, 3-qt. high casserole with lid, 4-qt. low casserole with lid, and 10.5" frying pan with lid. Rustic, industrial design for this collection. Made of 18/10 stainless steel and aluminum. Dishwasher safe. Made in Italy.
| | | |
| --- | --- | --- |
| | | |
| Zwilling Enfinigy Glass Kettle | Zwilling Enfinigy Drip Coffee Maker | Zwilling Enfinigy Coffee Bean Grinder |
| Featuring precise temperature control, six pre-set temperature programs, a 30-minute keep-warm function, and a handy tea steeping timer, this kettle makes a perfect addition to your morning routine. The stainless steel steeper allows you to brew your favorite tea - loose leaf or bagged - directly in the kettle. Crafted of durable borosilicate glass, this sleek kettle makes a perfect gift for the tea-lover in your life, as well as a minimalist countertop piece for yourself. | This 12-cup capacity drip coffee maker is certified by the Specialty Coffee Association, ensuring each sip is of the highest quality. It features a powerful shower head that moistens the coffee grounds thoroughly and evenly, and a blooming function that removes carbon dioxide for a smoother, less sour-flavored coffee. The corrosion-resistant stainless steel boiler, far superior to copper and aluminum boilers, brews water without altering its flavor. Even better? Timer and keep-warm functions allow you to set the time you'd like coffee to start brewing, and ensure it remains warm until you're ready for a second cup. | This powerful stainless-steel conical burr grinder grinds coffee beans to a desired uniform size, without heating them up in the process - this ensures that the rich flavor locked in the coffee beans will remain in the grounds. With 140 different grinding options, you can choose the right grind size for the brewing style you prefer - from coarse grounds for French press coffee, to medium grounds for drip coffee brewing. Better yet? You can easily select the grind volume for the number of coffee cups you plan to brew. |
| | | |
| --- | --- | --- |
| | | |
| Zwilling Enfinigy Milk Frother | Zwilling Now 6-Piece Knife Block Set | Zwilling Pro 7-Piece Self-Sharpening Knife Block Set |
| This high-quality electric milk frother produces creamy, soft, microbubble foam. Aerating milk before pouring it into your coffee adds a smooth texture and sweetness to coffee without adding any sugar. Froth hot milk, cold milk, or milk substitutes (such as oat, almond, and coconut milk), or whip up creamy cocoa drinks. With easy-to-clean removable parts, it's simple to use each and every morning. | Crafted in Germany with special formula stainless steel, this set features ice-hardened blades that offer exceptional, long-lasting sharpness. Ergonomically shaped for tireless cutting, each polypropylene handle has an anti-slip treatment, guaranteeing safe slicing. The set of knives is complete with matching kitchen scissors and a sharpening steel, making this the perfect functional (and eye-catching!) addition to your kitchen. | Crafted in Germany, this self-sharpening knife block is stocked with everything you need to slice, sharpen, and store. Its self-sharpening slots feature built-in ceramic honing wheels that automatically sharpen each time a knife is removed or replaced - ensuring your knives are always ready for precision prep work. Including four essential knives, shears, and a cutting board, this block includes everything you need for everyday kitchen tasks. Precision-forged from a single piece of special-formula stainless steel, these knives boast an innovative curved bolster that acts as an extension of the hand, allowing you to comfortably cut with ease. |
| | | |
| --- | --- | --- |
| | | |
| J.a Henckels Classic 16-Pc. Knife & Block Set | J.a. Henckels International Forged Premio 13-Piece Cutlery Set | J.a. Henckels International Modernist 13-Pc. Knife Block Set |
| Fine-edged blades with triple-rivet handles give the knives in this Classic collection from J.A. Henckels lasting performance and comfort. The 16-piece assortment includes prep-work essentials as well as steak knives. A wooden block stylishly stores the set. | Give your kitchen a cutting edge. Each piece in this versatile cutlery set is masterfully forged of sturdy stainless steel to meet the renowned high-quality standards of J.A. Henckels International. | Put the fun back in cooking with precision blades and ergonomic design of this performance set from J.A. Henckels International. The sleek Modernist collection, made from stainless steel, includes the knives you turn to the most plus a stylish wooden block for storage. |
| | | |
| --- | --- | --- |
| | | |
| Zwilling J.a. Henckels 8-Pc Steak Knife Set with Wood Presentation Case | Zwilling J.a. Henckels 4-Piece Steakhouse Knife Set with Storage Case | Zwilling J.a. Henckels Twin Gourmet 15-Pc. Knife Set |
| The ZWILLING J.A. Henckels 8-pc Stainless Steel Steak Knife Set with Wood Presentation Case features high carbon stainless steel blades cut to precise ZWILLING specifications. The forged blades provide the ultimate strength needed for long lasting durability. Each 4 inch serrated blade slices through meats and poultry with razor sharp precision. Tapered design from the blade to the handle provides a comfortable ergonomic grip. | Designed in Germany. Inverted blade serration for a prolonged cutting edge. FRIODUR® blade stamped from one single piece of steel. Ice-hardened to 57 Rockwell Hardness; hand sharpened and polished. Traditional three-rivet handle; full tang | Sharp, durable and rust-resistant, this Twin Gourmet collection from Zwilling J.A. Henckels brings precision performance to your counter. The 15-piece set includes prep-work essentials plus eight steak knives. A sleek acacia wood block keeps them handy on the counter. |
| | |
| --- | --- |
| | |
| Zwilling J.a. Henckels Pro 9-Piece Set | J.a. Henckels Zwilling Four Star Ii 7 Piece Knife Block Set |
| Precise lasers are used to ensure optimal blade angles, and hand polishing produces outstanding sharpness, culminating in a superior set of knives, each made from a single piece of exclusive no-stain German steel. | TWIN Four Star II enhances ZWILLING J.A. Henckels' top-selling knife series worldwide with a stainless steel end cap. This logo-stamped end cap optimizes the balance provided by the bolster, resulting in safety, ergonomics and comfort. |
There's nothing quite like gathering with family and friends to share a meal, and Golden Rabbit believes in making it easy. Their collection of enamelware is handcrafted in Indonesia, where porcelain enamels are fused onto carbon steel at very high temperatures in a kiln and finished with stainless steel trim. In terms of durability, Golden Rabbit pieces hold up to oven, stove-top, and even broiler heat, as well as freezer storage. From the traditional enamelware look - like swirled or marbled dishware - to kid sets by artists like Mary Engelbreit and Beatrix Potter, Golden Rabbit's distinctive designs, unparalleled quality, and practical functionality have become the trusted name for home gourmets and private label clients, including top lifestyle and designer brands.
| | | |
| --- | --- | --- |
| | | |
| Golden Rabbit 10.5 Quart Enamelware Roasting Pan | Golden Rabbit 6 Quart Enamelware Stock Pot | Golden Rabbit 3 Quart Enamelware Baking Pan |
| This 10.5 quart roasting pan is the perfect size for large family gatherings. Perfect for roasts, lasagna, casseroles and more! The natural taupe will add an impressive burst of color and accent your table setting with a retro casual look. | Make a statement with this 6 qt stock pot. The natural taupe will add an impressive burst of color and accent your table setting with a retro casual look. Perfect for pasta, bouillabaisse, chili and more! | This 3 quart baking pan is a perfect replacement for your standard 9 x 12 baking pan. Deeper than most baking pans, avoid the spill over in the oven with your standard recipes. Add an impressive burst of color and accent your kitchen setting with this modernly retro casual look. |
| | | |
| --- | --- | --- |
| | | |
| Golden Rabbit 5 Quart Enamelware Sauté Pan | Golden Rabbit 1.25 Quart Enamelware Sauce Pan | Golden Rabbit 3 Quart Enamelware Colander |
| Go from frying to baking with this 5 quart sauté pan and never use more than one pan for your meal. Perfect for preparing paella, sir fry, casseroles and more! The natural taupe will add an impressive burst of color and accent your table setting with a retro casual look. | The 5 cup sauce pan is just the right size for quick and simple meals. The natural taupe will add an impressive burst of color and accent your table setting with a retro casual look. Perfect for preparing soups, sauces, rice and more! | This 3 quart colander is perfect for any kitchen. No recipe is too large or too small. Perfect for preparing pastas, fruits and veggies! |
| | |
| --- | --- |
| | |
| Golden Rabbit 3-piece Enamelware Mixing Bowl Set | Golden Rabbit 18 qt Enamelware Stock Pot |
| This set of 3 nesting bowls make preparing a meal of any size a cinch. Great for potato and pasta salads! Add an impressive burst of color and accent your table setting with this modernly retro casual look. Lids make any leftovers an ease to store in the refrigerator. | This 18 quart stock pot with steaming rack is perfect for lobster bakes, crawfish and shrimp boils, low country boils, oyster bakes and pasta. The white on white texture makes this item stand out and adds extra visual appeal that you will want to display even when your not using it. |
| | |
| --- | --- |
| | |
| Ooni Pizza Cutter Rocker Blade | Ooni Pizza Cutter Wheel |
| With an ultra-sharp stainless steel blade that can cut whole pizzas in half with one quick move /td> | Slice pizza like a pro with the Ooni Pizza Cutter Wheel, crafted with a super-sharp, stainless steel blade for streamlined cutting and cleaning, plus an easy-grip handle |
| | | |
| --- | --- | --- |
| | | |
| Ooni Fyra 12 Cover | Ooni Koda 12 Cover | Ooni Koda 16 Cover |
| Elasticized edges and wrap-around straps with aluminum buckles help cover stay in place | A 2-in-1 carry bag and cover with an elasticized lining for a snug protective fit to the oven body, plus padded handles for comfortably carrying an Ooni Koda 12 | A waterproof carry cover to ensure your Ooni Koda 16 pizza oven is protected from the elements |
BergHOFF
Founded in 1994, BergHOFF set out to change the kitchen and cookware industry. We want to be able to provide an outstanding product with a great value to our customers. Since inception, BergHOFF has been awarded close to 100 prestigious international design awards. European design
| | | |
| --- | --- | --- |
| | | |
| BergHOFF Ron Covered Bowl | BergHOFF Ron Steam Tower Insert | BergHOFF Ron Tajine Cover |
| This covered stoneware bowl is a great versatile addition to the Ron series. Just add it to the Ron 9.5 in cast iron casserole to create a bain-marie. Prefect for preparing delicate warm sauces, melting chocolate or creating specialty dishes. Or why not just use it as a well-designed serving bowl with a cover to keep your food warm at the table? | Want to prepare a healthy and delicious meal? Create an instant steam cooker by using this steamer insert with the Ron cast iron 9.5 inch stockpot! Simply add water in the casserole, place the steamer on top of the pot and add your vegetables, poultry or fish. All you need to do, is make sure the water level doesn't reach the steamer's base, bring the water to the boil and voilà, you've got a healthy, tasty dish! | 11.5" White Tajine cover to fit the 11" cast iron deep skillet from our Ron collection. Turn the deep skillet into a Tajine, perfect for real slow cooking and all traditional dishes. Traditional cone shaped lid, allowing the steam to re-condense into water droplets which fall back onto the ingredients for tender, moist results. Elegant design for stove top and oven to table use. |
| | |
| --- | --- |
| | |
| BergHOFF Ouro Gold Covered Deep Skillet | BergHOFF Ouro Gold Steamer |
| Ouro stainless steel cookware is designed with ergonomic handles for ease of use and robust composition for a durable, long lifespan. Clean up is fast and easy with modern styling as well! | Ouro stainless steel cookware is designed with ergonomic handles for ease of use and robust composition for a durable, long lifespan. Clean up is fast and easy with modern styling as well! |
| | | |
| --- | --- | --- |
| | | |
| BergHOFF Ron 3-Piece Stoneware Set | BergHOFF Ron Cast Iron Covered Deep Skillet | BergHOFF Ron Cast Iron Covered Stockpot |
| The 9.75" Ceramic Covered Bowl offers varieties of cooking many different dishes. The 9.75" Steamer insert acts as a steamer to enjoy all the benefits of steamed fish, vegetables or poultry inside the stockpot. The 11.5 Tagine's conical shape makes a uniquely moist, hot cooking environment for the dish being cooked. The base is wide and shallow, and the tall lid fits snugly inside. As the food cooks, steam rises into the cone, condenses, and then trickles down the sides back into the dish. | A classic dish such as a juicy chicken breast with seasonal veggies needs a classic pot. This cast iron skillet with superior heat retention is perfect for the job! The mint green exterior gives the skillet a contemporary look and feel while the cream colored enameled interior is very easy to clean. The condensation bumps on the lid collect the vapors and direct them back on the food, resulting in moist and savory meats, fish and poultry. | A cast iron stockpot or Dutch oven is the corner piece of your fall and winter cooking, perfect for slow-cooking stews or soups and even baking bread. Thanks to its elegant shape and color the stockpot gives a stylish touch to your stovetop, oven and dinner table. It cleans up beautifully and is easy to transfer from one surface to another thanks to the wide handles. |
| | |
| --- | --- |
| | |
| BergHOFF Tabletop BBQ | BergHOFF Vintage Collection 10-Piece Copper Cookware Set |
| BBQ grill is absolutely the best outdoor companion. We made sure it can be taken to the beach, a picnic spot, on a boat or just about anywhere. Makes social gathering a breeze. Convenient carrying strap holds all the elements in place allowing to take the grill to any outdoor location. Set up in no time with the adjustable airflow. | This beautiful polished copper cookware set is sure to be the focal point of your kitchen. With its stunning hammered design you will be glad to show this set off to all your friends and family. Set includes: 1 Qt sauce pan, 2 Qt sauce pan, 3 Qt sauce pan, 5.75 Qt Dutch oven, 8" deep skillet/fry pan and 9.5" deep skillet/ fry pan. |
| | | |
| --- | --- | --- |
| | | |
| Hestan NanoBond 4-Qt Saucepan & Lid | ProBond™ 8 Quart Forged Stainless Steel Stock Pot with Lid | Hestan ProBond Forged Stainless Steel 10-Piece Cookware Set |
| Molecular Titanium bonds thousands of titanium nano-layers to stainless steel, creating a brilliantly resilient cooking surface harder than typical stainless-steel and resistant to scratching, staining and salt pitting. Triple-bonded stainless steel with exclusive ProCoreTM aluminum delivers greater conductivity for quick and even heating | Capacity: 8 quarts. Ideal for cooking large quantities of soups, stews and stock or pasta, with a wide base for browning and high sides to reduce evaporation and maximize flavor creation. Triple bonded stainless steel with exclusive ProCore™ aluminum delivers 35% greater heat conductivity than other aluminum-clad cookware for quick and even heating. Attractive two-toned exterior design with a polished rim paired with a brushed stainless-steel body | Triple bonded stainless steel with exclusive ProCore™ aluminum delivers 35% greater heat conductivity than other aluminum-clad cookware for quick and even heating. Attractive two-toned exterior design with a polished rim paired with a brushed stainless-steel body. Sealed rims are encapsulated in stainless steel to protect against delamination and pitting. No exposed aluminum |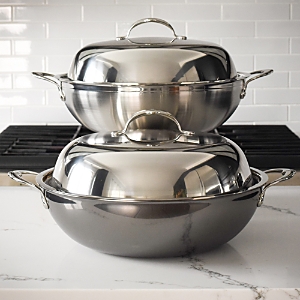 Hestan ProBond 14 Forged Stainless Steel Wok & Lid
Perfect for stir-frying, wok cooking, sautéing and deep-frying, with a high dome lid so it can also be used for braising, steaming, even roasting a chicken. Triple bonded stainless steel with exclusive ProCore™ aluminum delivers 35% greater heat conductivity than other aluminum-clad cookware for quick and even heating. Attractive two-toned exterior design with a polished rim paired with a brushed stainless-steel body
Go to:
Add World-Luxury to your favorites