European Style Seasonal Decor
European style seasonal decor with old world charm. Add distinctive accents that give you a one-of-a-kind look. Go to: Autumn and Harvest, Summer Decor, Spring Decor, Christmas and Holiday Decor
| | | |
| --- | --- | --- |
| | | |
| Emily Tufted Chair | Peony Pave 10" Faux Florals in Glass Vase | Fond Hope Wall Art |
| Handcrafted chair. Alder wood frame with dark-walnut finish. Polyester velvet upholstery with button tufting. | A feminine arrangement of pink peonies and white hydrangeas is placed in a glass cylinder container. Faux florals, polyester. Vase, glass. Approx. 12"W x 10"D x 10"T | Painter Emma McCartney's upbringing near Yosemite National Park is evident in her elemental oil, acrylic and watercolor works. Gentle earth tones and topographies bridge her textile background with Western inspiration for an eye-pleasing outcome. |
| | | |
| --- | --- | --- |
| | | |
| Rug-Printed Armchair | "Jungle Paint I" Digital Art Print on Canvas by Hope Bainbridge | Winsome Woodland Table Lamp |
| A traditional Mid-Century modern silhouette receives a spirited update through globally inspired rug upholstery. The textured, woven designs of its low-slung seat balance beautifully against its bare oak frame for a chair that is at once untraditional yet classic. | Archival digital print on canvas with hand embellishments. Stretched and framed in a maple frame. Wired for hanging. Approx. 40"L x 27"W x 1.5"D. | Featuring a fox-shaped base and a tiny bumble bee finial, this charming lamp ensemble lends a touch of whimsy to your bedside table or living space. |
| | | |
| --- | --- | --- |
| | | |
| Cecily 6" Planter + Stand | Solid Herringbone Throw Blanket | Belvedere Textured Wallpaper |
| Give your favorite little plants the perfect place to bloom with this 6" ceramic design that comes with a wooden x-base to rest perfectly in the raised edges. In a color-pop glaze with a smooth, shiny finish and matte base. Made from natural wood, the base you receive may vary in tone from what is pictured here. | This versatile, super-soft throw is a charming accent that brings comfort and charm, wherever it's placed. | Designed by Joanna Gaines, this honeycomb pattern offers a vintage-inspired look with its sophisticated wood veneer. |
| | | |
| --- | --- | --- |
| | | |
| Pierre Side Table | Pretty Pythons Wall Art | Lacourte Hello Spring Decorative Pillow, 20" x 20" |
| A luxe Carrara white marble top plays off a bold stainless steel base in an antique bronze finish to create the striking Pierre side table. Veins, smooth to the touch, are not defects, but rather natural imperfections that add to the uniqueness and charm of each piece. Overall, approx. 22"W x 22"D x 24"T | Elegant yet whimsical, Janet Hill's painting style evokes a sense of nostalgia, timeless beauty, mystery, humor, and comfort. Her work often features an underlying narrative that instantly captures the viewer's imagination. | Add a touch of color to any room with this Hello Spring beaded and embroidered pillow by Lacourte. |
| | | |
| --- | --- | --- |
| | | |
| Ren-Wil Novella Velvet Pillow With Black Piping, 20 x 20 | Landon Swivel Chair | "Schematic" Original Wall Art by Robat |
| Brushstroke half moons against a navy background with black piping | Handcrafted chair with swivel base. Upholstery: polyester; rayon/cotton/polyester. All hardwood frame with interlocking construction. | The detailed placement of black string on this color-block background creates an interesting design of sections in white to black. Robat's artwork, surrounded by a white mat and a black frame, is under glass. Handcrafted of corrugated paper, wood, and glass. Approx. 33"W x 1.8"D x 49"T |
| | | |
| --- | --- | --- |
| | | |
| Kendall Right Slant Chair | Blue Daisies Sepia Pillow - 20" | "Primary No. O" Giclée Art |
| Handcrafted chair. Alder wood frame. Fabric: polyester velvet. Channeled inside back and asymmetrical back. Includes one 16" faux fur (polyester) pillow. Dacron, upholstery foam, wood glue, upholstery glue, typar, webbing, sinuous springs, staples, and screws. | Throw pillow is made of linen, cotton, and nylon. Duck feather fill | Handcrafted giclée on artist paper. Floated over a white mat. Framed under acrylic glass in a thin black frame. Paper/Plexiglas/wood. Approx. 20"W x 2"D x 24"T. |
| | | |
| --- | --- | --- |
| | | |
| Tully Wing Chair | Melody Pendant | Blooming Summer 1 Giclée |
| Handcrafted wing chair with hardwood frame and leather cushion. 23" x 15" pillow made of viscose, polyester, and cotton. Silver nail trim with silver and gold-tone wooden finish. Outside fabric: viscose/polyester/cotton. Inside fabric: polyester/cotton. Overall, approx. 26"W x 33"D x 43"T | This beautiful pendant catches and reflects light with its textured glass shade, forming a piece of art that doubles as a fixture. Place it in a bathroom, entryway, or living space - the possibilities are endless. | Inspired by impressionism, this vibrant work emulates a blooming summer likeness through various gestural pockets of color. This lively giclée print is displayed on gallery wrapped canvas and complemented by a minimalist matte white wooden floater frame |
| | | |
| --- | --- | --- |
| | | |
| Little Giraffe Dolce Love Throw | Garden Collection Floral Arrangement | Oscarine Lucite Bar Cart |
| Jacquard design featuring the word LOVE. Dimensions: 45"L x 59"W | The range of floral and mixture of white, pinks, and greens make an outstanding large arrangement. The faceted glass urn adds a special touch. Handcrafted. Florals: polyester/silk. Overall: 19"Dia. x 21"T. | The refractive Lucite and gleaming cast brass of this bar cart are meant to catch the light, drawing all eyes to the clean lines of this Deco-inspired piece. |
| | | |
| --- | --- | --- |
| | | |
| Picayune Leather Wing Chair | Vivian Floor Lamp | Out In Nature Wall Art |
| Handcrafted wing chair. Hardwood frame. Leather upholstery. Comes with one pillow (rayon/cotton/polyester). Nail head trim. | Handcrafted ceramic. Natural linen shade included | Update a modern space with this sophisticated work of art that features an abstract composition by artist Eve Fairwell. |
| | | |
| --- | --- | --- |
| | | |
| Neat Method Rattan Basket | Phases of the Moon Wall Art | Kennett Chair |
| Founded by Ashley Murphy and Molly Graves, Neat Method is a lifestyle service of trained organizers that have transformed thousands of homes from chaos to composure. Today, the company offers a line of products that help people create the clutter-free home they've always dreamed of, and make each day feel a little bit neat-er. | Painter Kelly Witmer transforms her depictions of repetitive, geometric shapes into dynamic compositions using smudges, blots, and fades. | Crafted in a modern silhouette with a bold rug-printed motif, this inviting chair lends a touch of global charm to a bedroom, reading nook, or living space. |
| | | |
| --- | --- | --- |
| | | |
| Bixby Chair | Dancing Wall Art | Grecian Bust Pot |
| This rounded, yoke-backed chair is inspired by the luxe decor of a midcentury cocktail lounge. With its exposed wood detailing and generously cushioned diamond-tufted upholstery, it's a stylish spot to pass an evening with an Old Fashioned and a great conversation. | Victoria Gonzales considers her art an exploration of self; she uses form, color, and pattern to navigate her own thoughts, giving them life with each brushstroke. | This beautiful bust lends an ancient Grecian touch to indoor or outdoor plantings. |
| | | |
| --- | --- | --- |
| | | |
| Magnolia in Pot | "Lost in Thought III" Giclée Wall Art | Florence Chaise |
| Handcrafted, hand-painted, and hand-assembled make for the best quality, designed by our World Renowned Floral Designers. Polyester and ceramic. Overall: 23"W x 17"D x 16"T. | Giclée wall art on gallery-wrapped canvas. Acrylic/polystyrene frame. Approx. 37.5"W x 2"D x 46.5"T | Perfect for curling up with a good book or a glass of wine, this roomy chaise is an exquisite piece that invites warmth into any space. |
| | | |
| --- | --- | --- |
| | | |
| Floral Blot Wall Art | The Global Trunk Ula Pom Pom Throw | Grand Magnolia Floral Arrangement |
| Eye-catching and serene at once, this accent wall art features an expressive flower formed through organic ink blots. | This textural throw is handcrafted in Chiapas, Mexico from the wool of locally raised sheep which is then woven on a traditional loom and covered in soft handmade pom poms. Each corner features a tassel. | Handcrafted arrangement of large magnolias. Blue ceramic container. Florals: polyester/silk. Overall: 34"W x 25"D x 35"T. |
| | | |
| --- | --- | --- |
| | | |
| Mobley Leather Tufted Settee | Mia Geometric-Print Throw Blanket | Francis 1 Wall Art |
| Detailing and vintage appointments make this settee among the most versatile seating choice in the designer's handbag. Hand tufted vintage leather, solid hand-carved wood arms and an exaggerated height wingback combine for comfort and style. Regularly placed in Southern estates, New York lofts and fireside ski resorts. | Geometric-print throw blanket from the Mia Collection. Approx. 78"L x 51"W. Mohair/wool/nylon | Printed on archival watercolor paper. Wood frame with Plexiglas |
| | | |
| --- | --- | --- |
| | | |
| Haverhill Chair with Custom Options | Into The Eclipse Wall Art | Brass Loop Pillow |
| Reminiscent of Danish midcentury designs, this modern chair features a wide-set silhouette with tufted cushions upholstered in versatile, neutral linen. A true form-follows-function piece, tapered brass accents protect the gleaming legs while lending the piece a refined elegance. | Textured brushstrokes in neutral hues offers a piece that looks beautiful amongst a gallery wall, or on its own. | A black and white pattern is interrupted by a brass colored loop. This stunning pillow comes with a luxurious feather/down insert. Front and back cover: cotton. Approx. 20"Sq. |
| | | |
| --- | --- | --- |
| | | |
| Aston Leather Chair | Aidia Table Lamp | Juliet On Stage Wall Art |
| Handcrafted Aston leather chair. Overall, 27"W x 36"D x 36"T; seat, 17"T. Top-grain leather in warm light brown camel with richly textured horizontal channel tufting. Sculptural frame crafted from parawood. | Fit with a linen shade, this lamp boasts a unique geometric pattern etched into its ceramic base. | With the majestic beauty of the Puget Sound always in view, Seattle-based artist Michael D. Doyle is inspired by the simplicity of nature. |
| | | |
| --- | --- | --- |
| | | |
| Remigny Lounge Chair | Celestial Wall Art | Stitched Zula Throw Blanket |
| This fully upholstered, high-back lounge chair has an exposed, carved wood base finish. The chair is covered in fabric with a matching pillow and a contrasting silk welt. A polished brass and stainless steel bar decorates the exposed wood notch. | Evoking the beauty of celestial bodies, swaths of bold color are layered together to create a multidimensional effect that brings a tactile quality to a gallery wall or mantel. | This throw offers dreamy details in every stitch - quite literally - with a digitally printed motif embellished with lovingly sewn lines. |
| | | |
| --- | --- | --- |
| | | |
| Surrey Leather Channel Tufted Chair | Adelina Slub Velvet Pillow | Bullseye Wall Art |
| Channel-tufted leather accent chair. Features acrylic legs. Furniture grade hardwoods frame. Suspended coil spring system. Mortise and tenon construction. Overall, 35"W x 35"D x 32"T. | This understated slub velvet pillow softens up any seat. | Blending a modern sensibility with playful sophistication, artist Rob Blackard mixes bold graphics, delicate line work, paint, and digital renderings to create his timeless work. Splitting time between New York and California, his art reflects the push and pull of East and West Coast ideals with charming ease. |
| | | |
| --- | --- | --- |
| | | |
| Jules Leather Wing Chair | Spring Collection Wall Art | Lisette Hall Chest |
| Handcrafted wing chair. Hardwood frame. Seat: leather. Trim: polyester/viscose. Seat outer: polyester/rayon/linen. Seat trim: silk. Includes one pillow (linen/viscose; rayon/polyester). | Via Tolila is the working moniker of Lauren and Annael Tolila, two French sisters, photographers, and videographers who specialize in visually striking images captured during their global adventures and frequent forays into the fashion world. | Handcrafted chest made of hardwood solids. Two door chest with soft close door hinges. Cream color exterior and interior. Golden tone metal legs and door pulls. |
Bristol Accent Chest
Buttermilk Sky Wall Art
Imagine Succulent Arrangement
Silver metal accent chest with honeycomb pattern wrapped around the exterior of the case. Contrasting gold metal wrapped doors. Handcrafted of mango hardwoods, brass foil, silver foil, and wrought iron.
With the cultural melting pot of Los Angeles as his home, artist Jacob Lincoln'??s work is inspired by finding shared human experience amongst diversity of circumstance. Working across all mediums, including oil, acrylic, watercolor, ink, and charcoal, Lincoln's
relatable pieces express connectivity and compassion.
Gilded succulent is nestled in rolled marble and set in a gold finished round bowl. Handcrafted polyester, glass, and marble. Approx. 36"L x 24"H x 30"W.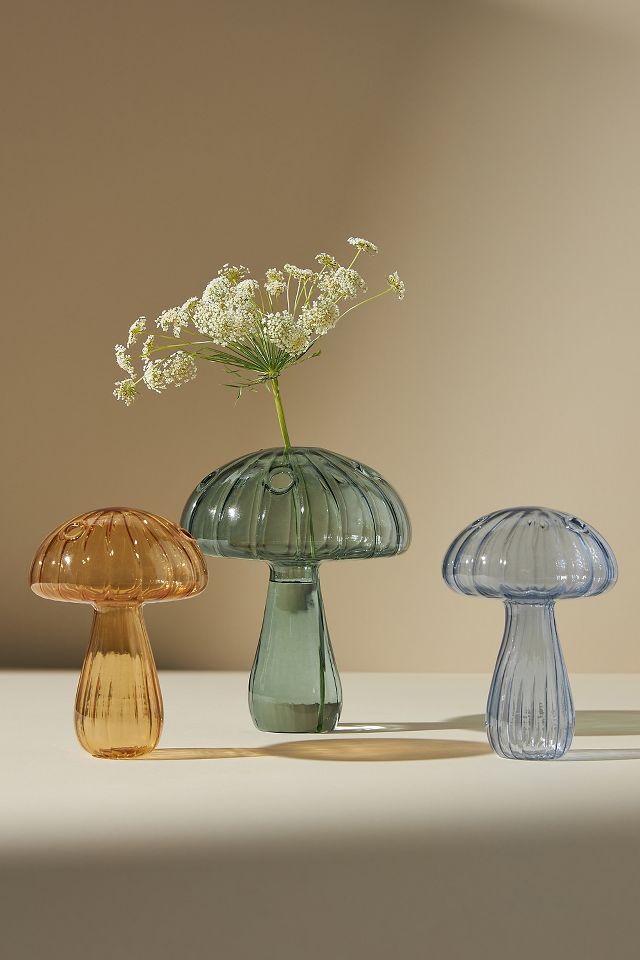 Mushroom Glass Vase
Display a floral wonderland of storybook proportions with this charming toadstool vessel.
| | | |
| --- | --- | --- |
| | | |
| Geo-Marquetry Side Table | Wiggle Room Wallpaper | Laurel Lounge Chair |
| This striking piece features lacquered legs and a geometric motif of bookmatched marquetry. Bookmatching slivers a piece of wood in two - in this case, striated zebra wood - and lays the pieces face-down in a symmetrical pattern | Designed by interior designer Bobby Berk, this modern wallpaper design features exuberant stripes of meandering paint brush strokes that wiggle down your walls. | Characterized by an exposed frame and elegant curves, this Scandinavian-inspired chair makes for a cozy seat in any room of your home. |
| | | |
| --- | --- | --- |
| | | |
| Eye See You Wallpaper | Sicillan Heads White Small Queen Head | Girl In Wind Wall Art |
| All eyes are on you with this whimsical, playful print designed by interior designer Bobby Berk - it's a perfect choice for a chic, modern living space or home bar area. | The Sicilian Heads White Large Queen Head is a tribute to the ceramic heads you will find adorning doorsteps, porches, and balconies in Sicily dating back generations of tradition. Handcrafted decorative queen head is made of terracotta. Approx. 6"D x 9"T. | Artist and designer Rafaela Mascaro created Studio Grand-Pere in 2015 with a purpose to inspire people to share their creativity around the world through illustration. Driven by the desire to expand diversity across the field, the project focuses on the plurality of cultures, genres, and classes. |
| | | |
| --- | --- | --- |
| | | |
| Brass Wine Rack | Tinted Landscape Wall Art | Alexi Faux-Fur Throw, 20" x 80" |
| 18/8 stainless steel, brass | Invite a travel-inspired aesthetic into your home with this piece of art that features an aerial view of a serene landscape. | When sensual, delightfully indulgent is the desired look, the Faux Fur Alexi Bed Runner is the ideal accent accessory for any master suite. |
Go to:
Add World-Luxury to your favorites