Peacock Decorations for the Home
Peacock style decorations that personalize your home and add color and life to your rooms. Native to India, the Peafowl plays a part in Hindu culture as the mount of the God of War. In Babylonia and Persia the Peacock is seen as a guardian of royalty and is often carved in thrones. In some places due to the strutting and showing of feathers, it is a symbol of pride and vanity. While all of the history provides a fun background, it is the true beauty and range of colors that inspire it's current popularity in home decorating. From floors to accent pillows, from dramatic artistic frames and tableware to colorful storage boxes for your home office, the options will fit any room in the house. Go to: Peacock Rugs, Peacock Tableware, Peacock Bedding and Bath
Peacock Furniture and Decor
From art to home decor and fun, personal items, each piece reflects the colorful and striking majesty of one of the world's most beautiful birds.
| | | |
| --- | --- | --- |
| | | |
| Uzbek Wall Art | Eastern Accents Green Collection | Garden Stool with Peacock Motif |
| Ruti Shaashua's background in textile design influences her kaleidoscopic works, often drawing inspiration from vivid Indian fabrics. Symmetrical patterns and repeating prints create lively scenes bursting with color on each mesmeric painting. | Floral and peacock print pillow with solid welt. Handcrafted | Made in Jingdezhen City, the capital of porcelain in the world has 2,000 years of porcelain production history. High-fired porcelain is good to be used indoor or outdoor. |
| | |
| --- | --- |
| | |
| Haute House Round Peacock Ottoman | Haute House Cream Peacock Chair |
| Handcrafted ottoman with beaded peacock design on scarf. Velvet upholstery (polyester microfiber). Tufted top. | One of our most-popular chairs looks stunning in cream velvet. The contrast makes the colors of the peacock on the back seem even more brilliant |
| | | |
| --- | --- | --- |
| | | |
| Haute House Peacock Chair | Haute House Peacock Tufted Barstool | Haute House Peacock Cube Ottoman |
| Alder frame. Upholstered in polyester velvet. Peacock scarf made of polyester velvet and sheer with glass beading is upholstered onto the chair. | Handcrafted barstool sold individually; two shown for detail. Alder wood frame with dark-walnut finish. Polyester velvet upholstery with glass-button tufting. Peacock scarf upholstered onto back of stool combines sheer and velvet fabrics finished with beading. | Handcrafted ottoman. Alder wood frame. |
| | | |
| --- | --- | --- |
| | | |
| 6-Panel Peacock Wall Art | Ceramic Luster Pendant | Felted Wool Bookend |
| Digitally, hand-painted antiqued etching, printed on pearlized canvas and mounted between six handmade, double acrylic frames for a floating look. Museum Grade Acrylic; stainless steel hardware. | Hailing from a generations-long lineage of potters, Carmen Lyngard learned how to sculpt, restore and paint antique ceramics at an early age. After spending years in the fashion industry, she found her way back to her ancestral heritage to create her own line of heirloom-quality lighting fixtures. Each piece in the Lyngard collection is handcrafted with high-quality materials and unique finishes in her Staffordshire, England workshop. Case in point? This lustered pendant, which is made from fine bone china and hand-polished with a shimmering, iridescent glaze. | Can be used as a doorstop as well as a bookend |
| | | |
| --- | --- | --- |
| | | |
| Caterina Chair | Poetic Pillow Keinen Peacock Pillow Group | Madura Jazzy Peacock Decorative Pillow Cover, 16 x 16 |
| If there was ever a chair to sum up the style of the 1960s and 70s, the Peacock chair was it. Adored for its exotic curves and throne-like silhouette, it was often the prop of choice for photoshoots with the greats of Hollywood, including Truman Capote and Elizabeth Taylor. Our interpretation? Crisp in white or feminine in pink, the Caterina chair will have you looking picture-perfect with your morning coffee. | Inspired by the woodblock prints of the Shin Hanga movement, this pillow captures the beauty and vibrant colors of peacocks in the Edo Period. The pattern graces both sides of the silky cover. | Featuring unique prints and patterns or rich embroidery in vivid color, these decorative pillow covers by Madura add a touch of personal style to your home. |
| | | |
| --- | --- | --- |
| | | |
| Jay Strongwater "Peacock" Figurine | Pastel Plumage Wallpaper | Gilded Bird Diptych |
| One of the world's most beautiful birds becomes an exquisite figurine to infuse your home with glorious color. Limited edition of 300 pieces. Hand enameled and hand set with Swarovski® crystals and glass bead cabochons. | Birds of a feather elegantly flock together for an enticing, eye-catching addition to any space. | Designed in a two panel diptych, this artwork features a pair of intricately rendered peacocks. There is hand-applied gold leaf detailing within the peacock's feathers. |
| | | |
| --- | --- | --- |
| | | |
| Haute House Cream Peacock Bench | Rae St. Clair Peacock Blue Swivel Chair | Haute House Long Peacock Bench |
| A breathtaking hand-beaded peacock adorns this velvet bench. We think it's the perfect choice for a guest room or anywhere you need extra seating—and beauty | This chair has it all—the freedom of swivel mobility, comfortable seating, and modern good looks. Hardwood frame. Full-grain, aniline-dyed leather upholstery. Tufting on inside back and inside arms. Feather/down cushion. Mortise-and-tenon frame construction. Sinuous-spring seat. | Handcrafted bench. Alder wood frame. Polyester upholstery. |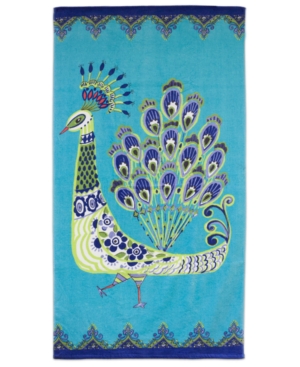 Dena 34" x 66" Printed Beach Towel
Bring your seaside style and comfort to life with the vibrant colors and attention-grabbing print of this luxuriously soft beach towel from Dena.
| | | |
| --- | --- | --- |
| | | |
| Kas Catalina Peacock Feathers Area Rugs | Kas Bob Mackie Home 1019 Blue Eye of the Peacock 8' x 11' Area Rug | Kas Catalina Peacock Feathers Area Rugs |
| Exotic peacock feathers in wondrous jewel-tones of blue and green are hand-carved into the rich mocha ground of this stunning Catalina style from Kas offering depth to its exquisite beauty | Delicately hand-carved into the luminous blue ground of this stunningly soft Bob Mackie Home 1019 area rug from Kas is a whimsical eye of the peacock motif accented in a richly contrasting ivory-tone. | Exotic peacock feathers in wondrous jewel-tones of blue and green are hand-carved into the rich mocha ground of this stunning Catalina style from Kas offering depth to its exquisite beauty |
Go to:
Add World-Luxury to your favorites