Designer Bedding with Luxury Details
Designer bedding to create a European style private oasis. Select from: Peacock Alley, Pom Pom At Home, Schlossberg, Ted Baker, Madison Park Signature, Marimekko, Ayesha Curry
When Mary Ella Gabler founded Peacock Alley in 1973, she was one of the first in the industry to envision the bedroom as not just a place for sleeping, but also a peaceful, multi-purpose space for living and relaxing. With this in mind, each set of Peacock Alley bedding exudes a sense of calm and a classic personality, making the brand one of the most respected names in luxury linens for over 40 years
| | | |
| --- | --- | --- |
| | | |
| Avery Bedding Collection | Peacock Alley Mandalay Cuff Bedding Collection | Bella Bedding Collection |
| Inspired by an original watercolor painting, Peacock Ally's Avery bedding collection soothes your senses (and your surroundings) with botanical elegance. | Introduce new elements of color and texture into your bedroom space with the Mandalay Cuff collection by Peacock Alley. Crafted from smooth long-staple cotton percale and accented with pure linen, each offering proves to be both versatile and beautiful. | Hints of icy blue shine through the silvery damask weave of this traditionally elegant Bella bedding collection from Peacock Alley. Deconstructed classic damask design |
| | | |
| --- | --- | --- |
| | | |
| Modern Ombré Bedding Collection | Hayden Bedding Collection | Slate Stripe Bedding Collection |
| Elevate your space with the Ayesha Curry Modern Ombré Comforter, featuring a subtle herringbone print in shades of grey and ivory; this comforter is washed for extra, live in softness. | This Ayesha Curry quilt is crafted of luxurious taupe printed chambray on cotton. The quilt's simple and sleek lines create a finished look with a modern sensibility. | This Ayesha Curry Slate Stripe Comforter 3-piece set is crafted of a yarn dye textured woven in ivory with a charcoal slub yarn creating the tactile stripe. |
| | | |
| --- | --- | --- |
| | | |
| Labyrinth Bedding Collection | Graphite Bedding Collection | Labyrinth Bedding Collection |
| Crafted of luxurious and natural cotton sateen the Ayesha Curry Labyrinth Quilt in white is effortlessly luxe. | This Ayesha Curry quilt is created with a unique textural design printed on cotton gauze for top of bed. It reverses to a similar tonal printed texture. It's designed for your relaxed, easy-going lifestyle and will perfectly complement any bedroom. | Crafted of luxurious and natural cotton sateen the Ayesha Curry Labyrinth Collection in deep indigo blue is effortlessly luxe. |
Ted Baker started out as a reputable menswear line in Glasgow in 1987, offering laundry service for every shirt purchased, quickly giving the brand the title of "No Ordinary Designer Label." Since then the line founded by Ray Kelvin expanded into womenswear with his personality at the heart of each design. Whether a quirky bow tie or a whimsical printed sheath dress draws you in, Kelvin dedicates the Ted Baker London brand to quality and detail while sharing his humor through impeccably tailored apparel.
| | | |
| --- | --- | --- |
| | | |
| Jasmine Pink Bedding Collection | Hibiscus Bedding Collection | Bouquet Bedding Collection |
| A slight ombré creates a stunning contrast between the botanical plants, flowers, and their background on this Jasmine Pink Bedding Collection by Ted Baker. | The Hibiscus Bedding Collection by Ted Bakers offers pops of colors and a dream-like journey through mountains and foliage. | Swoon-worthy photo-realistic florals add a trendy, feminine finish to Ted Baker's Bouquet bedding collection. Oversized flowers in soothing colors are tossed across the top of bed for a dreamlike blanket of petals. |
| | | |
| --- | --- | --- |
| | | |
| Vanilla Floral Bedding Collection | Laurel Bedding Collection | Woodland Gray Bedding Collection |
| Crafted from smooth cotton sateen fabric, this bedding collection features a floral watercolor design, creating an ethereal style. | Add adventurous style to any room with the Laurel bedding collection, featuring a safari theme that reverses to solid blue with piping detail. | Vibrant and colorful, this cozy bedding collection showcases naturalistic florals and foliage atop a gray ground, creating a sophisticated look. |
| | |
| --- | --- |
| | |
| Wilderness Bedding Collection | Ted Baker Crane Bedding Collection |
| Embrace the colors of spring with the Wilderness Collection from Ted Baker. A wash of white watercolor flowers scatters across the sky blue background of this radiantly beautiful and painterly set. The subtly textured cotton fabric adds a touch of softness and luxury to this elegant bed set. | Executed in cotton sateen, the Crane bedding collection from Ted Baker features cranes caught mid-flight on a graphic sea of muted coral hues. |
| | |
| --- | --- |
| | |
| Sandalwood Bedding Collection | Everglade Bedding Collection |
| Vibrant-colored flowers are playfully tossed along the bottom border of the Ted Baker Sandalwood Collection. Printed on a cotton sateen and set against a gray ground, floral shadows dance throughout in elegance and sophistication. | The Everglade Collection from Ted Baker adds a touch of modern elegance to the bedroom. Lifelike white anemone flowers climb across a muted grey background, while contrasted by an intricate geometric pattern at the base. Made from 100% cotton sateen, this fabric is as soft as it is beautiful. |
| | | |
| --- | --- | --- |
| | | |
| Blossom Blanc Bedding Collection | Kalea Blanc Bedding Collection | Plume Blanc Bedding Collection |
| A windfall of leaves and flower petals are illustrated in brilliant detail on white cotton sateen for Schlossberg's delightful Blossom Blanc bedding collection. | Schlossberg's spirited Kalea Blanc bedding collection is splashed with watercolors and line drawings that portray birds, butterflies and lush vegetation on quality cotton sateen. | An artistic array of filigree feathers dance over exquisite jacquard fabric for this flawless Plume Blanc bedding collection by Schlossberg. |
| | | |
| --- | --- | --- |
| | | |
| Ruby Blanc Bedding Collection | Yuko Gris Bedding Collection | Camie Blanc Bedding Collection |
| Luxurious flowers are scattered over white fabric in this beautifully designed Ruby Blanc Bedding Collection by Schlossberg. | Small dots cascade into floral blooms across this elegantly designed Yuko Gris Bedding Collection by Schlossberg. | Showcase your love of fall with this multi-colored, autumn-inspired Camie Blanc Bedding Collection by Schlossberg. |
| | |
| --- | --- |
| | |
| Schlossberg Elia Bedding Collection | Rami Bedding Collection |
| Flowers and grasses from the meadows and forest edges of Switzerland scatter across deep blue cotton sateen in this bold bedding collection by Schlossberg. | Inspired by flower tendrils and tree branches trailing across garden walls, Schlossberg's majestic bedding collection showcases a modern, naturalistic motif that seamlessly blends with any bedroom decor. |
| | |
| --- | --- |
| | |
| Suki Blanc Bedding Collection | Loraine Bedding Collection |
| Playful and light as a feather, Schlossberg's Suki Collection displays a delicate print, finely drawn with colored pencil and watercolor, on a white background. The bedding brings a relaxing feel to your bedroom. | Bougainvillea blooms in a lovely watercolor pattern across Schlossberg's Loraine collection of cotton sateen bedding essentials, inspired by the rich flora of Mediterranean landscapes. |
Maison 9-Piece King/Cal King Comforter Set
Indigo Sky 8-Pc. Comforter Set
Madison Park Signature Chateau Queen 8 Piece Comforter Set
Madison Park Signature Chateau King 9 Piece Comforter Set
Give your bedroom luxurious comfort with the Madison Park Signature Maison 9 Piece Comforter Set. The 100% cotton comforter and matching shams feature a damask pattern, in blue and ivory hues, for a chic transitional look.
Refresh your bedroom with farmhouse style of the Madison Park Signature Indigo Sky Comforter Set. With its elegant farmhouse design, this jacquard comforter set offers a beautiful transitional update to your bedroom décor.
Transform your bedroom into a calming retreat with Chateau bedding set. Accented with Soutache cord embroidery, the linen feel polyester bedding set is designed to give a relaxed, lived-in and "just enough" embellishment look. Includes knitted Euro shams, standard shams and 3 decorative pillows that feature knit and kiss-pleated texture details.
| | | |
| --- | --- | --- |
| | | |
| Luxury Collection Bedding Sets | Grandover 8-Pc. Jacquard Comforter Set | Coastal Farmhouse 9-Piece King Comforter Set |
| Add a sophisticated look to any room with the Signature reversible bedding set from Madison Park, featuring double rows of stitching on a white ground. The duvet cover is removable and has a zipper closure for easy care. | Inspire true elegance and luxury in your bedroom with Madison Park Signature's Grandover 8 Piece Comforter Set. Truly elegant and refined, this luxurious comforter set offers a stunning new look for your bedroom. | This Coastal Farmhouse 8-Piece Set offers a chic and comfortable update to your bedroom décor. Oversized and overfilled, this cotton seersucker comforter features yarn dyed navy and white stripes with chain link taping on the face, for a farmhouse style look. A duvet style comforter insert inside the comforter creates a smooth top so no visible bartacking lines can be seen on top of the bed. |
| | | |
| --- | --- | --- |
| | | |
| Graphix Jacquard Comforter Set | Madison Park Signature Willow Oak 9 Piece Reversible Cotton Comforter Set | Savoy Queen 8 Piece Comforter Set |
| The Madison Park Signature Graphix Collection Set is a soft yet edgy design that incorporates hues on 100% poly jacquard. The set comes with two coordinating shams and three matching Euro shams. The three decorative pillows are sophisticated and features one metallic print pillow, an oblong faux fur pillow, and a faux leather sequin pillow. | Create a handsome and cozy allure in your bedroom with the Willow Oak Reversible Comforter Set. The 100% cotton duvet-style comforter displays a yarn dyed grey plaid pattern that reverses to a buffalo checkered pattern, for a charming farmhouse look. | Create an exceptional, refined and stylish look with the Savoy bedding set. Featuring a luxurious polyester herringbone jacquard fabric on soft color and pieced with pearl strapping on the bed, this set tempers the contemporary feel yet masterful at adding pure elegance to your bedroom. |
Sophisticate Velvet Comforter Set
Sophia Queen 8 Piece Comforter Set
Sophia King 9 Piece Comforter Set
Farmhouse Queen 8 Piece Comforter Set
Farmhouse King 9 Piece Comforter Set
Introduce true luxury to your bedroom decor with the Madison Park Signature Sophisticate Velvet Comforter Set. The velvet comforter flaunts silver embroidery and quilting details that create a luxurious textural allure.
Add a touch of sophistication to your bedroom decor with the Sophia Bedding Set. The bedding and coordinating Euro shams feature a rich woven jacquard floral pattern. Set includes three decorative pillows that feature embroidery texture and chain stitching details. The set comes with a removable insert and decorative buttons for a secured fasten.
The cotton blend collection is oversized and overfilled to provide exceptional warmth with a removable cover that makes it easy to clean. Coordinating shams highlight the mixed weaves design on the top of bed, while Euro shams with embroidered details add a natural touch to the on-trend look.
| | | |
| --- | --- | --- |
| | | |
| Jurmo Bedding Collection | Rosarium Bedding Collection | Mykero Bedding Sets |
| A pattern inspired by the serene, austere landscape of the Finnish island Jurmo and designed by Aino-Maija Metsola features a soothing pebble-and-stone print, defining this smooth cotton bedding collection by Marimekko. | This painterly floral captures the poetic moment of fullest bloom when petals are just starting to fall as autumn begins. A warm palette of pink, coral, and golden orange is cooled with touches of green and blue on a crisp white cotton ground. | The Marimekko Mykero bedding set makes a cheerful statement in your bedroom. A yellow watercolor-drawn sunflower print pops against the multi-colored ground. |
| | | |
| --- | --- | --- |
| | | |
| Suvi Bedding Collection | Pieni Letto Bedding Collection | Unikko Bedding Collection |
| Flower and plant themed patterns designed by Fujiwo Ishimoto adorn this folk art inspired Suvi Bedding Collection by Marimekko. | Refresh any bedroom's look and feel with the nature-inspired prints and tones of this chic Pieni Letto bedding collection from Marimekko. | The Unikko pattern is a true classic and part of Marimekko's first floral collection designed in 1964. Crafted in soft cotton percale, the bold, vibrant blooms across the comforter, duvet cover and shams of this bedding collection lend a cheerful pop of color to any bedroom. |
| | | |
| --- | --- | --- |
| | | |
| Pienet Bedding Collection | Rasymatto Bedding Collection | Mini Unikko Quilted Collection |
| Add modern simplicity to your bedroom with the Marimekko Pienet Kivet quilt set. Kivet, Finnish for stones, follows its true meaning. The quilt reverse features the same pattern as the face, with the opposite colorway, making this a truly reversible set. | The Rasymatto bedding collection features a continuous round circle pattern that celebrates the themes of sustainable living, and the enjoyment of working with your hands. Fully reversible, this set is sure to make a bold statement in its black and white colorway. | Ever cheerful in its original poppy red, the cotton Marimekko Mini Unikko quilted collection reverses to a graphic black and white stripe that complements the vivid color of the main print and adds to the youthful, casual mood. A channel quilt stitch echoes the stripe reverse and adds textural interest and comfort. Matching 200-thread count cotton percale sheets complete the collection. |
| | | |
| --- | --- | --- |
| | | |
| Seireeni Bedding Collection | Pioni Pastel Blue Bedding Collection | Fokus Navy Bedding Collection |
| Marimekko's intrepid large-scale Seireeni design calls on ocean colors and tidal forms, offering visual allure inspired by the siren's mesmerizing song. | Includes one comforter and two standard pillow shams. Medium weight 200-thread count cotton shell. Vibrant medium-sized floral print. Pillow shams feature a coordinating print accented with a subtle flange and envelope closure | Give your bedroom a mesmerizing makeover with the dazzling dotted concentric circles featured on this Focus bedding collection from Marimekko. |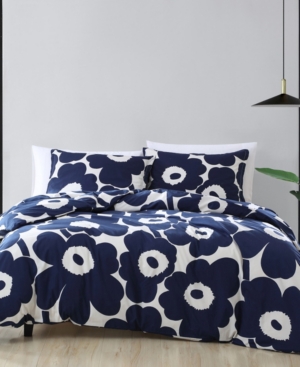 Unikko Comforter 3 Piece Set
This iconic Marimekko floral from the original collection launch in 1964 has been produced in many different colors since the first poppy-red version. Bold and eye-catching, this graphic cotton bedding collection is a strong style statement.
Go to:
Add World-Luxury to your favorites