Upscale Casual Dinnerware
Casual dinnerware that's sophisticated but not pretentious. Use as a set or mix and match with other pieces to create a new look each time you set the table. Select the perfect set from the varied styles below. Go to: Iittala, Vietri, Juliska, Rosenthal

Vista Alegre
Orquestra 4-Piece Dinnerware Set
4-Piece Venezia Dinnerware Set
16-Piece Venezia Dinnerware Set
Fiji 4-Piece Dinnerware Set
Orquestra. Created by the designers David Raffoul and Nicolas Moussallem, Orquestra is tableware that combines different geometric line patterns, recreating the complexity of harmony and musical rhythms. Four-piece dinnerware set made of porcelain. Microwave and dishwasher safe. Made in Portugal.
Venezia. Practical contemporaneity with elegant and distinct details. 16-piece dinnerware set made of porcelain. Microwave and dishwasher safe. Made in Portugal.
Light, stylized floral motifs with a modern touch, along with geometric elements, take you on a journey to tropical paradises. A perfect collection to give more color and warmth to your daily life. Made of porcelain. Microwave and dishwasher safe. Made in Portugal.
| | |
| --- | --- |
| | |
| Terrace 4-Piece Dinnerware Set | Utopia 5-Piece Dinnerware Set |
| Terrace. Richly decorated in gold, with hand-painted details. | Utopia. Each piece of the set Utopia displays a construction of different reliefs inspired by Japanese geometries which adapts to the shape, highlighting each piece and giving it momentum. Microwave and dishwasher safe. |
The origins of Vietri begin with a mother-daughter trip to Italy. Lee Gravely and her daughters Susan and Frances fell in love with the colorful design and artistry of the local handcrafted dinnerware. After spending a few days crafting their own dinnerware, the three were bound even closer together. They chose to name their importing company after Vietri sul Mare, the town where they created their first dinnerware pattern—Campagna
| | | |
| --- | --- | --- |
| | | |
| Chroma Light Gray 3-Piece Place Setting | Lastra Dinnerware | Chroma White 3-Piece Place Setting |
| Three-piece ceramic place setting includes bowl, dinner plate, and salad plate. | An effortless collection that transitions seamlessly from your kitchen to the table, these exceptional serving dishes solidify your presentation with down-to-earth elegance. Crafted in Tuscany from Italian stoneware, and featuring unique, rustic shapes with modern details, these pieces are built to last, both in terms of style and functionality. | Three-piece ceramic place setting includes bowl, dinner plate, and salad plate. |
| | | |
| --- | --- | --- |
| | | |
| Aurora Ocean Dinnerware | Erbe Collection | Aurora Dinnerware Collection |
| Highlighted by a watercolor-inspired blue palette, this dinnerware brings breezy style to the table. | Inspired by herbs grown in a Tuscan garden, the VIETRI Erbe Collection reinterprets aromatic basil, rosemary, parsley and sage in vibrant greens hand painted on sturdy Italian stoneware. Select from dinnerware and serving pieces designed for everyday use, from a quiet dinner to entertaining guests. | An elevated approach to everyday dining, the Aurora Collection celebrates the skill and craftsmanship of maestro artisan Francesco Venzo. Handcrafted in Italy from durable yet beautiful stoneware, each dinnerware piece reveals a clean, classic finish. |
| | | |
| --- | --- | --- |
| | | |
| Incanto Stripe Stoneware Dinnerware | Forte Dinnerware Collection | Incanto Stone Dinnerware Collection |
| Handcrafted in Veneto, Italy from durable stoneware, the Incanto Stripe Collection by VIETRI brings casual elegance to your table setting with its beautiful design and high level performance. | Handmade of Italian stoneware in Italy, Vietri's striking Forte collection blends seamlessly with your other serving pieces. Pair with crisp white linens for a classic display, or vibrant glassware for a pop of color. | Take your next dinner party to a coastal-inspired place with VIETRI's sophisticated and enchanting Incanto Stone dinnerware collection--inspired by Italian art and history. |
| | | |
| --- | --- | --- |
| | | |
| Incanto Lace Stoneware Dinnerware | Incanto Stoneware Baroque Dinnerware | Vietri Incanto Ruffle Stoneware Dinnerware |
| An updated color palette reveals the same level of style and sophistication within the Incanto Stone Lace Dinnerware collection by VIETRI. Expertly handcrafted for design and durability, each piece is the perfect update to any table setting. | Reminiscent of the architectural curves of 17th century Europe, this handcrafted dinnerware collection by VIETRI brings timeless style and authenticity to any table setting. | The Incanto Stone Ruffle collection by VIETRI draws inspiration from the waves of the Adriatic Sea, recreating the movement and elegance in each design. Handcrafted in Veneto from durable stoneware, this dining ensemble will instantly elevate your tablescape. |
Introduced by Dave and Capucine Gooding in 2001, the Juliska collection of elegant European-inspired tableware reflects the couple's appreciation for historical design. Beyond dinnerware, flatware, stemware, and decorative tabletop accessories, today the Juliska collection includes designs for the office and bath.
| | | |
| --- | --- | --- |
| | | |
| Le Panier Delft Blue Berry Bowl | Country Estate Seaside Dinnerware | Juliska Le Panier Delft Blue 4-Piece Place Setting |
| A neatly woven basket-weave trim in Delft blue on whitewashed glaze brings elevated charm to this berry bowl. Ceramic stoneware. Oven, microwave, dishwasher and freezer safe | Dive into the crisp ocean water and explore the animal and plant life on the band of this scalloped dinnerware. Festooned with marvelous creatures in sunwashed pastels, this charming plate layers beautifully with many different patterns. Made of stoneware. Dishwasher and microwave safe. | Hand-painted border. Inspired by the French basket weave found in equestrian and nautical traditions. Ceramic stoneware. Dishwasher, microwave, freezer and oven safe |
| | | |
| --- | --- | --- |
| | | |
| Juliska Bilbao White Truffle 5pc Setting | Juliska Puro Dinnerware | 5-Piece Puro Whitewash Dinnerware Place Setting |
| Set includes: dinner plate, dessert plate, cocktail plate, cereal bowl, mug. Ceramic stoneware. Dishwasher, freezer, microwave and oven safe | Juliska's Puro dinnerware is designed with a versatile silhouette to compliment a wide variety of tabletops. The beautiful collection is accentuated by hand-painted 24k gold details for added elegance. Ceramic stoneware. Made in Portugal | Everything you need to set a stylish place at your table—perfect for parties, and eminently useful for everyday. Ceramic dinnerware place setting. Five-piece setting includes: dinner plate, dessert/salad plate, side/cocktail plate, cereal/ice cream bowl, and coffee/tea cup. Oven, microwave, dishwasher, and freezer safe. Made in Portugal. |
| | | |
| --- | --- | --- |
| | | |
| Le Panier Whitewash 4-Piece Place Setting | 5-Piece Country Estate Delft Blue Dinnerware Place Setting | Le Panier Whitewash 5 Pc Place Setting |
| Set includes: 11"W dinner plate, 9"W salad plate, 6"W cereal bowl and 7.75" coupe bowl. Ceramic stoneware. Dishwasher, microwave, freezer and oven safe | Ceramic dinnerware place setting featuring narratives of the English Countryside. Five-piece place setting includes: a charger, dinner plate, side plate, coffee/tea cup. and saucer. Oven, microwave, dishwasher, and freezer safe. Made in Portugal. | The large scale of this basket-weave motif instantly evokes the bounty of the earth and echoes of its harvest. Ceramic stoneware. Dishwasher, microwave, freezer and oven safe |
| | | |
| --- | --- | --- |
| | | |
| Berry & Thread French Panel Dinnerware Collection | Juliska Berry & Thread Floral Sketch Dinnerware | Quotidien Dinnerware Collection |
| Inspired by Parisian architecture, this dinnerware set is highlighted by a geometric trim and crisp white finish. | Enlightened with whimsical florals, the Berry & Thread Floral Sketch dinnerware by Juliska lends an enchanted splash of color to sophisticated dining, crafted in ceramic stoneware for added versatility. Cherry Blossom | The perfect complement to every day, Juliska's Quotidien collection showcases sheer white stoneware in organic, subtly irregular shapes that recall the texture of fresh linens. |
| | | |
| --- | --- | --- |
| | | |
| Juliska Berry & Thread Whitewash 5 Piece Place Setting | Juliska Berry & Thread Floral Sketch Dinnerware | Juliska Berry & Thread Twilight Grey Dinnerware |
| Set includes one of each: dinner plate, scalloped dessert/salad plate, round side/cocktail plate, scalloped saucer and new tea cup. Rimmed with a simple thread motif and adorned with a sprinkling of berries | Enlightened with whimsical florals, the Berry & Thread Floral Sketch dinnerware by Juliska lends an enchanted splash of color to sophisticated dining, crafted in ceramic stoneware for added versatility. Jasmine | Bring timeless sophistication to the table with the exclusive Berry & Thread Twilight Grey dinnerware by Juliska, featuring soft scalloping and subtle accents blended with cosmopolitan versatility. |
| | | |
| --- | --- | --- |
| | | |
| Iberian Sand Collection | Iberian Journey Indigo Dinnerware | Juliska Iberian Journey Indigo 4 Piece Place Setting |
| Inspired by the sandy Iberian coast, Juliska's stunning dinnerware is highlighted by a distinctive Mediterranean tile motif. Ceramic stoneware. Dishwasher, freezer, microwave and oven safe | Stoneware dinnerware is inspired by a sandy coast to the sandy Iberia coast. Features stunning cobalt blue painted tiles. Blue and white motif as a border. | Striking indigo and white motif is inspired by blue painted tiles from the Iberian peninsula. Ceramic stoneware. Oven, microwave, dishwasher and freezer safe |
| | | |
| --- | --- | --- |
| | | |
| Juliska Le Panier Gray Mist 5-Piece Place Setting | Pewter Stoneware Dinnerware Collection | Berry & Thread Whitewash Flared 4 Piece Place Setting |
| Inspired by the French basketweave found in equestrian and nautical traditions, this exclusive dinnerware collection by Juliska is highlighted by textural braid details in a smoky finish. | Made up of 2 styled collections: The Pewter Stoneware which has a rich, old-world luster that summons up visions of grand European estates; and the Emerson, which features a unique hand-thumbed, hammered design. Mix & Match the full Pewter with the White/Pewter Emerson styles for a distinctive and distinguished look that lends an air of old-world luster. | Flared silhouette is adorned with a sprinkling of berries |
| | | |
| --- | --- | --- |
| | | |
| 5-Piece Country Estate Flint Dinnerware Place Setting | Country Estate Petal Pink Dinnerware | Quotidien 5 Pc Place Setting, White Truf |
| Featuring narratives of the English Countryside Ceramic dinnerware place setting featuring narratives of the English Countryside. Five-piece place setting includes: a charger, dinner plate, side plate, coffee/tea cup, and saucer. Oven, microwave, dishwasher, and freezer safe. Made in Portugal. | Ceramic stoneware dinnerware. Oven, microwave, dishwasher, and freezer safe. Made in Portugal. | The Quotidien collection features fresh yet timeless understated elegance. Ceramic stoneware. Dishwasher, freezer, microwave and oven safe |
| | | |
| --- | --- | --- |
| | | |
| 4-Piece Berry Thread Whitewash Dinnerware Place Setting | Carine Dinnerware | Forest Walk Dinnerware |
| Rimmed with our simple thread and adorned with a sprinkling of berries, our new four-piece place setting in Whitewash. Ceramic dinnerware place setting. Four-piece setting includes: a round dinner plate, scalloped dessert/salad plate, cereal/ice cream bowl and coupe pasta bowl | Glassware dinnerware. Dishwasher safe. | Featuring beautifully rendered tableaus of botanicals, feathers and antlers, this collection brings a charming touch of woodland style to the table. |
| | | |
| --- | --- | --- |
| | | |
| Rosenthal Tac 02 Dinnerware | Rosenthal Mesh Dinnerware | Thomas for Rosenthal Medaillon Dinnerware |
| Rosenthal products are designed by artists devoted to creating unique designs that embody the aesthetics of today but will endure for infinite tomorrows. TAC is designed by one of the greatest architects of this century, Walter Gropius. Built on geometric forms, the simple circle and the seamless globe are the primary inspirations for this modern, streamlined collection. | Detailed with a subtle design mimicking soft mesh fabric and finished in a bright glaze, Rosenthal's sturdy porcelain dinnerware brings a touch of texture to the table. Made in Germany | Equally appropriate for every day occasions and festive gatherings, Medaillon features clean, simple lines that are modern yet timeless. Porcelain. Made in Germany |
| | |
| --- | --- |
| | |
| Rosenthal Loft Dinnerware | Rosenthal Suomi White Dinnerware |
| Fine porcelain dinnerware, serveware and accessory pieces made in Germany designed by Thomas for Rosenthal. White color with subtle raised white lines. Perfect for everyday use or entertaining. Dishwasher and microwave safe. | Rosenthal products are designed by artists devoted to creating unique designs that embody the aesthetics of today but will endure for infinite tomorrows. Simple yet sophisticated shapes give this elegant white china a contemporary look. Designed for compatibility, this pattern coordinates with Suomi Rangoon. |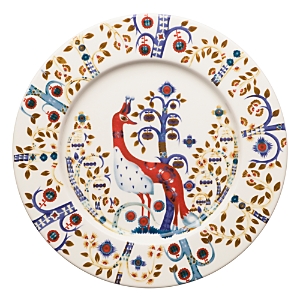 Iittala Taika Dinnerware
Meaning "magic" in Finnish, Taika Tableware showcases a range of bold and enchanting illustrations designed to ignite your imagination and inspire your storytelling. The patterns combine folklore with Slavic and Japanese influences for one-of-a-kind visual mythology. Vitro-porcelain for maximum durability with a refined finish. Microwave and freezer safe. Plates Oven safe to 400° F. Dishwasher safe
Go to:
Add World-Luxury to your favorites