Easy Weekend Wear
Easy weekend wear. Loungewear and easy pieces for relaxed weekends. See the newest styles from: LAIA, Child of the Universe NYC, Kachel, The Lady & The Sailor, Barbour Jackets, Seen Worn Kept, Akemi & Kin, M.i.h
Believing comfort and quality go hand in hand, New-York based designer Ana Wakeheim sources natural Peruvian cotton and premium leather for her street-cool styles. From embellished blazers to tasseled peasant dresses, each piece makes a bold statement that resonates with those that dare to be different.
Colorblocked Turtleneck
Fringed Comber Sweater
Sabatia Buttondown
Bouquet Wide-Leg Pants
Inspired by the abstract, geometric work of Dutch painter Piet Mondrian, Yves St. Laurent introduced sartorial colorblocking with his iconic Mondrian Collection. Today, the trend extends beyond neutrals and primary colors to an infinite array of bold combinations - like the pastel pink and yellow seen on this turtleneck.
74% alpaca wool, 22% wool, 4% polyamide
Whether paired with relaxed denim or a preppy skirt, this floral buttondown elevates any outfit with ease.
Vintage prints and watercolors inspire designer Jana Kachel to create a collection of unique, versatile pieces that will easily take their wearers from day to night.
| | | |
| --- | --- | --- |
| | | |
| Leopard Wide-Leg Trousers | Kristina Printed Scarf | Sedona Sunrise Maxi Dress |
| Updating a classic print with an unexpected hue, these leopard trousers are chic and surprisingly versatile. | A chic, vintage-inspired print sets this diamond-shaped scarf apart from the rest - try wearing it as a belt for a subtle hint of color. | This silk dress proves that good things come in twos - here, florals play with a wild touch of leopard for a fresh, summer-ready look. |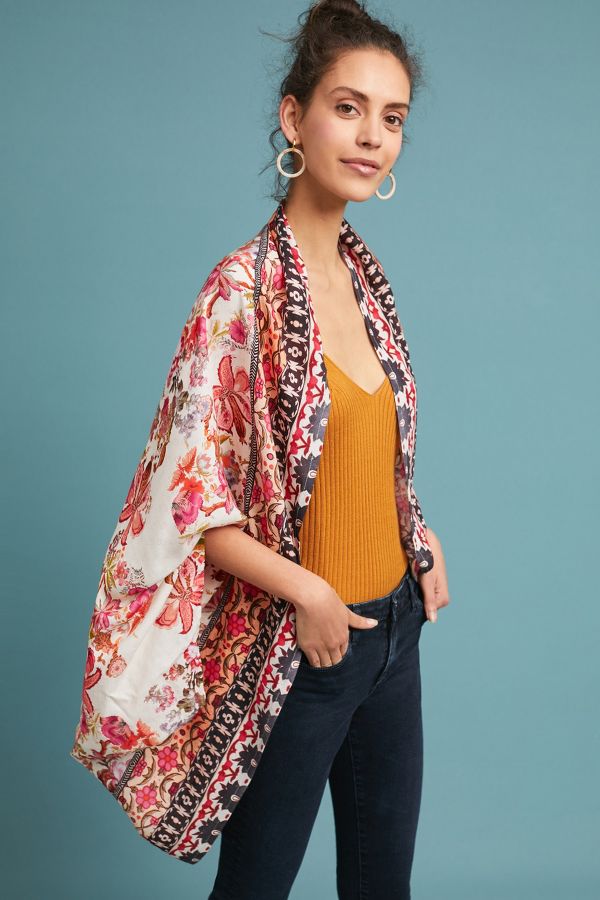 Josephina Cocoon Kimono
Vintage prints and watercolors inspire designer Jana Kachel to create a collection of unique, versatile pieces that will easily take their wearers from day to night.
| | | |
| --- | --- | --- |
| | | |
| Scenic Sweater Skirt | Wasilla Knit Cardigan | Mosaic Midi Dress |
| With unsurpassed comfort and a hint of collegiate style, this sweater skirt is a workwear essential for the colder months. | A wispy softness and longline silhouette make this the coziest cardigan in your closet. | Sheer viscose; rayon lining |
| | | |
| --- | --- | --- |
| | | |
| Billie Embroidered Dress | Geometric A-Line Skirt | Medallion Pleated Skirt |
| Embroidered with florals and trimmed with ladder lace, this breezy dress is all about the details. | The bold geometric print on this skirt pairs well with neutral toppers - think chambray buttondowns and cotton tees. | A bold print finished with pleated details makes this skirt a boho-chic statement piece to love. |
| | | |
| --- | --- | --- |
| | | |
| Tarapoto Top | Luria Striped Skirt | Chelsey Embroidered Tank |
| With a perfect balance of classic stripes and eclectic color, this peplum blouse is an ideal topper for toned-down bottoms - think white jeans, slouchy denim shorts, or neutral chinos. | Cotton, viscose, linen | Top your favorite denim skirt or a pair of linen wide legs with this easy tank for the perfect summer-casual outfit. |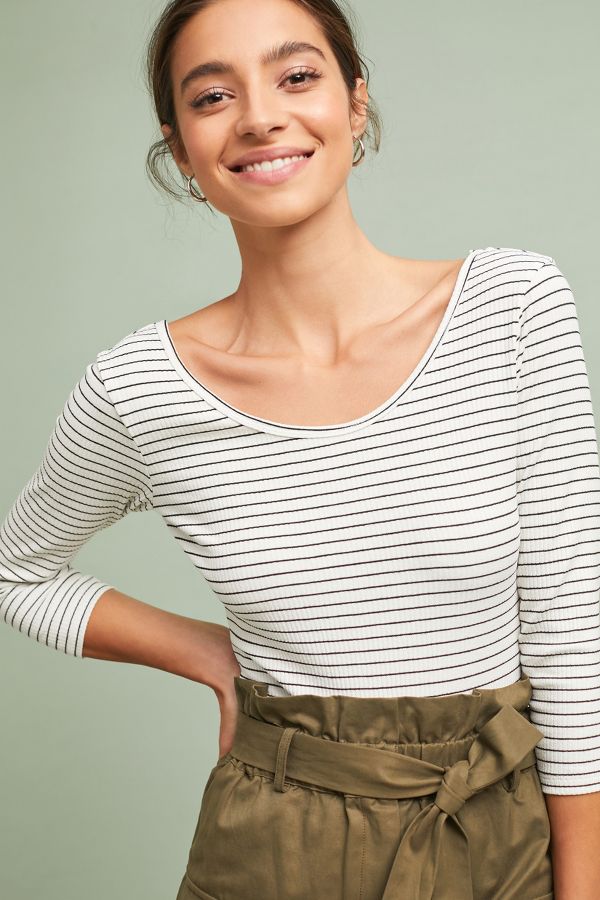 Athos Bodysuit
Form-fitting and practical, versatility is fused into this layer-able bodysuit's design.
Londoner Chloe Lonsdale was born into a world of indigo - her parents, designing under the label Made in Heaven, were the purveyors of wildly popular '70s flares. In 2006, Chloe re-launched the brand as M.i.h and made an instant, immediate impact with her unpretentious, assured silhouettes. Since then, the label has evolved into a contemporary ready-to-wear collection with a retro-inspired spin, and is beloved by denim lovers worldwide.
| | | |
| --- | --- | --- |
| | | |
| Barbour® Acorn Waxed Jacket | Barbour® Women's Classic Beadnell Jacket | BARBOUR® BEADNELL POLARQUILT JACKET |
| Lined in classic tartan, this waxed cotton jacket from Barbour repels rain to keep you warm and dry on wet sidelines or at the farmers market. A roomier boyfriend fit than the best-selling Beadnell, it features a zip front with snap-shut storm flap to seal out the elements. | A feminine take on the legendary Bedale jacket, this relaxed silhouette in soft, brushed Sylkoil waxed cotton is an ideal everyday jacket suitable for year-round wear | Based on the legendary Barbour Beadnell waxed-cotton jacket, this lighter-weight polarquilt version for women revises the original feminine silhouette in Barbour's signature quilting and cozy, breathable fleece. |
| | | |
| --- | --- | --- |
| | | |
| Barbour® Women's Beadnell Jacket | BARBOUR® HUNSTANTON WAX COTTON JACKET | Barbour® Summer Beadnell Quilted Jacket |
| Flawless Barbour styling takes form in one of the company's most iconic jackets. A feminine take on the iconic Bedale, this sturdy coat will keep you warm, dry, and cozy all season. | Brave the elements in the comfort of this water-repellent and wind-resistant Hunstanton Waxed Cotton Jacket by Barbour, the British company that got its start in 1894 outfitting fishermen for work on the North Sea. | Barbour's popular Beadnell Quilted Jacket is updated for spring in silky nylon with tartan trim and lightweight insulation for warmth. This snap-front quilted jacket is detailed with princess seams for shape, two roomy front pockets with snap flaps, and two back vents with snaps. 100% nylon outer and lining. Washable. |
Nicknamed for the Spanish term Eulalia, meaning feminine and romantic, LAIA is a clothing line that focuses on the smallest of details. Expertly blending inspirations from various cultures into each design, the label showcases intricate embroideries and offers the most flattering of fits.
| | |
| --- | --- |
| | |
| Monica Floral Poncho | Tabatha Patchwork Sweater |
| Belt this floral poncho for a flattering top layer or, for a bit more drama, opt to wear it loosely. | The sartorial practice of using material scraps blossomed into the patchwork designs we know and love today. Perfectly pieced-together patterns, like the ones found on this sweater, offer plenty of color for an eye-catching, cozy piece you'll always want to snuggle up in. |
Go to:
Add World-Luxury to your favorites