Easy Weekend Wear
Easy weekend wear. Loungewear and easy pieces for relaxed weekends. See the newest styles from: Beatrice B, Dolan Left Coast, Current Air, Cupcakes and Cashmere
Dolan is the eponymous label of designer Jodie Dolan. Imbued with the laidback, effortlessly sexy vibe of her Los Angeles home base, Dolan's clothes are simple, original and confident.
| | | |
| --- | --- | --- |
| | | |
| DOLAN Collection Norah Mini Dress | Dolan Left Coast Bea Ruffled Blouse | Dolan Left Coast Deena Embroidered Peasant Blouse |
| Inspired by the abstract, geometric work of Dutch painter Piet Mondrian, Yves St. Laurent introduced sartorial colorblocking with his iconic Mondrian Collection. Today, the trend extends beyond neutrals and primary colors to an infinite array of bold combinations. | Balance the delicate ruffles on this blouse with distressed denim or a utilitarian skirt. | The '70s-inspired peasant top remains a favorite for its blouson sleeves, which lend a soft, breezy quality and laidback air to any outfit. Balance its loose fit by tucking it into denim shorts or a high-waisted pair of pants. |
| | | |
| --- | --- | --- |
| | | |
| Dolan Left Coast Cowl Neck Pullover | Camille Pleated Pants | Dolan Left Coast Ophelia Kimono Jacket |
| Polyester, spandex | Rendered in a shiny finish, these pleated pants are equally comfortable as they are chic. Pair them with a printed blouse and a wristful of bangles for a fete-worthy ensemble, or opt for a tunic sweater and flats for a cozier look. | This silhouette is an easy-to-style topper that lends airy, bohemian elegance to your ensembles. Whether you're layering it over your workweek attire or pulling it over your tee on a Sunday morning outing, this patterned kimono is an effortless addition to your daily routine. |
| | | |
| --- | --- | --- |
| | | |
| Desta Utility Jumpsuit | Miele Ruffled Henley Top | Orly Snake-Printed Pencil Skirt |
| A utility jumpsuit is the perfect blend of form and function - it combines all the comforts of your favorite casual wear with a flattering, ultra-modern fit. | This top pairs Henley-style buttons with ruffled trim and puffed sleeves for a polished, feminine finish. | We love snake print for its quintessential rock 'n' roll feel and its ability to make a serious statement while remaining decidedly neutral. From classic brown to exotic greens and yellows, the serpentine pattern looks best when paired with a contrasting texture - think faux fur or denim. |
| | | |
| --- | --- | --- |
| | | |
| Sheila Floral Draped Wide-Leg Pants | Mandy Pleated Wide-Leg Jumpsuit | Riley Leopard Midi Skirt |
| With an optional tie at the waist, these breezy, satin-soft wide-legs offer a comfy alternative to your go-to skinnies. | With pleated details and a perfectly tailored silhouette, this wide-leg jumpsuit makes a sleek and sophisticated addition to your wardrobe. | With a miniature leopard motif and paneled sides, this swingy skirt offers two stylish neutrals in one versatile piece. |
| | | |
| --- | --- | --- |
| | | |
| Courtney Corduroy Blazer | Robin High-Rise Trousers | Leopard Cozy Tote Bag |
| This soft-ribbed corduroy blazer boasts a nipped-in waist for a flattering, feminine finish. | With a flattering high rise and a slimming, straight-leg fit, this pair takes any ensemble from the work week to the weekend. | Rendered in an on-trend motif, this plush carryall offers a fashion-forward twist on one of our favorite seasonal textures. |
| | | |
| --- | --- | --- |
| | | |
| Simone Cozy Mini Tote Bag | Felicity Cozy Bucket Bag | Cosima Cozy Tote Bag |
| Crafted from plush faux fur, this petite purse puts a luxe twist on the mini tote trend we're loving. | Crafted from plush faux fur with an extra-wide handle, this bucket bag is brings an extra-cozy touch to winter outfitting. | This plush carryall offers a unique twist on one of our favorite seasonal textures. |
Blogger Emily Schuman founded Cupcakes and Cashmere to document her favorite things: clothing, food, and family. Embraced by fashionistas and foodies the world over, the blog has since evolved into an internationally renowned lifestyle brand. Inspired by Schuman's feminine style, her clothing collection is sophisticated, yet effortless - perfect for the on-the-go woman.
| | | |
| --- | --- | --- |
| | | |
| Michaela Velvet Top | Molly Leopard Cardigan | Westerly Knit Pullover |
| This luxe velvet top is an ideal outfit completer for the season - pair it with anything from a mini skirt to your favorite polished denim. | Featuring leopard print and a shimmering jacquard finish, this slouchy cardigan is the ideal topper for any cool-weather ensemble. | This cozy pullover is an ideal layer for breezy days and evenings. |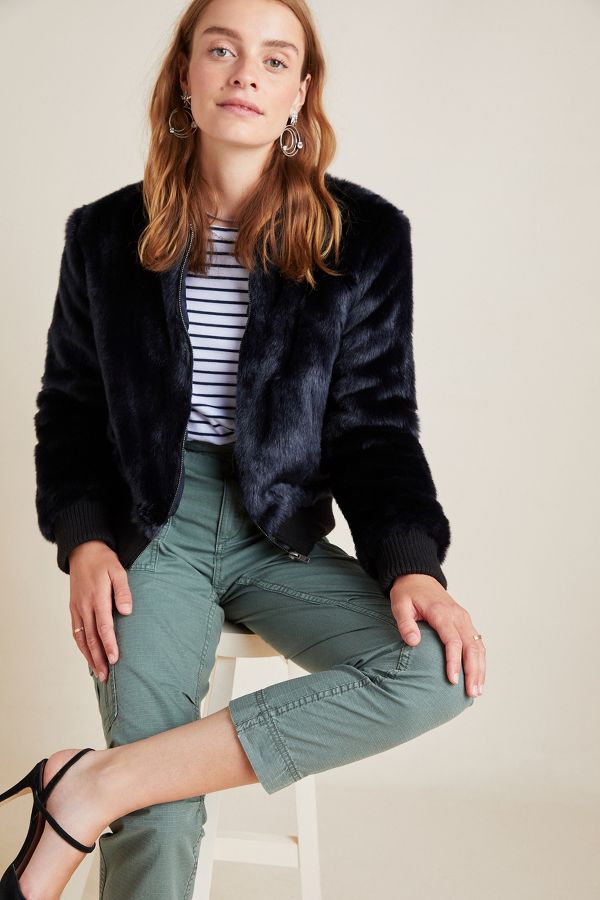 Faux Fur Bomber Jacket
A faux fur coat adds a touch of glam and a whole lot of texture to any cold-weather look.
Founded in 1988, the Italian brand Beatrice B creates stunning pieces for the everyday that transition to evening events with ease. From patterned knits to sophisticated outerwear, the vibrant designs carry unmistakable character, for that extra-special something you never knew you needed.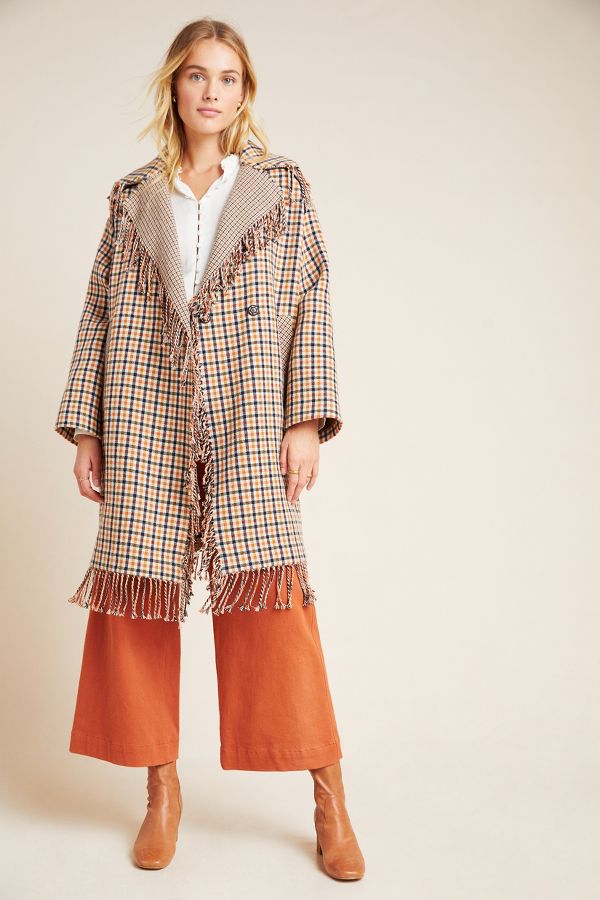 Delfina Fringed Plaid Coat
A stylish coat is the centerpiece of any cold-weather wardrobe. Elegant enough to top festive dresses - yet practical enough to wear all week - this fringed plaid rendition is sure to earn you plenty of compliments.
Go to:
Add World-Luxury to your favorites