Easy Weekend Wear
Easy weekend wear. Loungewear and easy pieces for relaxed weekends. See the newest styles from: Lily and Lionel LAIA, Child of the Universe NYC, Samantha Pleet, Teoh and Lea, Kachel, The Lady & The Sailor, Barbour Jackets, Seen Worn Kept, Akemi & Kin, M.i.h
Named after Creative Director and Founder Alice Stone'??s grandparents, Lily and Lionel began with a collection of digitally printed silk scarves. While scarves remain at the heart of Lily & Lionel, the British label has since expanded to include swim, resort, and ready-to-wear, with each garment stitched from the finest fabrics. The label'??s bold prints are the core of an ever-growing assortment of statement pieces that you'll return to again and again.
| | |
| --- | --- |
| | |
| Lotus Silk Buttondown | Leopard Silk Buttondown |
| The lotus flower is believed to symbolize grace, purity, and love. We love it printed on this silk buttondown - its makes the ultimate elegant topper. | Simple, chic, and extremely versatile, this leopard-printed silk blouse will remain on-trend for years to come. |
Nicknamed for the Spanish term Eulalia, meaning feminine and romantic, LAIA is a clothing line that focuses on the smallest of details. Expertly blending inspirations from various cultures into each design, the label showcases intricate embroideries and offers the most flattering of fits.
| | | |
| --- | --- | --- |
| | | |
| Hadwin Romper | Glory Embroidered Jumpsuit | Caspian Striped Shorts |
| The two-toned nature of this romper creates the trompe l'oeil effect of a two-piece set - add a cute pair of sandals and your outfit's complete | An embroidered jumpsuit is an all-in-one packing wonder - it frees up your carry-on and saves time spent outfitting. Simply add earrings and a clutch for an event-ready look. | Cotton |
Believing comfort and quality go hand in hand, New-York based designer Ana Wakeheim sources natural Peruvian cotton and premium leather for her street-cool styles. From embellished blazers to tasseled peasant dresses, each piece makes a bold statement that resonates with those that dare to be different.
| | | |
| --- | --- | --- |
| | | |
| Plaid Bodysuit | Madalyn Embroidered Blazer | Madalyn Embroidered Shift Dress |
| Cotton, nylon, elastane | Embroidered with contrasting red florals, this blazer is a spring-ready layer that pairs perfectly with femme skirts and structured trousers alike. | Step out in style in this delicately embroidered shift dress, complete with a flattering belt and a tasseled tie-neck. |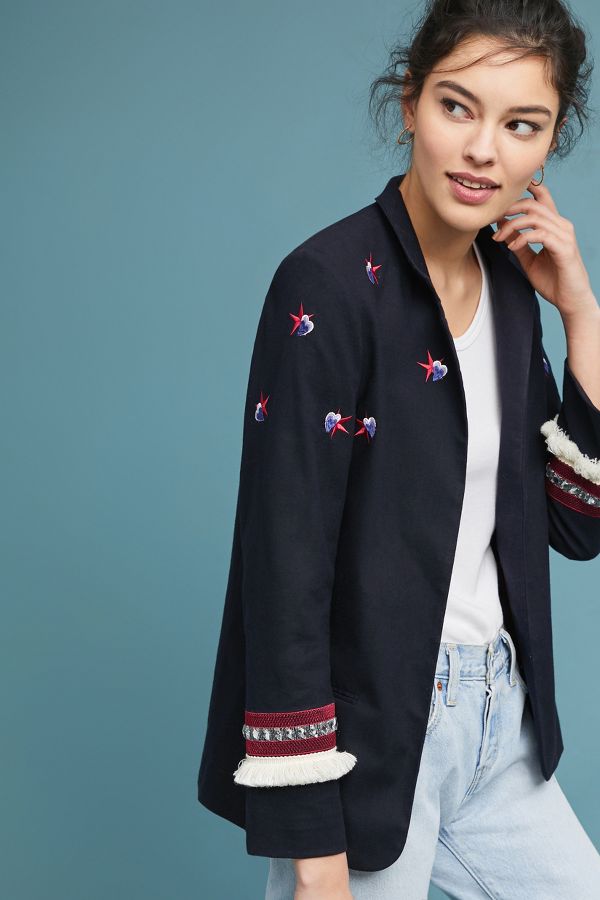 Mezze Embroidered Blazer
Delicate sleeve embellishments and colorful embroidery enliven this open-front blazer for a spring-ready layer.
Since meeting at a Barcelonan music festival in 2014, Teoh and Lea have been inseparable, combining their passion and design expertise to create a collection that promises smart dressing with an easy approach. "By aiming to foster a sense of soul" in every garment, the duo craft casually fashion-forward knitwear that strikes a warm, effortless chord.
A collaborative labor of love with her husband Patrick, Samantha Pleet's namesake brand brings fairytales to life through whimsical details - think cut-outs in the shape of windows and all-over eclectic prints. Since its start in 2007, Samantha Pleet designs offer creative women and daydreamers unique, fanciful pieces wrapped up in well-tailored bow.
| | |
| --- | --- |
| | |
| Orchestra Silk Blouse | Pleated Piano Midi Skirt |
| The whimsical print on this silk blouse is sure to strike a chord with everyone. | Eye-catching details are key to making a fabulous statement skirt. This midi features a piano print and pleated silhouette for a whimsical, one-of-a-kind finish. |
Vintage prints and watercolors inspire designer Jana Kachel to create a collection of unique, versatile pieces that will easily take their wearers from day to night.
| | | |
| --- | --- | --- |
| | | |
| Tibby Tank | Vizela Embroidered Top | Devon Tunic |
| Rayon, spandex | Rayon, polyester, spandex | With its dramatic length, this sheer tunic tops a cami and high-rise denim beautifully - or style it as a dress by layering over a silky slip. |
| | | |
| --- | --- | --- |
| | | |
| Garden Grove Intarsia Tank | Veria Peplum Tunic | Baton Rouge Jumpsuit |
| Layer this knit tank with a denim buttondown now - when the temperatures start to rise, wear it solo with your favorite skinny pair. | This figure-flattering peplum silhouette offers a polished take on the classic tunic | A printed jumpsuit is an all-in-one packing wonder - it frees up your carry-on and saves time spent outfitting. Simply add earrings and a clutch for an event-ready look. |
| | |
| --- | --- |
| | |
| Geneva Embellished Jacket | Pineapple Printed Jacket |
| Beaded to perfection on the hood and sleeves, this jacket is an eye-catching choice of outerwear. | Here, pineapple embroidery transforms the standard jacket into a whimsical layering piece fit for the sunnier seasons. |
Londoner Chloe Lonsdale was born into a world of indigo - her parents, designing under the label Made in Heaven, were the purveyors of wildly popular '70s flares. In 2006, Chloe re-launched the brand as M.i.h and made an instant, immediate impact with her unpretentious, assured silhouettes. Since then, the label has evolved into a contemporary ready-to-wear collection with a retro-inspired spin, and is beloved by denim lovers worldwide.
| | | |
| --- | --- | --- |
| | | |
| M.i.h Niki High-Rise Straight Cropped Jeans | M.i.h Poet Pullover | M.i.h Sunland Denim Jacket |
| Featuring an embroidered sun on the back pocket, this unique pair flatters through the hip and thigh and is finished with a classic straight leg. | Knit in an irresistibly bold hue, this soft cotton pullover features ribbed sleeves for added texture. | This straight-cut denim jacket features paneled seams in a sunray pattern on the back, for a stylish piece reminiscent of the the brand's reputation'making 1971 Marrakesh flares. |
| | | |
| --- | --- | --- |
| | | |
| Barbour® Holliwell Jacket | Barbour® Alto Cape | Barbour® Women's Brimham Jacket |
| Take on rainy days in this waterproof and breathable Holliwell rain jacket from Barbour, the British company that knows a thing or two about looking good and staying dry in damp, dreary weather. Zip-front jacket with storm flap and internal drawstring seals out the elements. Pull up the hood when the weather is really bad; snap it off and store it away when the sun shines again. | Take on rainy days in the waterproof, breathable protection of this Barbour® cape. In a bright canary yellow, it gives a nod to Barbour's rich maritime history. When it's raining buckets, pull up the hood and extend the visor to protect your face. As the rain eases up, fold the visor up and out of your way | When it comes to weather protection, we trust Barbour® to keep us comfortable, dry, and stylish. This waterproof jacket breathes so you'll never overheat no matter the season. Zip up, snap the storm flap shut, and pull up the hood when the weather is really foul. Generously sized bellowed pockets keep small valuables like a cell phone or car keys safe and dry. Cinch the drawcord at the waist to create a flattering, more form-fitting silhouette. |
Go to:
Add World-Luxury to your favorites