Easy Weekend Wear
Easy weekend wear. Loungewear and easy pieces for relaxed weekends. See the newest styles from: Scotch & Soda, Greylin, Moon River, Blue Tassel, RD Style, Dolan Left Coast, Current Air, Cupcakes and Cashmere, Aldomartins, All Fenix, Varley Activewear
In a refurbished church along the canals of Amsterdam, the creatives at Scotch & Soda share the latest poems, artifacts and treasures that have sparked their imaginations. Inspired by worldly wonders, each global collection fuses unexpected patterns with classic textiles, resulting in the brand's signature era-mixing style.
Even at a young age, Dora Lim felt at home in the world of design. After her parents started a manufacturing business, Lim quickly became fascinated by the art of making clothes and spent hours on the production floor observing the designers and seamstresses at work. Years later, she graduated from the Fashion Institute of Design and Merchandising in Los Angeles and launched her own line, Greylin. Each tailored, timeless garment showcases Lim's lifelong passion for clothing and design.
| | | |
| --- | --- | --- |
| | | |
| Aislinn Sherpa Coat | Serena Coat | Charley Cozy Shirt Jacket |
| When it comes to cool-weather coziness and model-off-duty style, there's nothing better than a Sherpa coat. Mimicking the look and feel of warm, textural wool, this textured layer keeps you chic and comfortable as the temperatures chill. | Wool, polyester; polyester lining | A laidback essential, this shirt jacket brings cozy flair to slim denim and your favorite graphic tees. |
In 1975, designer Marti Bisbal founded Aldomartins, a luxury brand specializing in womenswear with a chic, cosmopolitan edge. Designed and made in Spain, his impeccably tailored garments are distinctly European, featuring bold prints and the finest materials.
| | | |
| --- | --- | --- |
| | | |
| Raquel Knit Maxi Skirt | Benicia Tie-Dye Sweater | Caballos Sweater Coat |
| 46% viscose, 33% acrylic, 20% wool, 1% elastane | With an oh-so-soft finish, this tie-dye sweater makes a thoughtful gift for holidays, birthdays, and other special occasions. | With a whimsical equine motif, this cozy layer is sure to be a favorite as the weather cools. |
Based in Los Angeles and named for a song written specifically for Audrey Hepburn, Moon River offers sensible style for the free-spirited woman. Clean and natural with a vintage-inspired aesthetic, each feminine, detailed, and timeless silhouette brings versatility and personality to your closet.
| | | |
| --- | --- | --- |
| | | |
| Paquine Cable-Knit Sweater | Alistair Cable-Knit Tunic Sweater | Etienne Cable-Knit Tunic Sweater |
| With an iconic knit motif that epitomizes cozy, cool-weather style, the cable-knit sweater was first worn by fishermen in the 19th century, who prized its durability and warmth. According to Nordic folklore, its knit patterns bring good luck and prosperity to the wearer - perhaps that's why men, women, and children around the globe have held it as a cherished winter-wardrobe staple ever since. | 70% acrylic, 30% wool | 100% acrylic |
Cinched Cargo Shorts
An easygoing staple, these shorts feature a paperbag waist and handy flap pockets we can't help but love.
| | | |
| --- | --- | --- |
| | | |
| Tiana Muscle Tank | Britt Jogger Lounge Set | Kasia Thermal Top |
| Subtle padding at the shoulders infuses this tank with menswear-inspired flair - style it with a bias skirt or distressed denim for a chic everyday look. | This comfy lounge set is a must-have for everyday outfitting - wear each piece solo, or style them together for a chic head-to-toe look. | This thermal top is so comfortable you'll want to wear it on repeat. |
Dolan is the eponymous label of designer Jodie Dolan. Imbued with the laidback, effortlessly sexy vibe of her Los Angeles home base, Dolan's clothes are simple, original and confident.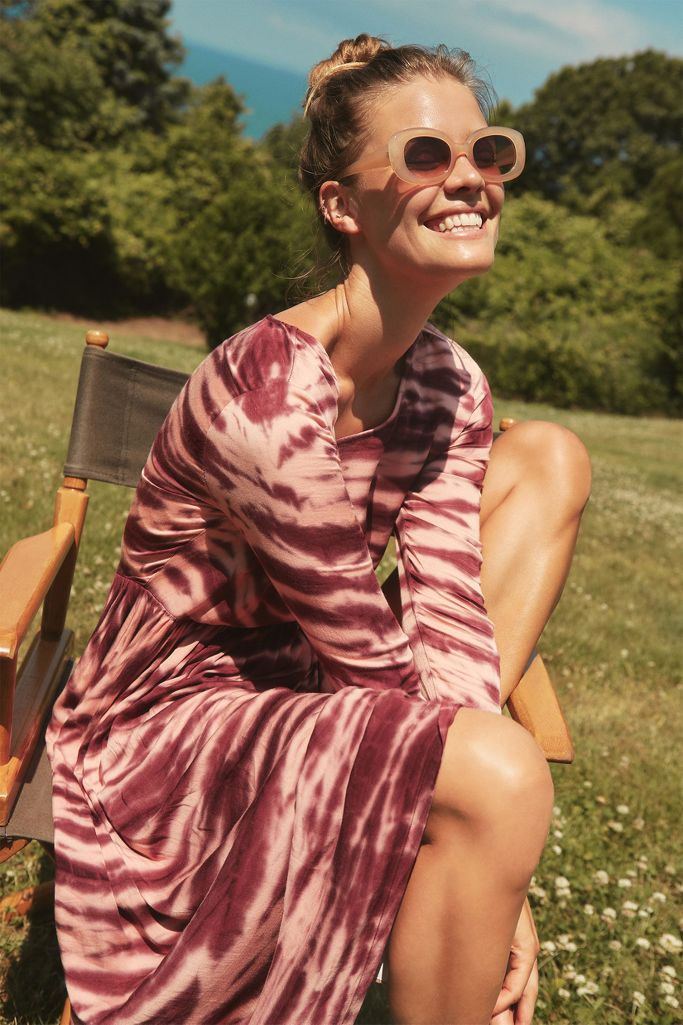 Eliska Tie-Dye Maxi Dress
Perfect for backyard cookouts and sunny day strolls, this maxi features tie-dyed streaks for a dreamy touch.
| | | |
| --- | --- | --- |
| | | |
| Aidan Denim-Trimmed Blazer | Cheryl Buttondown | Colleen Cropped Trucker Jacket |
| Reimagining the classic plaid blazer, this layer is trimmed in denim for a modern touch. | Whether paired with relaxed denim or a preppy skirt and sandals, this dainty buttondown elevates any outfit with ease. | Cropped just above the waist, this trucker jacket lends everyday looks a dash of playfulness and poise. |
| | | |
| --- | --- | --- |
| | | |
| Fresas Embroidered Sweatshirt | Maelle Blouse | Marjie Peasant Blouse |
| Embroidered with dainty strawberries, this easygoing layer packs a playfully fruity punch - just add denim shorts and your favorite slides. | Ruffled touches at the shoulder infuse this blouse with elegance and charm. | With a billowy silhouette, the peasant top has a carefree air, making it the perfect seasonal staple. |
| | | |
| --- | --- | --- |
| | | |
| Sereia Pleated Midi Dress | Keris Knit Blazer | Bluebell Jacquard Pants |
| From fluttery sleeves to precious pleats, this midi dress offers dreamy detail in every stitch. | This blazer features a textured finish for a touch of dimension and depth - throw it on over a silky cami and denim for a look that's both laidback and polished. | These trousers feature a shimmery jacquard finish, lending everyday ensembles a sophisticated touch. |
| | | |
| --- | --- | --- |
| | | |
| Lynde Smocked Maxi Skirt | Alyce Mini Dress | Norris Blazer |
| This skirt's smocked touches and sweeping silhouette promise elegance and comfort at once. | Featuring a romantic floral print, this light-as-air mini dress is perfect for the season. | In a hue that has us dreaming of sunny days, this blazer is a fashion-forward staple. |
Blogger Emily Schuman founded Cupcakes and Cashmere to document her favorite things: clothing, food, and family. Embraced by fashionistas and foodies the world over, the blog has since evolved into an internationally renowned lifestyle brand. Inspired by Schuman's feminine style, her clothing collection is sophisticated, yet effortless - perfect for the on-the-go woman.
From humble beginnings in Melbourne, Australia, All Fenix has grown into an internationally-recognized activewear label, catering to style-conscious women on the go. All Fenix strives to develop durable, performance-focused apparel and accessories with an emphasis on comfort, ventilation, and dynamic fits.
| | | |
| --- | --- | --- |
| | | |
| All Fenix Gingham Leggings | All Fenix Camo Sports Bra | All Fenix Aryah Sweatshirt |
| With a gingham finish, these leggings will take you from exercise to errands in comfort and style | Comfy and chic, this sports bra is a perfect foundation piece for yoga sessions and at-home lounging alike. | Whether styled solo or with its matching leggings, this sweatshirt is an easygoing staple for workouts and movie marathons alike. |
With headquarters in both London and Los Angeles, Varley blends the former's metropolitan sophistication with the latter's fitness-focused lifestyle to create performance-enhancing, fashion-forward activewear. Each flattering silhouette is made using advanced quick-drying, sweat-wicking technology, so it's ideal for errands, the gym or vacation.
Go to:
Add World-Luxury to your favorites