Fireplace Screens, Pits and Ceiling Fans
Fire pits create a focal point and a wonderful place to gather and entertain. Go to: Fireplace Screens, Fireplace Tools and Accessories, Mantels, Ceiling Fans, Outdoor Fire Pits
| | | |
| --- | --- | --- |
| | | |
| Classic Fireplace Screen | Gate Design 3-Panel Fireplace Screen | Acanthus Fireplace Screen |
| Three-panel fireplace screen. Handcrafted of iron. Gold-tone finish. 46.5"W x 0.5"D x 36"T. | Three-panel fireplace screen with gate design. Features acanthus leaf accents. Antique gold iron and tole. Mesh backing. 49.5"W x 0.5"D x 32"T. | Handcrafted fireplace screen. Made of iron. Mesh backing, so it may be used with wood or gas logs. 46.5"W x 0.5"D x 36"T. |
| | | |
| --- | --- | --- |
| | | |
| Lyrical Fireplace Screen | Italian Gold Double-Scroll Single-Panel Decorative Fireplace Screen | Fireplace Screen |
| Handcrafted single-panel fireplace screen. Iron with mesh backing. Hand-painted finish. For use with wood and gas logs. 38.5"W x 8.5"D x 31"T. | Handcrafted fireplace screen made of iron and tole. Delicate design with scrolls and leaves in hand-painted Italian gold finish. 38.8"W x 8.5"D x 31.8"T. | Three-panel fireplace screen. Handcrafted of iron and tole. Dark antique-brown finish with golden undertones. 48"W x 0.25"D x 41"T. |
| | | |
| --- | --- | --- |
| | | |
| Scroll Fireplace Screen | Medallion Fireplace Screen | Monogrammed Fireplace Screen |
| A three-panel fire screen. Made of wrought iron. Adjustable side panels. 49"W x 1"D x 38"T. | Fireplace screen is made of iron. Five panels with mesh backing. Approx. 56.5"W x 41.5"T. | Handcrafted single-panel fireplace screen. Made of iron and tole. Hand-painted finish. Single-initial monogram. 38.75"W x 8.75"D x 30.75"T. |
| | | |
| --- | --- | --- |
| | | |
| Asian Design Fireplace Screen | Picasso Fireplace Sculpture | Leaf Scroll Fire Screen |
| Handcrafted iron fireplace screen. Asian design with mesh backing. 38.5"W x 8.5"D x 31"T. | This sculpture is abstraction at its best with movement and fluid lines. Enhance your fireplace or use this piece as a sculpture to add a touch of classic contemporary to your décor. Made of aluminum and iron. Approx. 50"W x 7"D x 39"T. | Fire screen with leaf scroll design. Made of iron and tole. Approx. 43"L x 6"D x 27"T. |
| | | |
| --- | --- | --- |
| | | |
| Chinoise Fret Bronze Fireplace Screen | Paris Fireplace Screen | Tree Design Single Panel Fireplace Screen |
| Why fret? Because you're a fan of chinoiserie chic—in 1760 or 2020. Thomas Chippendale illustrated designs for "Chinese Railing" in his furniture style bible, The Gentleman's and Cabinetmaker's Director, first published in 1754. From London to Williamsburg, fashionable houses incorporated porch railings and stair balustrades designed in the Chinese manner. We've interpreted a fretwork porch railing from the one of the grandest town houses in Williamsburg—Robert Carter's house next to the Governor's Palace—for our Chinoise Fret collection. | Fireplace screen inspired by the fanciful form of Parisian balcony railings. Handcrafted iron; antiqued brass finish 57.25"W x .25'D x 41"T. | Single panel fireplace screen with unique tree design. Rose gold iron and tole. Mesh backing. 38.5"W x 9"D x 31"T. |
| | |
| --- | --- |
| | |
| 10 Candle Candelabra | 9 Candle Candelabra |
| This glamorous metal candelabra is the perfect feature to adorn any shelf or mantel. With ten platforms to hold candles and a sturdy base, this metal candelabra will add warmth and a gentle glow to any room in your home. The candelabra is constructed of two rows, five platforms in the front for candles and five platforms for candles in the back. | This glamorous metal candelabra is the perfect feature to adorn any shelf or mantel. With nine platforms to hold candles and a sturdy base, this metal candelabra will add warmth and a gentle glow to any room in your home. The candelabra is constructed of layers of rows with varying heights to give unique dimension to the piece. |
| | | |
| --- | --- | --- |
| | | |
| Stone Scroll Mantel | Caesar Mantel | Large Stone Mantel |
| Mantel made of crushed stone/polyresin/styrene/fiberglass. Hand-painted aged limestone lacquer finish. Includes mounting hardware. Do not use corrosive chemicals to clean. Safe for outdoor covered patios. 70"W x 13"D x 50"T with 47"W x 10"D x 40"T opening. | Mantel made of cast stone with an aged finish. May be used indoors or out. Easy to assemble. 72"W x 15"D x 50"T with 34.75"W x 32.25"T opening. | Handcrafted, grandly scaled mantel. Made of crushed stone and resin. Safe for use outdoors on a covered patio. Exceptionally durable, but conveniently lightweight. Exterior: 65"W x 8.25"D x 52"T. |
| | |
| --- | --- |
| | |
| "French" Fireplace Mantel | Rope-Edge Fireplace Mantel |
| Cast-stone mantel topped by black stone. Mantel has an antique-parchment finish with golden highlights on a shell and foliage motif. Exterior: 72"W x 14"D x 52.5"T; interior: 49.5"W x 14"D x 39.5"T. | Inspired by classic architecture. Handcrafted mantel. Made of crushed stone/polyester resin/styrene/fiberglass. Hand-painted weathered-white finish with black top. Lightweight and durable. |
| | | |
| --- | --- | --- |
| | | |
| Ceiling Fan in Bronze Finish | Chrysaor Curved Crystal Chandelier Ceiling Fan | Hannele Crystal Bowl Chandelier Ceiling Fan |
| Ceiling fan in bronze finish with crafted crystal chandelier detail. CFM: 6,800; Wattage: 37; Airflow efficiency: 89. Light kit included. | The Chrysaor Chandelier Ceiling Fan is a glamorous antique bronze finished piece that combines the functionality of a fan with an eye catching chandelier light assembly. The wood blades offer great air movement to save your electricity bill. | The Hannele ceiling fan is a lovely traditionally styled ceiling fan with light assembly. Three lights are shaded with a bowl of crystals with metal framing. Matte black metal hardware and housing with wood blades combine to give your space a sense of comfort. |
| | | |
| --- | --- | --- |
| | | |
| Speckled Bronze Crystal Chandelier Ceiling Fan | Kalsti Glass Chandelier Ceiling Fan | Prismatic Chandelier Ceiling Fan |
| Ceiling fans are the most cost-efficient option to bringing the temperature down and moving stale air out of your room. Add one with a touch of splendor with this traditional styled Chandelier Ceiling Fan. The hardware is finished is a Speckled Rustic Bronze for a plantation feel. The ornate crystal bowl shade gives it a perfect balance of luxury to turn your home into something special. The matching stained wooden blades moves an impressive amount of air. The three speed reversible motor insures you find the exact setting for your cooling comfort. | Increase the quality of your living space by adding a Chandelier Ceiling Fan to your home. This Tiffany Style Glass Chandelier Fan offers something luxurious beyond the standard can-type lighted fans. The Kalsti uses pleasing neutral colors and an enjoyable Lotus Flower Design to give your space a sense of warmth and comfort. Upper and lower lighted lamps provide great illumination. The rotating wooden blades adjust to your suited level of cooling comfort using the three speed reversible fan. | This five-blade ceiling fan is bedecked in prismatic crystals that both refract the light from the six bulbs as well as give the fan a feeling of composed radiance reminiscent of the art deco period. Metalwork is finished in an antique bronze patina. Both upper and lower crystal shades are lighted. |
| | | |
| --- | --- | --- |
| | | |
| Stacked Crystal Rod Chandelier Ceiling Fan | Rustic Bronze Lamped Ceiling Fan with Double-Light Kit Fixture | Crystal Dome Chandelier Ceiling Fan |
| Glamour and style is what you get when you combine the polished formal duo of silver and crystals. Chrome finish in the housing and hardware. Crystal baguettes and rods and hanging pendants create a magnificent piece. This has two tiers of lighting to offer plenty of illumination. Very formal piece that will impress your guests. | Antiquated rustic style lamped ceiling fan with rustic bronze metal housing and hardware. Grid vented shade with embedded crystals and thick round global faceted crystal pendants blanket the bottom. 22"H x 52"Dia. Dark brown wooden blades. | Ceiling fans are the most cost-efficient option to bringing the temperature down and moving stale air out of your room. This Chandelier Ceiling Fan offers that functionality along with a refined and dignified style. A lovely traditional piece for your most cherished spaces. The high quality crystal bowl is paired with an all silver finish in the wooden blades and the metal housing. Solidly built, this will keep your home cool and breezy during those uncomfortably hot moments for years. Don't settle for a standard lighted fan, add a little luxury to your life. |
| | | |
| --- | --- | --- |
| | | |
| Nickel-Finished Ceiling Fan with Light Kit | Stacked Crystal Baguette Chandelier Ceiling Fan | Stacked Curved Crystal Baguette Chandelier Ceiling Fan |
| Ceiling fan with nickel finished base with hub mounted silver tone rotating paddles. Three clear shades in onion shape for radiance lighting. 25"H x 52"W. | Glamour and style is what you get when you combine the polished formal duo of silver and crystals. Chrome finish in the housing and hardware. Crystal baguettes, rods and hanging pendants create the magnificent included light kit. The lamp offers plenty of illumination. Very formal piece that will impress your guests. The matching wooden blades with a silver coating moves an impressive amount of air. The three speed reversible motor insures you find the exact setting for your cooling comfort. | Old world Hollywood glamour is what this piece represents. Curved crystal baguettes form the upper and lower lamps. Silver finished wooden blades offer excellent air movement. The metal silver chrome hardware and housing complete the stunning ceiling fan. |
| | | |
| --- | --- | --- |
| | | |
| Glass Bowl Chandelier Ceiling Fan | Flower-Shaped Metalwork & Crystal Chandelier Ceiling Fan | Crystal Drum Chandelier Ceiling Fan |
| Ceiling fans are the most cost-efficient option to bringing the temperature down and moving stale air out of your room. This chandelier ceiling fan does it in style with a single tier three light mini-candelabra lamp. The clear glass bowl shade is beautifully paired with an antique bronze finished fixture. Solidly built, this will keep your home cool and breezy during those uncomfortably hot moments You don't have to just add a fan to your space, you can also add a little luxury. | Lovely antiquated rustic look in a lamped ceiling fan. Grid vented shade with embedded crystals and thick round global faceted crystal pendants blanket the bottom. You and your space will be bathed in excellent and interesting light reflections. Rustic bronze metal housing and hardware. Dark brown wooden blades offer excellent air movement. | Metal chrome ceiling fan with crystal drum chandelier. Five wooden blades are reversible. |
| | | |
| --- | --- | --- |
| | | |
| 52" Chrome Ceiling Fan | Two-Tier Embedded Crystal Chandelier Ceiling Fan | Bronzed Crystal Bowl Shade Chandelier Ceiling Fan |
| Ceiling fan in chrome-finish iron with crystal accents. Blades crafted from natural finished wood Maximum air flow with multi-speed functions. | Home Accessories is offering a stately collection of ceiling fans that depart from the ordinary. Beautiful metal work with high quality mechanical elements coalesce into an elegant lighted ceiling fan. The shade is a two-tiered cake with crystal embedded stamped metal walls. The richly traditional design is meant to compliment any luxurious space. Cool your home with style. | Give your home the glamour and artistic allure you deserve with this chandelier ceiling fan. The combination of antiqued bronze, high quality clear crystals, and stained real wood blades delivers a sophisticated and elegant addition to any space. Our dependable and quiet fan motor used in all our high quality ceiling fans offer three speed settings to keep you perfectly cooled. This is a very attractive piece best suited for taller ceilings. |
| | | |
| --- | --- | --- |
| | | |
| Antiqued Bronze Chandelier Ceiling Fan | Glass Pillar Chandelier Ceiling Fan | Crystal Woven Bronze Chandelier Ceiling Fan |
| This antiqued bronze ceiling fan is a lovely example of traditional style and functional form. The antique brass and brilliant crystal lamps combine to cool you down and cast a warm glow in your home and your heart. Enjoy the comfort of this sturdy and dependable home necessity. You'll feel great knowing you are saving money by not running the air conditioning. | Ceiling fans are the most cost efficient option to bringing the temperature down and moving stale air out of your room. Perfectly performing this task is this lovely lighted ceiling fan. This has a lot of traditional elements but the composition has an elegant contemporary design. The housing and components are in a forged black iron finish. Imitation wood grain on the lower center pipe adds balance to the look. Three clear glass pillar hoods protect the mini torchier lamps. Beautiful detailing in the metal collars add depth to the fixture. The warm stained wooden blades complete this unusually well designed piece. | Chandelier ceiling fan featuring drum shade with crystal trim woven throughout scroll design. Metal frame in bronzed finish. |
Priteen Crystal Chandelier Ceiling Fan
The Priteen ceiling fan is an exquisite antique bronze finished piece that combines the functionality of a fan with an eye catching chandelier light assembly. The wood blades offer great air movement to save your electricity bill.
| | | |
| --- | --- | --- |
| | | |
| Modeno Roca Natural Gas Firepit Table | Sunnydaze Decor Portable Folding Fire Pit | Ashland Firepit |
| Made from glass-reinforced cast concrete. 18-gauge, 304 stainless steel burner outputs a max of 50,000 BTUs. Stainless steel burners with electronic push-button ignition with auto safety shut-off | Made from heavy duty steel with a high-temperature, rust-resistant finish. Includes bowl, stand, spark screen, poker and carry case. Light and portable, perfect for camping, picnics or the beach | With an oversized 35" fire bowl for longer and warmer fires, and a durable cast iron copper finish - this fire pit is sure to shine in any outdoor setting. Keep sparks to a minimum with the protective mesh spark guard screen, while keeping your fire stoked and burning with the steel fire poker that doubles as a screen lift. |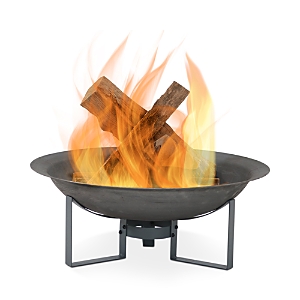 Sunnydaze Decor Modern Rustic Cast Iron Fire Pit Bowl
Spend a summer evening gathered around a crackling wood fire with this fire bowl and stand. Portable and lightweight, this fire bowl and stand are perfect to take along on the next camping trip or beach excursion.
Go to:
Add World-Luxury to your favorites