European Style Outdoor Decorations and Garden Accents
European style gardens only limited by your imagination. Create beautiful outdoor rooms with European style outdoor fountains that add movement, art and soothing sound to your outdoor space. Plan for seasonal color with architectural containers, add rugs to help define space and even outdoor art. Go to: Decorative Accents, Planters, Bergs Planters, Fountains, Outdoor Lighting, Indoor/Outdoor Fans
| | |
| --- | --- |
| | |
| Netara Herb Planter Set | Maxine Planter |
| Set of three pots and tray. Handmade. Cement | Perfectly suited for minimalist aesthetics, this artfully crafted planter lends a touch of texture to your outdoor oasis or sun room. |
| | |
| --- | --- |
| | |
| Fiber Spindle Planter | Fiber Concrete Flare Urn |
| A unique, contemporary shape makes this tall planter a centerpiece for outdoor gardens. Each dramatically flared planter is hand-crafted in Switzerland from durable fiber cement. | Smooth and rounded for a modern look, this flared urn is hand-crafted from frost-resistant concrete, ready for indoor and outdoor gardens alike. |
| | | |
| --- | --- | --- |
| | | |
| RHS Seed Storage Box | RHS Pruner + Holster Set | RHS Dahlia Snips + Holster Set |
| Perfect for collecting, organizing, and storing your seed collection, this tin features beautifully printed artwork from the Royal Horticultural Society's Lindley Library | Beautifully printed with artwork from the Royal Horticultural Society and paired with a neoprene holster, this ergonomic pruner features a durable, carbon steel blade. | Beautifully printed with artwork from the Royal Horticultural Society's Lindley Library, these stainless steel snips allow you to strip, snip, and bundle fresh herbs with ease. With an accompanying holster to keep them handy. |
| | | |
| --- | --- | --- |
| | | |
| Fiber Draped Pot | Zinc Hayrack | Floral Garden Apron |
| A unique, rippling shape makes this planter a decorative centerpiece for indoor or outdoor gardens. | Handmade especially for terrain, these steel hayrack planters with a rust-resistant zinc finish are a durable alternative to standard window boxes. Modeled on vintage farm hayracks, each one features flat ends that allow side-by-side installation for spacious hanging gardens. | In a cheerful floral print, this half apron helps keep your clothes protected in the garden. |
| | | |
| --- | --- | --- |
| | | |
| Fiber Concrete Barrel Bowl | Fiber Concrete Rounded Pot | Zinc Sphere Hanging Basket |
| Inspired by vintage dolly tubs, these ridged, gray planters are hand-crafted from lightweight fiberclay. This frost-resistant material allows the planters to be stored outside over the winter when emptied and placed upside down. Suitable for indoor or outdoor use | These rounded planters are hand-crafted from lightweight fiber concrete. This frost-resistant material allows the planters to be stored outside over the winter when emptied and placed upside down. | Hand-forged in California especially for terrain, these solid steel hanging baskets are designed with an extra-deep planting area so soil and plants won't dry out. Perfect for lining with moss and hanging together for a descending display, each basket will maintain a natural zinc finish over years in the garden. |
| | | |
| --- | --- | --- |
| | | |
| Modern Sprout Ritual Gift Set | Ariana Ost Cast Lettuce Garden Tool | Essential Gardening Tools |
| Grow, steep, and sip. This charming set includes everything you need to take a moment for yourself and enjoy a cup of tea. | Cast lettuce garden tool - The details are texture on the metal feel so vivid, real and impactful. Created from actual lettuce leaves. What is a more magical feeling than to garden with golden lettuce? This was a technical feat to achieve and took many attempts to become victorious. We never wavered from our vision to turn lettuce into metal. We went on many trips to the farmers market to make this happen. We achieved this at our design studio by coating lettuce in clay double layering it, turning it into wax, re-sculpting imperfections and then casting it. | Heat-treated stainless steel. Hoe and scissors: walnut handle. Spade: bamboo handle. Rust-resistant |
Hand-crafted in Italy, Bergs planters capture the simple beauty of Danish design, drawing inspiration from time-tested antique styles. Every pot and saucer is made from the best quality Italian terracotta clay, high-fired for frost resistance and indoor-outdoor durability. With time and handling, the terracotta will develop a weathered patina; you may polish your planters with a mild vinegar solution and soft cloth to restore a spotless appearance.

| | | |
| --- | --- | --- |
| | | |
| Bergs Dotted Pot + Saucer | Bergs Scallop Pot + Saucer | Bergs Palace Pot + Saucer |
| Etched with subtle ridges and topped with a dotted rim, this set is made from Italian Galestro clay that will develop a beautiful, aged patina over time. This elegant set is modeled on a popular style from nineteenth century Paris, and epitomizes the romantic taste of the era. Taking its name from its home in Copenhagen and the high-fired clay that forms each piece, the Bergs Collection captures the simple beauty of Scandinavian design. | Galestro terracotta clay - Indoor or outdoor use | Galestro terracotta clay - Indoor or outdoor use |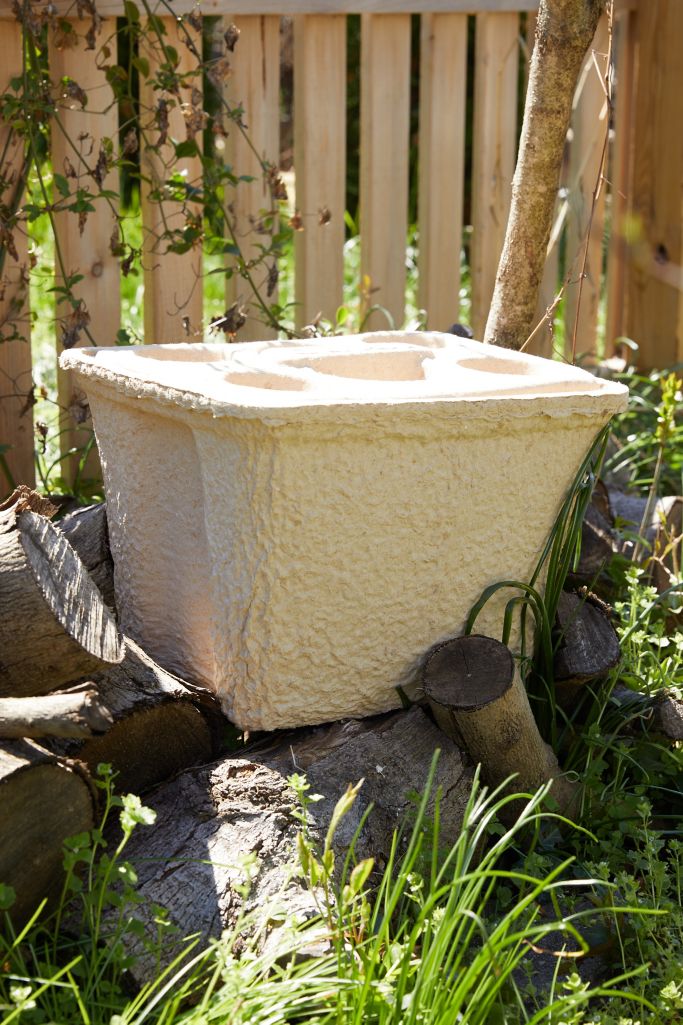 Igloo Biodegradable Cooler
Made from biodegradable and compostable materials, this reusable cooler is the perfect way to make your backyard parties, picnics and beach days more eco-friendly. Lidded design features easy-grab handle and cupholders, while interior fits up to 20 12 oz cans. Retains water for up to five days and ice for up to 12 hrs.
| | | |
| --- | --- | --- |
| | | |
| Classic Scallop Overdoor | Metro Bench | Rose Wreath |
| Handcrafted scallop overdoor. Fiberstone frame. Lightweight and all weather durable. All finishes will vary - designed to look old and antiqued. | Handcrafted bench. Fiberstone frame. Lightweight and all weather durable. All finishes will vary - designed to look old and antiqued. | Handcrafted rose wreath. Fiberstone frame. Lightweight and all weather durable. All finishes will vary - designed to look old and antiqued. |
| | | |
| --- | --- | --- |
| | | |
| Scrollwork Frame with Mirror | Barn Star Mirror | Scrollwork Frame |
| Handcrafted scrollwork frame with round mirror center. Fiberstone frame. Lightweight and all weather durable. All finishes will vary - designed to look old and antiqued. | Handcrafted mirror with star frame overlay. Fiberstone frame. Lightweight and all weather durable. All finishes will vary - designed to look old and antiqued. | Handcrafted scrollwork frame. Fiberstone frame. Lightweight and all weather durable. All finishes will vary - designed to look old and antiqued. |
| | | |
| --- | --- | --- |
| | | |
| Venus Bath Fountain on Shell | Bona Dea Fountain | Water Venus with Fountain Bowl |
| Handcrafted fountain. Made of fiberstone. Lightweight and all weather durable. All finished will vary - designed to look old and antiqued. | Handcrafted fountain. Made of fiberstone. Lightweight and all weather durable. All finished will vary - designed to look old and antiqued. | Handcrafted Venus fountain. Made of fiberstone. Lightweight and all-weather durable. |
| | |
| --- | --- |
| | |
| Aurora Fountain | Aged Lion Wall Fountain |
| Handcrafted fountain. Made of fiberstone. Lightweight and all weather durable. All finished will vary - designed to look old and antiqued. | Handcrafted wall fountain. Made of fiberstone. Lightweight and all weather durable. All finished will vary - designed to look old and antiqued. |
| | | |
| --- | --- | --- |
| | | |
| Ridged Ball Fountain | Lion Wall Fountain | 3-Tier Ruffle Fountain |
| Outdoor ball fountain crafted from durable cast stone material, trained to achieve the bronze look. Crushed stone, polyester resin, styrene, and fiberglass. For indoor and outdoor use. Spray painted. Pump type OK170LVAS included. | Handcrafted wall fountain. Made of fiberstone. Lightweight and all weather durable. All finished will vary - designed to look old and antiqued. | Three-tier fountain crafted from durable cast stone material, trained to achieve the natural Aged Limestone look. |
| | | |
| --- | --- | --- |
| | | |
| Portobello Lantern | Ramirez Sconce | Stonington Medium Sconce |
| Made of aluminum with a burnished rust finish and clear beveled glass. | The evolution of the Ramirez design family. An organically shaped opal glass shade rests atop a vintage silver-finished steel arm and matching backplate creating a soft statement piece. | Medium sconce. Marine grade resin and clear water glass. Significantly more durable and less prone to fading. |
| | | |
| --- | --- | --- |
| | | |
| Ventura 52" Indoor/Outdoor Fan | Ventura 52" Indoor/Outdoor Fan | Limerick Fan |
| Ceiling fan made of steel and wood. Featured is an architectural dome. UL listed for for both indoor and outdoor operation. | Ceiling fan made of steel and wood. Featured is an architectural dome. UL listed for for both indoor and outdoor operation. | Handcrafted ceiling fan. Steel, copper and plastic. Indoor and outdoor usage; Damp Rated which means can be used outdoors in a covered area. Dual remotes, one hand held and one wall mount. |
| | | |
| --- | --- | --- |
| | | |
| Bellows Duo 18" Dual Head Indoor/Outdoor Ceiling Fan, Brushed Nickel | Bellows Duo 18" Dual Head Indoor/Outdoor Ceiling Fan, Flat Black | Eastwood 70" Indoor/Outdoor Ceiling Fan |
| Indoor/outdoor damp rated 18" dual headed rotating ceiling fan with integral 17-watt LED light and dual remotes for both wall and hand held operation. The dual headed motors are adjustable up to 80 degrees of tilt and can rotate 360 degrees. Finished in brushed nickel with gray wood blades. Made of steel and plywood. Approx. 50"Dia. x 18.1"T. | Indoor/outdoor damp rated 18" dual headed rotating ceiling fan with integral 17-watt LED light and dual remotes for both wall and hand held operation. The dual headed motors are adjustable up to 80 degrees of tilt and can rotate 360 degrees. Finished in flat black with gray cedar blades. Made of steel and plywood. Approx. 50"Dia. x 18.1"T. | Indoor/outdoor nine-bladed DC motor ceiling fan with 17-watt integral LED light and dual remotes for wall or hand held operation. Included is a metal blanking plate to cover the light if not needed. Made of steel and wood. Approx. 70"Dia. x 15.7"T. |
| | | |
| --- | --- | --- |
| | | |
| Eastwood 60" Indoor/Outdoor Ceiling Fan | Waterfront 52" Ceiling Fan | Retreat 52" Indoor/Outdoor Ceiling Fan |
| Indoor/outdoor nine-bladed DC motor ceiling fan with 17-watt integral LED light and dual remotes for wall or hand held operation. Included is a metal blanking plate to cover the light if not needed. Made of steel and wood. Approx. 60"Dia. x 15.7"T. | Steel and aluminum ceiling fan featuring a clear seedy glass shade. Dual remote controls. Approx. 54"Dia. x 20.5"T. | Three speed pull chain operated Wet Rated indoor/outdoor ceiling fan. The motor housing finished a brown tone features color matching heavy duty ABS plastic in a rattan woven pattern. Made of steel and ABS plastic. Approx. 52"Dia. x 12.7"T. |
Go to:
Add World-Luxury to your favorites