European Scented Candles

Luxury scented candles elevate the mood in any room and can transform bathing into a spa experience designed for your personal escape. A time to rest and renew. If you can spend time in a spa, you should. Until then, pamper yourself in the privacy of your own space. Close the door, light candles and relax. Refresh your spirit. Luxury scented candles from Jo Malone in sophisticated scents with international inspiration for every mood and room in your home. Create the mood: romantic, calming, invigorating. They are a signature of rituals. They turn a bath into a spa. They softly light and scent a room. Fragrances for the discriminating. Go to: BOXFOX, L'or de Seraphine, Mood Enhancing Candles, Lafco
LA-based BOXFOX is the go-to for gifting. Whether itís for a new home, a new baby, a new job, or another year around the sun, the gifting experts at BOXFOX curate the best products from the best brands for their beautiful gift boxes, making it seamless to send a personal gift to anyone. So you can be there for the people in your life, no matter where you are.
| | | |
| --- | --- | --- |
| | | |
| BOXFOX Green Goddess Gift Box | BOXFOX Housewarming Gift Box | BOXFOX New Family Gift Box |
| Every goddess is a gift and should be treated as such. This luxe BOXFOX gives back everything a goddess bestows - rejuvenation, relaxation, and reassurance that everything will be balanced and beautiful. | For that person that always makes you feel welcome in their home, the HOUSEWARMING is a great gesture that will make any night at home a memorable moment. This BOXFOX is filled with decorative and distinctive items that make will make any home feel festive, fragrant, and fabulous. | A BOXFOX that's fun for the whole family, literally. This special NEW BABY gift is both a fun and functional sweet delivery for their brand new bundle of joy. |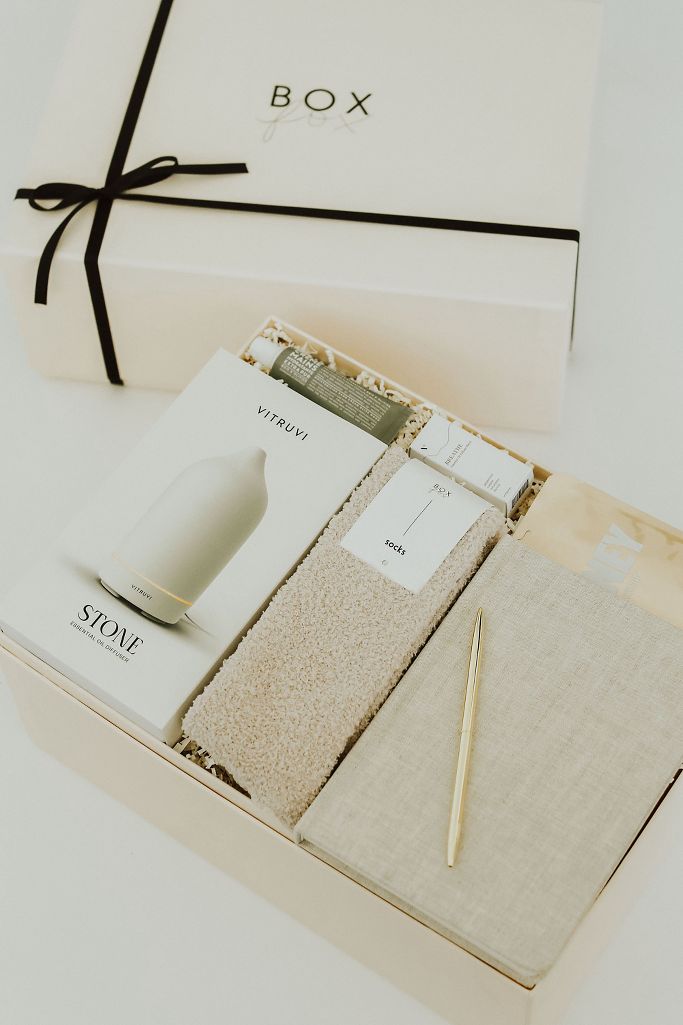 BOXFOX A Moment Away Gift Box
A busy loved one can always use a moment to themselves, and this elevated BOXFOX can get them there. Pamper someone who always means business with some peace - including an essential oil diffuser, comfortable socks that''ll make anywhere feel like home, and a blank notebook for some quality R&R&R (relax, relation, reflection). This BOXFOX is pretty, personal, and perfect for a moment away from all the noise.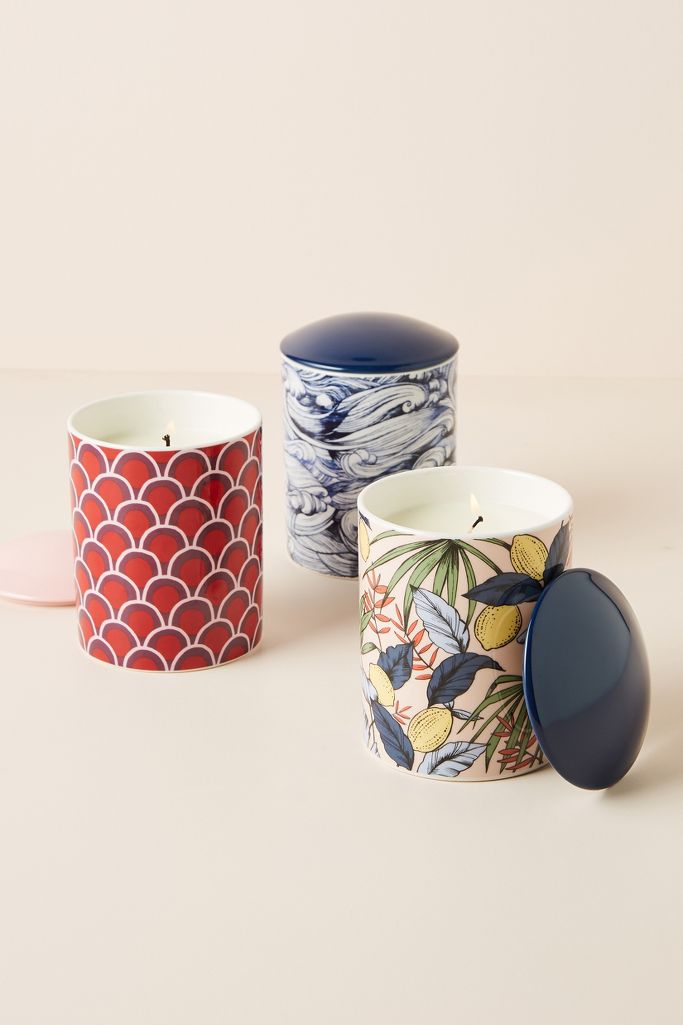 L'or de Seraphine Ceramic Candle
Understanding the power of aromatherapy and design firsthand, sisters Dara and Laina Weiss decided to fuse these transformative forces together with their brand L'or de Seraphine. Through carefully crafted scents and decorative vessels, each candle turns your space into a personal sanctuary of poetic ambience and sweet, fragrant sentiment.
| | |
| --- | --- |
| | |
| Orrefors Home Fragrance Collection Peak Candle, Woodland Vanilla Scent | Orrefors Home Fragrance Collection City Candle, Warm Amber & Oakmoss Scent |
| Fragrance notes: Fresh bergamot, shaved nutmeg, blue geranium, spicy clove bud, spicy carnation, tonka bean, sweet tobacco accord, warm amber, smooth vanilla. Delight your senses with the spicy vanilla notes and underlying whisperings of the forest. | Fragrance notes: Lemon zest, fir needle, leafy green stems, green oakmoss, warm amber, white patchouli, sweet vanilla, rich balsam, smooth sandalwood. Enriched with the most peaceful, warm and cozy notes, this versatile scent is like taking a walk through an herb garden on a warm summer day. |
| | | |
| --- | --- | --- |
| | | |
| Kosta Boda Home Fragrance Collection Contrast Candle, Woodland Vanilla Scent | Kosta Boda Home Fragrance Collection Contrast Candle, Blushing Pink Scent | Kosta Boda Home Fragrance Collection Contrast Candle, Coastal Bloom Scent |
| Fragrance notes: Fresh bergamot, shaved nutmeg, blue geranium, spicy clove bud, spicy carnation, tonka bean, sweet tobacco accord, warm amber, smooth vanilla. Delight your senses with the spicy vanilla notes and underlying whisperings of the forest. | Fragrance notes: Fresh pineapple, creamy peach, juicy blackcurrant, sweet passionfruit, rose hip, red grapefruit, white ylang, pink peony, sheer cedarwood. Fruity florals help bring this soft candle to life for an indulgent appeal, while hints of cedarwood give it an underlying oaky scent. | Fragrance notes: Sheer lemon, aromatic rosemary, red currant, fresh jasmine, raw honey nectar, sea salt accord, green leafy stems, earthy geranium, white amber. Enjoy the inviting scents of the seaside and the calming ambience of the waves, while fresh florals help enhance a soothing peacefulness. |
| | | |
| --- | --- | --- |
| | | |
| Moomin Medium Mug Candle | Tom Dixon Alchemy Medium Candle | Tom Dixon Orientalist Diffuser |
| Enamel mug candle featuring the original Finnish Moomin characters for a retro-sweet feel we love. Unscented wax poured into an enamel mug with printed detailing, perfect for repurposing after the wax has burned down. | Fragrance notes: sharp black pepper, woody cypress, eucalyptus, exotic patchouli and smoky guaiac wood. 50-hour burn time. Brass vessel, marble lid | Scent notes: top: cassis, violet leaves; heart: rose, magnolia, geranium, clove, cinnamon; base: patchouli, amber, musk |
| | | |
| --- | --- | --- |
| | | |
| Lafco Duchess Peony & Star Magnolia Floral Candles, Set of 2 | Lafco Chamomile Lavender & Rosemary Eucalyptus Herbal Candles, Set of 2 | Lafco Fresh Cut Gardenia Classic Reed Diffuser |
| Duchess Peony fragrance notes: pink rose and peony blossom are sprinkled with a sparkling blend of cassis berries, camellia and powdery musk. Star Magnolia fragrance notes: magnolia, muguet, jasmine and green bamboo leaves drape over bamboo wood, bois de rose and orange flower. | Chamomile Lavender fragrance notes: crisp bergamot and warm chamomile melt into a calm undertone of lavender, sage, eucalyptus and smoky patchouli. Rosemary Eucalyptus fragrance notes: creamy patchouli envelops a clean herbaceous blend of basil, eucalyptus, rosemary and juniper berry. | FRAGRANCE NOTES: A burst of gardenia, orange blossom and ylang-ylang, with subtle elements of pineapple, cedar and green notes |
| | | |
| --- | --- | --- |
| | | |
| Lafco Sea & Dune 3-Wick Beach House Candle | Lafco Mint Tisane Meditation Room Diffuser | Lafco Star Magnolia Classic Guest Room Candle |
| Hand-blown art-glass vessel. Hand-poured wax. Clean, non-toxic burn. Essential oil-based fragrance: Beach House, Watery blue lotus and beach grass settle into an amber-sand accord with a tiny hint of ginger | Invigorating yet soothing, LAFCO's diffuser radiates a brilliant blend of anise, basil and mint that instantly calms and centers. | Hand-blown art-glass vessel. Hand-poured wax. Clean, non-toxic burn. Essential oil-based fragrance: Magnolia, muguet, jasmine and green bamboo leaves drape over bamboo wood, bois de rose and orange flower |
| | | |
| --- | --- | --- |
| | | |
| Lafco Mint Tisane Meditation Room Candle 6.5oz | Lafco Marine Bathroom Candle 6.5 oz | Lafco Amber Black Vanilla Foyer Candle 6.5 oz |
| Citrus notes pair with spearmint, peppermint, eucalyptus, basil, anise, sage and bay leaf in this aromatic hand-poured candle from Lafco. A finish of ginger and clove adds depth and distinction | Water lily, sea jasmine, rose and cyclamen pair with sparkling bergamot, spicy clove, rhubarb, vetiver, cedar and musk to breezy effect in this aromatic candle. Maine sandalwood and sea moss create a luminous finish. | Tart black currant, orange, lemon zest, raspberry and spicy clove wood pair with jasmine, cassis blossoms, honeyed vanilla, amber, patchouli and sandalwood in this aromatic hand-poured candle. |
| | | |
| --- | --- | --- |
| | | |
| Lafco Chamomile Lavender True Liquid Soap | Lafco Feu de Bois Liquid Soap, 12 oz. | Lafco Fresh Cut Gardenia Liquid Soap, 12 oz. |
| Regenerates, protects and moisturizes while gently cleansing, leaving your skin luxuriously fragranced. Cold-pressed, extra-virgin olive oil delivers superior moisture and vital nutrients. Enriched with wheat proteins to improve all-day moisture retention. Perfume-grade fragrance: Crisp bergamot and warm chamomile melt into a calm undertone of lavender, sage, eucalyptus and smoky patchouli | Fragrance notes: frankincense, leather, pine, sandalwood. Key ingredients: cold-pressed extra virgin olive oil and wheat proteins for superior moisture. Hypoallergenic and free of sulfates, parabens and other synthetic ingredients | Fragrance notes: gardenia, orange blossom, ylang ylang. Key ingredients: cold-pressed extra virgin olive oil and wheat proteins for superior moisture. Hypoallergenic and free of sulfates, parabens and other synthetic ingredients |
Go to:
Add World-Luxury to your favorites