Elegant European Style Table Linens
Elegant European table linens that dress your table for any occasion. An array of colors for every decor and setting. The perfect basis for sophisticated entertaining. Go to: SFERRA Table Linens, Boutross, Handprint, Mode Living, European Style Table Linens, Villeroy & Boch Table Linens, Juliska
Home Treasures
Elegant and refined Sferra linens for your table. Choose from an array of colors to suit every decor. Linen. Washable.
Pom Pom at Home is a Los Angeles-based company founded by designer Hilde Leiaghat, who grew up in Belgium with a deep love of antiques and vintage linens. Her company embraces a passion for all things beautiful, and its mission is to evoke a sense of romanticism, peaceful memories and gentleness. Pom Pom at Home's bedding and home decor items offer the feeling of lived-in elegance.
| | | |
| --- | --- | --- |
| | | |
| Caviar Square Reversible Placemats, Set of 4 | Capiz Placemats, Set of 4 | Eden Placemats, Set of 4 |
| Meet our reversible, wipeable Caviar Placemats in square format, so you can place the glasses on your placemats as well. With a glitter-like surface, these placemats bring an inviting and sparkling air to your table setting. Dimensions: 15"L x 15"W. 100% vinyl | Rattan placemat bordered with shells. Set of four. 14"Dia. | Reversible design features a colorful abstract pattern in two distinct palettes for maximum versatility. Dimensions: 16" diameter |
| | | |
| --- | --- | --- |
| | | |
| Vogue Placemats, Napkins | Bianca Table Linens | Greenwich Table Linen Collection |
| Subtle metallic dots on fresh white linen create an atmosphere that is both elegant and sophisticated. Easily paired with matching or other metallic napkins for a complete look. | Table linens made of polyester/linen. Spill-proof. Wine-resistant. | Crafted in luxurious, subtly textured linen, these sophisticated table linens by Mode Living feature a sheer striped center panel with a solid border. A special coating protects the surface from spills and stains. |
| | | |
| --- | --- | --- |
| | | |
| Ananas Napkin | Goa Placemat | Allegra Placemat, 14.9" x 19.6" |
| Napkin is made of high-quality linen with an embroidered signature pineapple motif. Scalloped edges | Placemat is crafted of linen featuring blue embroidered zigzag accents. Embroidered edge. Approx. 16.1"Dia | Our Allegra Placemats are the perfect addition to your sophisticated table settings. Italian-crafted from high-quality linen, the rectangular design features intricate embroidery along the scalloped edges. We like them paired with our matching Allegra Napkins. |
| | |
| --- | --- |
| | |
| Medusa Gala Napkin & Placemat Set | Sarah Gordon Table Runner |
| Napkin and placemat set is crafted of cotton. Napkin, approx. 50"Sq. Placemat, approx. 50"L x 36"W. Includes two napkins and two placemats | Designed by Sarah Gordon, this colorful, cheerful table runner is sure to impress at every garden and dinner party. Hand-printed cotton. Machine wash |
| | | |
| --- | --- | --- |
| | | |
| Hemstitch Placemat | Butterfly Table Linens | Antique Lace Tablecloth and Napkins Sets |
| Since 1842 the Busatti family has been weaving in the cellars of the palazzo Morgalanti in Anghiari, Tuscany. Busatti is still a synonym of quality and tradition, but also of innovation because of a constant search of new designs, colors and models. Placemat features floral embellishment and hemstitch border. Made of cotton and linen. Approx. 20.5" x 15.75"L. Machine wash | Table linens with tone-on-tone butterfly embroidery | Polyester. Machine wash |
| | |
| --- | --- |
| | |
| Frosted Pines Placemats, Set of 4 | Stafford Blooms Placemats, Set of 4 |
| This set of 4 Frosted Pines placemats from Sara Miller London Portmeirion have a deep 5mm cork baking and are coated in lacquer that is stain and heat resistant to 212°F protecting your surfaces. | Stafford Blooms, a modern update to the classic Stafford Flowers features delightful botanical illustrations done in pink, purple and yellow colorways set against a crisp white background. Stafford Blooms is a perfect collection for those looking for a modern yet classic design from an iconic brand steeped in history. Mixing Spode's tradition with today's lifestyle, this Stafford Blooms placemat set is perfect for everyday use and protecting valuable surfaces from heat or food residue. Wood composite with cork backing. |
| | | |
| --- | --- | --- |
| | | |
| New Wave Table Linens | La Classica Luxury Tablecloth Collection | La Classica Metallic Table Linen Collection |
| The Villeroy & Boch New Wave Table Linens combine luxe metallic accents with intricate hemstitching for a set that's beautifully designed to the last detail. | Dress up your table with the beautiful hues and rich texture of Villeroy & Boch's La Classica tablecloth in luxurious machine-washable linen. | Featuring a luminous finish, Villeroy & Boch's La Classica table linens look understated and elegant on their own, or can be easily layered to accent your tablescape. |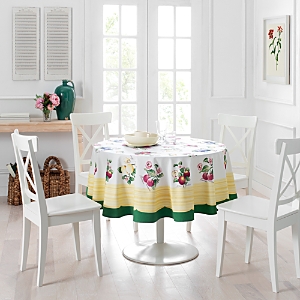 French Garden Table Linen Collection
The perfect backdrop for Villeroy & Boch's four styles of French Garden dinnerware--Fleurence, Valence, Orange and Vienne--this cheerful table linen collection combines delicious designs to be mixed & matched to create a tempting display for your table.
| | | |
| --- | --- | --- |
| | | |
| Juliska Tuileries Garden Placemat | Woven Straw Placemat, Chambray | Iberian Sage Placemats, Set of 4 |
| 15"W. Embroidered edge. Sinamay: Abaca strong fiber fabric | Set the foundation for your place setting with these two-toned, woven straw chambray placemats. They provide a rustic yet refined base to layer your everyday dinnerware – from a casual family dinner to an elevated outdoor affair. Made of natural woven abaca fiber and straw. Approx. 16.3"Dia | Cork backed placemats features a dreamy palette of soft sage green and sky blues. Set of four. Approx. 15"Dia. x 0.1"T |
| | | |
| --- | --- | --- |
| | | |
| Country Estate Delft Napkin | Country Estate Flint Napkin | Country Estate Petal Napkin |
| Illustrating several charming scenes of the English countryside, our Country Estate pattern in a Delftware-inspired blue adds a charming yet sophisticated elegance to your table setting. | Illustrating charming scenes of the English countryside, our Country Estate pattern in a handsome, flint grey adds a charming yet sophisticated elegance to your table setting. | Handcrafted cotton napkin. |
| | | |
| --- | --- | --- |
| | | |
| Heirloom Gold Metallic Napkin | Juliska Heirloom Linen Napkin | Heirloom Silver Metallic Napkin |
| This cross-woven napkin was designed with soft gold metallic hue to instantly transforming the table with a subtle shimmer. Lightweight and elegant, the napkins pair effortlessly with any aesthetic. Enjoy the hint of gold shimmer day or night, for both casual and formal occasions. | Stitched border detail. Dimensions: 20" x 20". Linen Machine wash | This cross-woven napkin was designed with a soft silver metallic hue to instantly transforming the table to something special with a subtle shimmer. Lightweight and elegant, the napkins pair effortlessly with any aesthetic. Enjoy the hint of silver shimmer day or night, for both casual and formal occasions. |
Go to:
Add World-Luxury to your favorites