Wine and Beer Accessories
Wines from around the world plus the wine accessory gifts that help us share and enjoy them more. Go to: Champagne Buckets and Wine Coolers, Decanters, Wine Gifts, Beer Glasses
Wine Racks
| | | |
| --- | --- | --- |
| | | |
| Percy Wall-Mounted Wine Rack | Skiing Hare Wine Holder | Rose Quartz Wine Rack |
| Display cherished bottles of red, white, and rosé with this elegant wall-mounted wine rack - it makes a perfect addition to a home bar. | This festive wine holder is a perfect gift - alongside a bottle of red or white - for a holiday hostess this season. | Feminine and au-courant, this hand-thrown wine rack is a work of art on its own. |
| | | |
| --- | --- | --- |
| | | |
| Mateo Woven Wine Rack | Whale Wine Bottle Holder | Elijah Wine Rack |
| Hand woven from natural jute, this rustic-inspired wine rack adds a touch of texture to your kitchen. | Crafted in the shape of a whale, this wine bottle holder offers a nautical accent for a beach home. | Find a place for your wine collection with this handwoven rattan tabletop wine rack - its unique, eye-catching design doubles as a work of art wherever you place it. |
| | | |
| --- | --- | --- |
| | | |
| Robin Marble Wine Holder | Georg Jensen Manhattan Collection 6-Piece Coaster Set | Georg Jensen Wine & Bar Tray |
| Crafted entirely from marble, this wine rack is a beautiful way to store bottles on a kitchen counter, and is striking enough to work as a centerpiece for your tablescape. Best of all? It can be chilled in advance to keep bottles cold for dinner party guests. | Set includes: four coasters, lidded coaster container. The iconic lines and timeless expression of the Manhattan Collection represents the essence of Georg Jensen DNA and acts as a perfect contrast to the many organic designs. | Georg Jensen's organically shaped Wine & Bar Collection embodies relaxed refinement in eye-catching mirror-finished stainless steel. |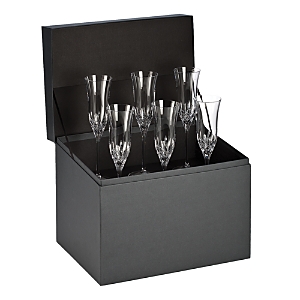 Waterford Lismore Essence Flute, Set of 6
Featuring Waterford's celebrated Lismore Essence design, this glassware collection showcases exquisitely cut diamond-like facets that radiate light beautifully. A set of six flutes (for the price of five) offers timeless style at an incredible value.
| | | |
| --- | --- | --- |
| | | |
| Juliska Berry & Thread Wine Cooler | Alexis Wine Cooler | Arte Italica Tuscan Ice Bucket |
| Whether elegant or casual, sophisticated or modern, Juliska Berry & Thread white dinnerware will suit whatever your setting and look great on your table. | Natural marble with rich veining. Dimensions: 4.75" diameter x 7"H. Variations in color and veining are characteristic of natural marble | Hand-finished Pewter rim and base. Dimensions: 8"D x 8.75"H. Made in Italy. Ceramic/Italian pewter |
| | | |
| --- | --- | --- |
| | | |
| William Yeoward Country Ice Bucket | Waterford Lismore Essence Ice Bucket | Waterford Lismore Bottle Coaster |
| Made entirely from hand, each piece of William Yeoward Crystal draws its inspiration from antique crystal pieces originally made in England during the 18th and early 19th centuries. Refined and elegant, this classic ice bucket was made for entertaining | Lismore Essence, the "contemporary take" on classic Lismore stemware, has been a sensation from the moment it hit the selling floor. Waterford designers have, again, paired updated Lismore cutting on modern crystal shapes to create the first range of contemporary Lismore Essence Barware. Customers have fallen in love with this pattern all over again. | 4.5"Diameter. Glass |
| | |
| --- | --- |
| | |
| Juliska Graham Wine Coaster | Juliska Graham Wine Cooler |
| Handmade in hammered metal with a polished finish. Sculpturally accented with the brand's iconic thread motif. Double walled to prevent condensation | Handmade in hammered metal with two handles and a polished finish. Sculpturally accented with the brand's iconic thread motif. Double walled to prevent condensation |
| | | |
| --- | --- | --- |
| | | |
| Rogaska Manhattan Ice Bucket | Nude Glass Glacier Champagne Cooler | Nude Glass Glacier Wine Cooler |
| Chill champagne and other wines in this elegant crystal bucket, a boldly beautiful design with a classic shape for a decadent barware display. Exceptional brilliance, clarity and weight | With a strong silhouette, the Glacier magnum champagne cooler by Nude Glass features a pair of elegant hand-pressed dimples that ensure a reliable grip when handling the ice | Cast from clear crystalline glass and striking in its proportions, the wine cooler is decorated with a pair of hand-pressed dimples for a reliable grip when handling the ice. Dimensions: 8.67" x 0.35" x 9.26" |
| | |
| --- | --- |
| | |
| Waterford Elegance Optic Carafe | Waterford Lismore Nouveau Decanting Carafe |
| Featuring a subtle optic design, this striking Waterford piece is highlighted by an eye-catching modern silhouette paired with classic styling. It's versatile enough for everyday use while still making a statement on special occasions. | Purposefully designed to aerate wines prior to serving, this crystal accent piece enhances both white and red wines. Decanting allows wine to attain clarity and color while enabling the flavor to develop. The Decanting Carafe is shaped to achieve most favorable results from the decanting process. The long, slender neck enables the wine to run unreservedly down the sides, while the flared base permits air exposure to a larger surface area of wine. |
Sherry
Sherry is back in style. From Andalucía, an area south of Seville, Spain, comes a fortified wine that dates back to the Roman Empire and that ranges from very dry to lusciously sweet, and food friendly. It is made from grapes you may be unfamiliar with: Palomino fino, Pedro Ximénez and moscatel. There are 2 main categories: fino is pale with fresh, nutty flavor is a fine aperitif or pairs with seafood; oloroso have more body and some citrus and can be matched with chicken; amontillado are in between. Pedro Ximénez is sweet like a tawny port and can hold up to chocolate or ice cream.
In brief, sherry starts out like other wines with grapes gathered when they are fully ripe, which is usually the end of August, and officially starts with the Fiesta de la Vendiamia. What makes Sherry unique is that after the must (juice) has been stored in butts in bodegas for fermentation, it is fortified with a spirit (usually a local brandy) which kills the yeast. The butts are then taken outside and opened to allow flowering--the development of a natural yeast film on the surface. After 12 to 18 months the butts are taken back inside and added to a solera, a system of butts of a particular style used over a number of years to keep the quality consistent. All Sherries are blended. Due to the addition of the spirit and evaporation, sherries will be higher in alcohol than normal table wines, often 17-20%. Pedro Ximénez is treated differently. The sweet grapes are left to dry until almost raisin-like. The must is added to butts with brandy and go into their own soleras.
Go to:
Add World-Luxury to your favorites